HORDES: I Hate Babies aka Rasheth Tier Lists.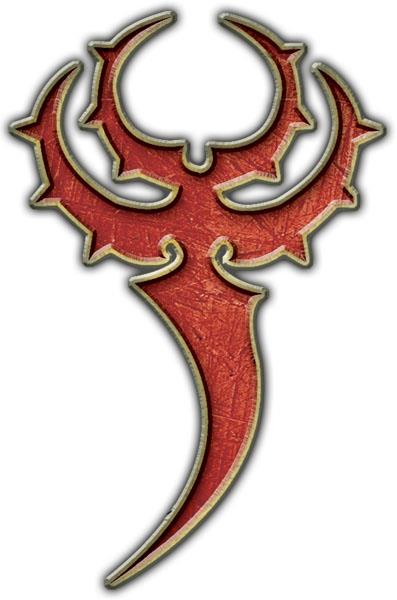 Mr. Black here, and I really do, in fact, eat babies.
Alright Skorne fans, gather 'round, we're here this week to look at everyone favorite fatman Dominator Rasheth!
For those not in the know, Rasheth is the newest Warlock to be released (though not recently, I will add) and carries with him the sole reason I picked up Skorne as my second faction: My absolute love of this model:
That, my friends, is the Agonizer, or a tortured baby Titan, and I think it's adorable with it's gaping maw and little tiny arms clutching it's little tiny belly. Plus look at the expert work of those pain-hooks! Who couldn't love something like-
Hello everyone, Bigred here, and I'm just cutting off Mr. Black here to make sure everyone understand that BoLS as a whole does NOT

endorse

ANYTHING Mr. Black says or even does for that matter. So, in an effort to save face, please enjoy this picture of an

Agonizer

Happy Baby Titan:
Anyway, that's why I like the Agonizer so much, and no other list allows me to run so many as Rasheth's "Chain Gang" Tier list. So let's take a look!
35 Point Version
Dominator Rasheth
–Bronzeback Titan
–Titan Gladiator
–Titan Gladiator
Agonizer
Agonizer
Gatorman Posse (Max)
Paingiver Task Master
Paingiver Beast Handlers (Min)
A small list I know, but the durability of the Titans, combined with the raw power of the Gatormen/Paingiver and Nihilators has proved itself time and time again. So how does it work? Well let's take a look at it's general usage:
So what does the Tier List bring to the table? Well, we get the initial benefits of +2 inches to our deployment as well as our Gatormen gaining +2 SPD their first turn, not bad… Next we have the Agonizers starting with three fury each, thus keeping them at peak potential from the get-go as well as giving Rasheth a well to tap into without having to manually store his own fury, also not bad… And mostly importantly we have the fact that Titans cost you 1 less point for running the Tier, what??! Yes, I know one measly point may not seem like much, but remember that those points can build quickly, and seven point Gladiators are NOTHING to sneeze at!
Alright, so we have the Tier benefits, what did we do with them? Well for me it was adding a tri-force of lean-mean-stomping-machines! Well, elephants in this case, but now we're arguing semantics!
Subscribe to our newsletter!
Get Tabletop, RPG & Pop Culture news delivered directly to your inbox.
Basically we took two of some of the nastiest point-for-point (especially now) heavy warbeasts available to us and gave them a leader who makes it so they never Frenzy… Damn, that's a scary thought. If you're reading this, I'm sure you already know the nastiness that is the Gladiator Titan, as well as the might of the Bronzeback, so I won't get into too much detail. But for those out there who don't, let me give a short list of the things they will be doing through the game:
1. Trampling
2. Wrecking any other warbeast
3. Slamming anything and everything
4. Winning
I never said the list was complicated, no sir. This army is all about walking up and smashing everything the opponent brings underfoot. As some of you may know my first army is Cryx, the surgeon's scalpel of Warmachine/Hordes, this army is my sledgehammer… I enjoy the contrast.
Ok, so we see that the Titans will be doing most of the leg work, what do we have backing them up? Well we're bringing one of the best Minions units to the table with the Gatormen and then boosting them with the abilities of the Paingiver Task Master. What's so good about this you may ask? Well the Gatormen are tough-as-nails, boasting eight damage boxes each, +2 ARM in melee, and the ability to gain Pathfinder or re-rolling missed attacks against living models each turn. Combine that with the benefits of the Task Master, who will give them Fearless and Tough or +2 STR and you have a unit that was already scary becoming something altogether more terrifying!
Next we have the Paingiver Beast Handlers. Any Skorne player should be able to immediately see why they are included. Bottom line: they will keep the Titans running at maximum efficiency as well as conferring onto them +2 STR to boost their damage potential up that much higher. One thing I would like to mention that I see a lot of people overlook in them is that you're adding +2 STR, not damage or POW, meaning that STR goes towards any abilities such as Arm/Headlockes and, most importantly, Two-Handed Throws… Throws such as the ones you get to do for free with the Bronzeback… I don't know about you, but few opponents ever see a 7.5 inch throw coming their way!
And lastly we have the main attraction, the Agonizers, which will probably end up being the biggest surprise to your opponent should they not know what the lil' 'uns are capable of. Once more, for those who don't know, the Agonizers basically project an aura around them that will cause one of three effects: your warbeasts will do less damage, your warbeasts will Frenzy easier, or, and this is the big one, Warbeasts lose their animi and warjacks lose their Arc Node, and cannot be allocated focus.
I will say without doubt the disadvantage to warjacks far outweighs the one to warbeasts! I mean, we all know why focus is important to 'jacks, and stripping them of that ability can be a real game-breaker for many players. And keep in mind, this isn't just some aura they can walk out of and be fine (well, it technically is, but listen!), since it's actually keeping them from being allocated focus that means if you move up and activate the aura then they're just out of luck, nothing they can do until their next activation, far past the point they could gain focus! This is the true lock-down power of the list: You may not have the most units, but when you're opponent's own are only running at 50% efficiency then they become easy targets!
Alternatives

Ok, so you like the idea but need a few more bodies on the table, I can understand that. Here you are, a version of the list that removes the Max Squad of Gators and an Agonzier in favor of a small unit of Nihilators. Do I like it as much? Well, no… Not enough tortured baby elephant (T.B.E.)… But I can see it's merits, so try it out and see if it's to your liking:
Dominator Rasheth
–Bronzeback Titan
–Titan Gladiator
–Titan Gladiator
Agonizer
Gatorman Posse (Min)
Paingiver Task Master
Paingiver Beast Handlers (Min)
Nihilators (Min)
The benefit of the above is you have extra bodies to channel through using Rasheth's Dark Ritual ability through, which is nice, and I can see the merits of another independent-moving unit on the field… But again, not enough T.B.E.
Expanding to 50
So what do we add/change around to reach fifty-points? Easy, we make the following changes:
Dominator Rasheth
–Bronzeback Titan
–Titan Gladiator
–Titan Gladiator
–Titan Gladiator
Agonizer
Agonizer
Gatorman Posse (Max)
Paingiver Task Master
Paingiver Beast Handlers (Min)
Nihilators (Max)
I'm sure there are endless possibilities here, including even a second Bronzeback Titan, but for me just building from the core with the addition of a third Titan and then the simple additions of maxing out the Gatormen and Nihilators is enough. Again, are there a relatively few number of bodies on the table? Sure, but that just means we have to get the most out of all our options, and I'd like to think that's what this list is all about.


~And that finishes us up this time. How would you run the list, and what changes would you make to get it to 50 points? In any case,  I do hope I have inspired you to go out there and get a T.B.E. of your very own! -Mr. Black