Kingdom Death: Wetnurse Returns.. For a Time!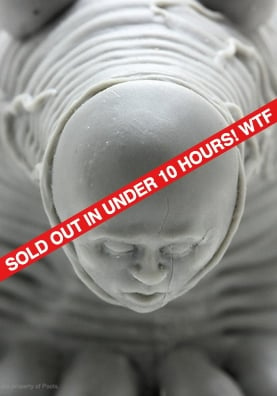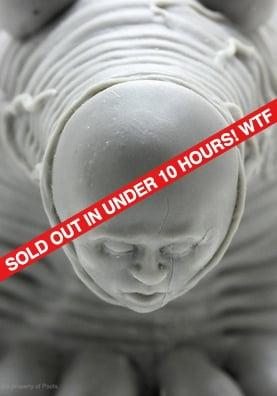 Just in time for bikini season!
Hello dear readers, Mr. Black here, reporting LIVE from the internets! Bigred said he wanted me to handle this announcement, something about worrying about his eternal soul and a dirty, sticky feeling he got when discovering this news… Whatever any of that means one thing is most certainly clear:
The Wetnurse has returned!
… For a limited time…
For those that don't know, The Wetnurse basically strummed up a bunch of talk/controversy some months back when the model was first released. Click the link below and I'm sure you'll understand (do it, I dare you, I friggen dare you)… I mean, I don't get what the big deal was, but then again that model is pure sex to me.
First, you can find her full picture HERE (Warning readers… That link is like, so totally NOT SAFE FOR WORK it's not even funny. So if you're in the kind of place that has issues with anything involving the following, wait till you're home to click that link: tentacles, female nudity, male nudity, "other" nudity, interspecies erotica, impregnation, orifice-asphyxiation, orifice-rephyxiation, birthing, unbirthing, male genitalia, female genitalia, "other" genitalia, amputation, and rampant innuendo.
Second, that model sold out in under 24 hours once it was debuted (I am so, so very proud of all of you). Know what that means? Well… Aside from the implications about our society as a whole… It means that model is super limited and rare!
But good news everyone! The Wetnurse is back in her second limited run! So now everyone and anyone can get their very own We-… What? Come again? …Seriously?
Ahem. Dear readers I must inform you that they have already sold out of the initial 120 castings of this gorgeous model! But luckily for you all you can still get it (although on back order) by clicking that link above! I implore you! Pick up a Wetnurse of your very own! They need good homes and will bring so much love to places you didn't even think you could be loved!
THIS IS CRAZY!
So we had 120 Wet Nurses for the second run… and it looks like they have all sold out in LESS THEN 12 HOURS!
I will be taking back orders for the next few days to make sure fans don't miss out.
The first Wet Nurse release was so intense I thought my email inbox might explode. The reception and demand simply shocked me and it was my honest desperate wish to instantly get a Wet Nurse to every fan. But in the end… to preserve the absolute peak of its quality, we stuck to our current production method and have been slowly casting a second run stock alongside new miniatures.
Subscribe to our newsletter!
Get Tabletop, RPG & Pop Culture news delivered directly to your inbox.
We are releasing the second run of Wet Nurses as a special, we-can't-believe-you-wanted-more release to thank fans for their support of our bizarre nightmares.
The Wet Nurse concept art was drawn by Danny Cruz and miniature sculpted by Thomas David.
*These images are not safe for work.
Packaged in a hand stamped kraft box that includes:

Wet Nurse high quality resin miniature
3 accompanying suffering pregnant women that complete the tableau
Wet Nurse concept art printed on matte 6″x4″ cardstock
The Wet Nurse is on back order and will ship out in a first come first serve basis.