This Week in 40K Podcasting – 8/12/2011 – 8/18/2011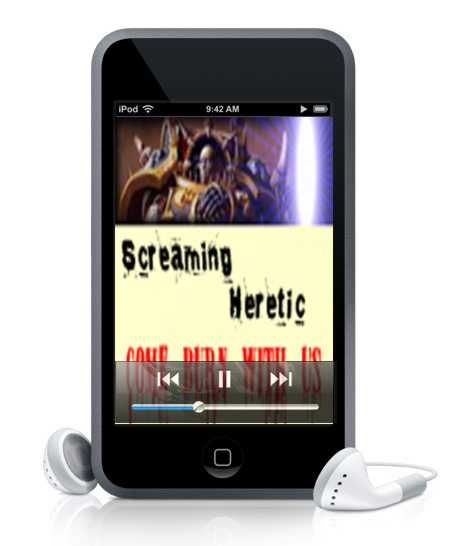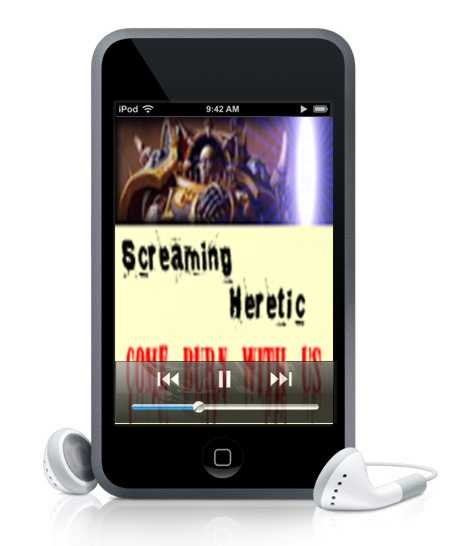 Welcome to another "This Week in 40K Podcasting,"

Here is this week's top 6??? (I had to make an exception this week; there were too many good one that I could not decide)
The Heroic 28s – Episode 16 ***Explicit***
Highlights: This week the gang has a full cast, and they open up the show with some updates, hobby progress, and games played including their 'Ard Boyz Battle Reports. They gave full run downs of their armies and each round of 'Ard Boyz. They close out the first segment with some tournament announcements. In the second segment, the crew goes over Codex Space Wolves. They give a very detailed overview of the Codex, its units, and the common tactics of this very good Codex. Up next, the boys start a new segment where they do a Heroics Intervention on Uncle Buck's Space Wolves tournament list. They are looking for advice on how to prepare this list for a big tournament. In the next segment, the guys go in-depth and talk about the intricacies of the Assault Phase. They talk about some tactics to the Assault phase, when it is best to assault and when it is best to hold your ground. To close out the show, the guys do a full review of the top three miniature cases, Sabol, Battlefoam, and KR Multicase.
Opinion: Overall this was an outstanding podcast! Top to bottom there was something for almost everyone in this podcast, I loved the 'Ard Boyz coverage, but I loved the Space Wolves Codex review even more. They did a great job reviewing the Codex and furthermore helped Uncle Buck build a mean Wolves list. And they closed out the show with an informative Army Case segment. Overall, a great podcast this week, check it out!
Highlights: The Myrtle Beach Wild Bunch is back from 'Ard Boyz Round 1 and they open up the show with a review of their games and the results or Round 1, which with the low turnout at their store (lucky) ended up being more like a NOVA Open practice round. They talk some about their upcoming tournament before moving on to Pats Corner who talks to Vincent Pau and they talk about his IG list he is bringing to the NOVA Open. Pat then talked to Resus of the Bay Area Open and they talk the tournament itself and some of the missions, the results, and some of the rules questions asked. Next up Pat had an excellent interview with John 'Yakface' Regel of DakkaDakka and INAT fame. They discussed some of the new GW FAQ changes and their relation to the INAT and the game. This week in the Strategy Muse, the guys discuss statistics in relation to Terminator Armor Saves. Next up was the Community Segment, followed by Tactical Terrain where the guys discussed the tactics of using terrain properly. Then, in a new segment called 'List of the Week' the boys talk about a Heavy Flamer base Blood Angels list. The guys close out the show with "The List" and this week they built a dreaded Ork Battlewagon list and a Dark Eldar pain token pass list.
Opinion: This was another great podcast from the 11th Company! While I realize they ended up playing each other I think I would have like to hear more of their 'Ard Boyz experience but aside from that this was a great podcast. I love hearing from Yakface and the List was awesome this week. Great work guys!
Highlights: This week the guys open up the show with News and new releases which included the Sisters of Battle and talk about the Chaos Daemons Battleforce box. They move on to some local Overlords news followed up by what they have been doing lately in the hobby and gaming. Next, in Commissar Random's Uplifting Primer, the boys discus the ins and out of Deployment Strategies, to deploy or not to, castling, and so on. Then, in Steve's Round Table, the boys have a discussion about the complexities of writing a team list, and how to build your list to work with another army. They close out the show with Dagmire's Tavern, and Dagmire and Steve continue the discussion of telling the story of your army through paint and modeling, and this week discuss telling a story though the basing of an army.
Opinion: I really liked this week's podcast from the Overlords. I especially liked Commissar Random's segment where he talked about the Deployment phase, a key to the game as I see it and the Roundtable had a good subject matter that I found fascinating. And Dagmire's trilogy of telling a story in your army through painting has been a pure joy to listen to. Great podcast guys!
Imperial Vox Cast – Episode 57 ***Explicit***
Highlights: After some pre-show fun, the boys (minus Silas) open up their show with what they have been doing lately, talking a bit about Kill Team! They then move on to talk about what they have been doing in the hobby lately, including modeling and games played. Then then do a quick review of the new KR Multicase Backpack before moving on to shoutouts. They then move on to talk about the main topic of the show, and that was 'Playing the Mission'. They talked about how sometimes paying attention to the mission and the secondary objectives in a tournament can mean the difference between a win and a loss! Reading and understanding a scenario is the key to a tournament game. They move on to talk a bit about the Games Workshop business model and they release schedule of Codices. They then begin to talk about what they have been up to lately, including games played and army lists tweaked. To close out the show, the boys talk about their favorite rulebook missions and why they are their favorites and their favorite scoring units in the game.
Subscribe to our newsletter!
Get Tabletop, RPG & Pop Culture news delivered directly to your inbox.
Opinion: This was a podcast that hits on a subject near and dear to my heart, playing the mission. They guys do a great job of describing some of the pitfalls that we all fall into in our game and how loosing focus can cost us the game. This was a great podcast and a good refresher course! I recommend you listen to this one this week!
Screaming Heretic – Episode 7 ***Explicit***
Highlights: This week the show is down a few crew members as they are post GenCon 2011 and working. The crew opens up the show with some shoutouts, both GenCon and non-GenCon alike, before they move on to talk about their hobby updates and games played. Next, they did a product review of the Olivia Model from 21st Century Pinup Models, as a 'counts as' Grey Knights model. They also review the slag crater, barricade walls, and some bases from Mr. Dandy. Next up was my favorite segment, "Kiss My List" and this week they reviewed a great Chaos Space Marine list. In the next segment, the gang talks about building an army list and how they go about doing so. They mention about building a balanced list and how the hard core tournament list might not be the best approach. Next, the crew gives their full review of Gamesday Chicago, they talk about what they heard and what exciting new stuff is up and coming! Then, on Girl on Gaming, Jen talks about some of her GenCon experiences and convention parties! Next, on Full of Fail, the gang talks about the things that might not have gone so well this past week! Next, was a series of interviews that they recorded at GenCon, which included Jes Goodwin, Jerry from Relic Entertainment, Gav Thorpe, Michael Sulsman, and Mike Lee. They close out the show with their first giveaway and they focus a bit on Malifaux and Puppet Wars.
Opinion: I have found that this is one of the podcasts I look forward to the most. Even without a full crew this podcast has everything a gamer could possible want. There is a ton of good hobby talking in this show, tactics and strategies, news of new stuff out there for your hobby, and their Gamesday Coverage was top notch! Even with the open mic, the audio quality was great for a convention recording! Great work guys and girls, I love the show! And lucky for me, saved my iTunes review for the right time. Another great show, if you are not listening to this show, you really are missing out!
Deepstrike Radio – Episode 20 ***Explicit***
Highlights: This week the crew is back to full strength and they open up the show with what they have been doing lately in the hobby and games played. They move on to the news, where they talk about their T-Shirt contest, the latest releases to better your hobby, and some 6th Edition rumors. Then, in the Libarius, the guys start discussing the Eldar Craftworld Biel Tan. They discuss the background story of this Craftworld and their military beliefs and practices. Next up in the Armory, each of the guys present a Biel Tan themed army list. They all go over their lists and the reasons why they took certain units for this Craftworld. Next up in the Hobby Trenches they boys discuss painting Biel Tan, and give some great advice on the vines. They then close out the show with a great discussion about negative attitudes in the games.
Options: This was the podcast I simply HAD to include in this week's rundown. I could not exclude this podcast from the top this week as it was just too good! I absolutely LOVE their fluff coverage. They are almost in a very unique position as the not only cover the story of Biel Tan this week, but then go into the army lists and the hobby of making a Biel Tan army. This podcast is a complete package and I must hear this week. I love when they cover an army! Great work guys!
Honorable Mentions – All great podcasts that just missed this cut this week, but you should still check them out, in no particular order:
Tyrant's Due – Episode 10 AWESOME Black Crusade from Fantasy Flight Games Coverage!
40K UK – Episode 16 Tau Heavy Support, The Big Fight, and Toy Soldiers
Interesting Tactics– Episode 17 ***Explicit*** – Codex Reviews
The Eternal Warriors – Episode 27 ***Explicit*** – Gamesday USA Coverage
Jaded Gamercast – Episode 42 ***Explicit*** – Fluff versus actual play on the Table
Initiative 1 – Episode 5 End of Times Tournament, Throne of Skulls, and 1500 point armies
Seanhammer – Episode 54 Malifaux
So, that is it for This Week in 40K podcasting, thanks for reading. Got a podcast all about 40K, or mostly 40K that I am not listening to? Let me know about it, [email protected] and I'll be happy to add you to my listening schedule! Disagree with my review? Post comments for that too!