Goatboy's Model Review – Privateer's Khador Man-O-War Bombardiers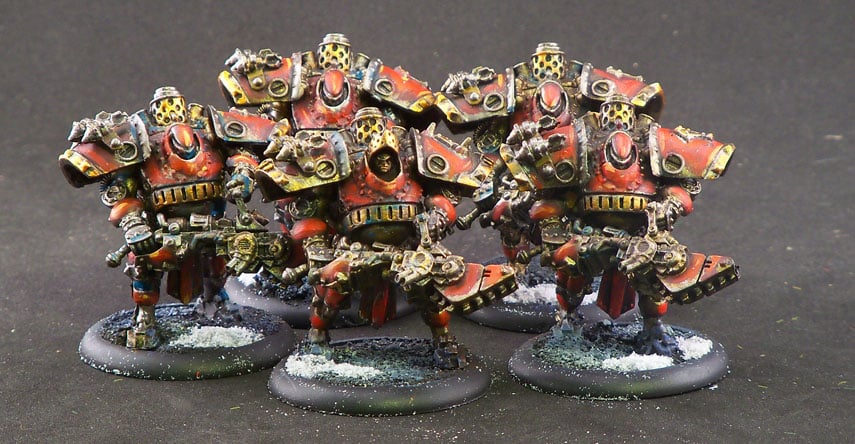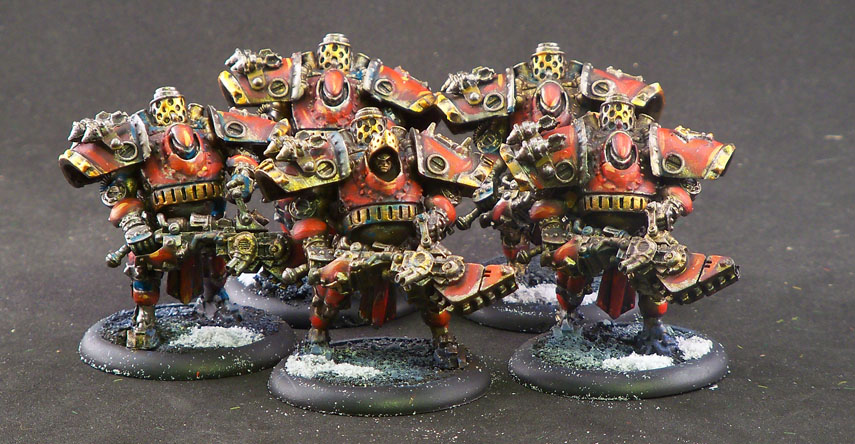 Goatboy here again – doing another Model review. This time around I got ahold of the new Plastic Khador Man-O-War Bombardiers from Privateer Press.

This kit is brand new and Big Red was kind enough to let me continue painting his Khador army and thus paint up this new kit. As usual I will be reviewing the model based off of Value, Look/Form, and finally Paintability.
Value = 7 out of 10
This kit is pretty neat as it gives you a complete squad for the box. The only thing I wish they would have added was all the Man-O-War options into one kit. This would give you some extra bits for conversion and let them create one box to rule them all. I think a little thing like that would make for a really amazing kit.
Look/Form = 8 out of 10
If you like the Khador look then you will like these models. Gone are the days of pinning a tiny little hand to hold whatever huge bendy piece of pewter you decided to attach. This kit looks great, goes together smooth and it really gives me hope to see all of there stuff go to plastic. I really like the Khador look and these guys represent that big ole mean "Russian" soldiers of doom – with chainsaws – that fire grenades!
Paintability = 8 out of 10
These guys are easy to paint. Really you can start with the metals and then finish them completely and paint up your "main" color. Just like GentleBen did with his group you can easily pick just about any color option and these models will look good and "fit". They hold washes well and have enough variation in design to create interesting angles and paint areas.
I really liked the kit and just think if they went forward with creating some universal kits it would really help create a neat set of options for players to build and design. The basic plastic Jack kits are built to take multiple designs and I feel that they can expand on that with their infantry to create a really cool set of armies and builds. Will see if this will change in the future – but Privateer Presses new plastic models are a great step forward.
Now if they can get some cool Plastic Horde Beasts. – Have at it!