This Week in 40K Podcasting – 10/07/2011 – 10/13/2011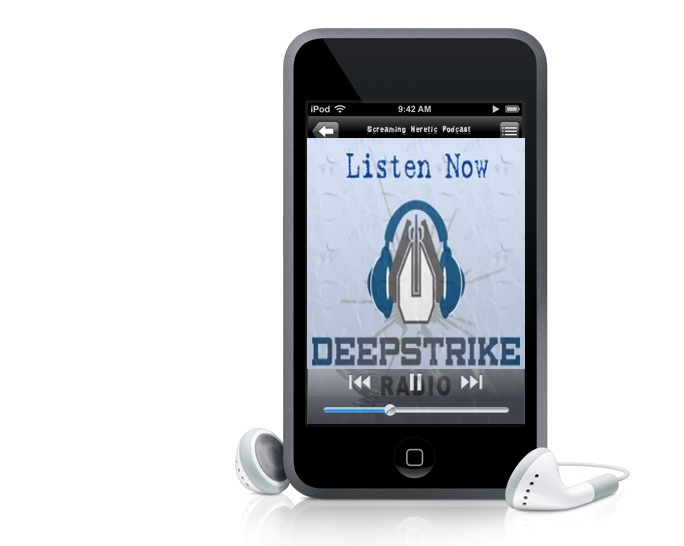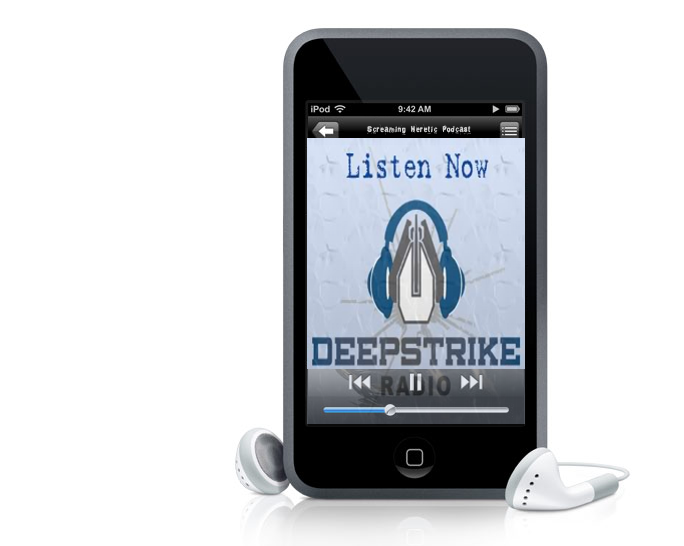 Welcome to another "This Week in 40K Podcasting,"

Here is this week's top 5!
Deepstrike Radio – Episode 23
***Explicit***
Highlights: This week the guys open up the show with what they have been doing lately in the hobby. Chase played in a mini-tournament, Chris attended Gamesday Australia and played some games, and Jim is still recovering from his injuries but talking Battlefleet Gothic. They move on to talk about the latest news in the world of 40K; they touch on Dreadfleet, Liquid Green Stuff, and Imperial Armor Apocalypse Second Edition. Next up in the Libraius, Chase and Jim review the Age of Apostasy, a period of civil war within the Imperium of Man where power within the Imperium was seized by a single man, High Lord Goge Vandire. They give very detailed background information on this time period in the Imperium and the conflict between the Ecclesiarch, the Administratum, and High Lord Vandire. Then, in the Armory, the guys decided to build lists from armies that were pivotal during the time period of the Age of Apostasy. Chase did up a Fire Hawks army, using some Badab War special characters, Chris decided to build a Black Templar list, and Jim built a Frateris Templar list using a combination of the Sisters of Battle Codex and the Imperial Guard Codex. Then, in the Hobby Trenches, the guys discuss Siege Terrain for your 40K game table! What should you build and what will look good on your battlefield. To close out the show, in the Briefing Room, Chris gives us a rundown of his experience at Gamesday Australia, this included meeting Phil Kelly, some speed painting, and a trivia contest.
Opinion: Overall, this was easily my favorite podcast this week. There is such a vast amount history and story behind the Grim-Dark that I still do not know and this was a time period I had never heard about. It was an amazing telling of the story, very detailed, and made me want to learn more! A great show guys, one of your best!
Highlights: The guys are back fresh from the Battle of Salvation GT where Neil took the top spot with his brutal Grey Knights list! They open up with "This Week in Gaming" where Neil and Steven give a blow by blow review of their games at the Battle for Salvation GT. This section covers games 1 through 4, and when they could, they interviewed the people they played and talked about their games. Next up in Pat's Corner, Pat interviews Charlie (a local player) and discuss the Eldar list he took to the Nova Open. He also interviewed the famous Bill Kim and they talked about his Daemons list. Lastly, he interviewed Hans Krieger of RockCon. We then get back to part 2 of "This Week in Gaming" where Neil and Steven return to their coverage of the Battle for Salvation GT covering Neil's games 5 through 7 and the overall win. They close out the show with Pat's Black Library book review where this week's book is Lord of the Night.
Opinion: This was yet another great podcast from the 11th Company. I loved their coverage of The Battle for Salvation and I would like to congratulate Neil for his 1st place finish! The interviews were great, Bill Kim is one of my favorites, and I am really liking the little book reviews at the end. Overall, a great podcast!
Highlights: The boys open up the show with some announcements and move right into 40K Gaming news, which included a new KR Multicase website, GW being quite about 40K lately, Liquid Green Stuff, Gamesday Australia, and Imperial Armor Apocalypse 2nd Edition. Then then move into local Overlords news, what they have been up to lately in the hobby and games they have played! Next up in the "Meatlocker" the boys continue with part 5 of their Setup Tactics and this week's discussion revolves around Reserves and tactics to using them. Then, in Steve's Round Table, the guys talk about their 40K disappointments, like Apocalypse games, Custom Missions that don't quite live up to expectations, and so on. The guys close out the show with some interviews with the players and organizers of the recent Maelstrom Team Tournament.
Opinion: This was another good show from the guys! I have to say that the tactical feel to the last few episodes have really been good for this show. While they are known mostly for their fluff attachment to the game, it is clear that most of them have some good solid tactics to back up their fluff. Great work guys, loved the show!
Highlights: This week, Rich, Opy, and Bill open up their podcast with their Round Up where they discuss what they have been up to lately in their hobby and discuss some games played. This is also a review of Bill's experience at the 'Road to Mechanicon' tournament and he discusses all the fun he had there. Then in "This Random Time Period of 40K", the guys have a review of the latest news and rumors in the world of 40K, Forgeworld, and the Black Library. Next up in their "Turn 8 Reviews" the boys review the Black Library book 15 Hours. They do their best not to spoil the book but they do touch into some of the details of the characters and the over arcing story. Next up was "The Battle Report", and they opened up with some details of the game itself, mission, lists (Sister vs Necrons), terrain and so on prior to a completely narrative and engaging review of the story of the battle. They then have a follow up review of the battle, which included a 'what went wrong' section, and a final review of the Sister Codex. To close out the show the guys go into "Rules of Engagement" and this week is part 2 of their Ruins Rules Review: Shooting and Assaulting within Ruins.
Opinion: This was a new podcast to me last week and I was happily surprised by how outstanding it really was. Their Round up was pretty good, covering a tournament I could make it to some time, but the jewel of this podcast is without a doubt the Battle Report. Instead of the standard blow-by-blow that most shows would do, these guys wrote a narrative story with which to tell the story of the battle in dramatic fashion. This blew me away, something completely original in the sea of 40K podcast, and something I am going to be looking forward to with each of their release. If you are looking for something a little different, a little fluffier, then check this one out. I highly recommend it! Great work guys!
Subscribe to our newsletter!
Get Tabletop, RPG & Pop Culture news delivered directly to your inbox.
Heroic 28s – Episode 20

Highlights: This week the guys check in with a monster 4+ hour show, so be prepared guys! They open up their show with some hobby progress and talking about what they have been painting and building. Next up, the guys move on to talk about the news where they cover the new Warmachine box set, the new Dreadfleet release, and some local news. Then, the boys do a Heroic Intervention where they try to help out a Tau List. They give the list a once over and then update it to be as competitive as they can. Next up, the boys give their full rundown of Codex Blood Angels, where they run down the entre codex covering its units, common tactics, and common tournament and fluff-based units/lists. Then, they moved on to a detailed discussion about COMP; they define what COMP is, and how they feel about the need (or lack of) for composition in a competitive environment. Next, the cast did a Special Character Highlight and focused on the Imperial Guard character Lord Castellan Creed. They talk a bit about his background story, the look of the model itself, and the tactics to using this character in your army. To close out the show, the guys talk about conversions and about some of the 'other' companies out there that manufacture bits for your favorite game!
Opinion: Top to bottom this was a solid podcast that I really enjoyed! The Heroic Intervention was insightful, and the rundown of Codex Blood Angels was awesome. They also hit on a great conversation about Comp and I really still fell up in the air about this subject. The special character focus was really my favorite part of this week's show. They did hit on some talk about 'other' games, but this show was good even with it.
Honorable Mentions – All great podcasts that just missed this cut this week, but you should still check them out, in no particular order:
40K UK – Episode 25 ***Explicit*** – Rankings HQ Countdown: the UK's Top 16!
The Eternal Warriors – Episode 30 ***Explicit*** – A good Sisters of Battle Review
Life After the Cover Save – Episodes 35 & 36 ***Explicit*** – You need to go their forums to get these shows as they are not on the main site… which I missed in previous weeks.
Jaded Gamercast – Episode 50 ***Explicit*** – Return of Firestorm Armada
Seanhammer – Episode 58 ***Explicit*** – Warhammer Fantasy Ogres and Malifaux
Failhammer – Episode 16 ***Explicit*** – Dreadfleet and Space Marine
So, that is it for This Week in 40K podcasting, thanks for reading. Got a podcast all about 40K, or mostly 40K that I am not listening to? Let me know about it, [email protected] and I'll be happy to add you to my listening schedule! Disagree with my review? Post comments for that too!