This Week in 40K Podcasting – 10/14/2011 – 10/27/2011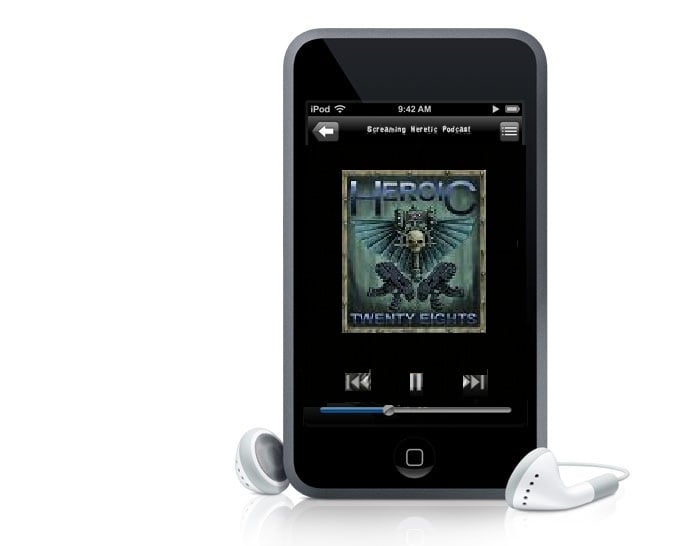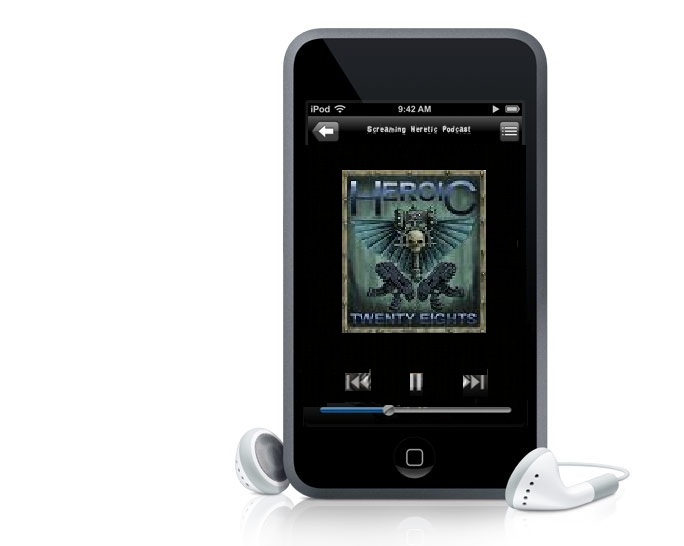 Welcome to another "This Week in 40K Podcasting,"

Here is this week's top 5!
Highlights: This week the guys are a few heroes short, but motor on through the show despite a smaller crew for the show. They open up the show with some hobby progress and games played in the last two weeks. They move on to talk some news; mostly discussing the new Necron leaked photos and rumored fluff and some 6th Ed rumors. They then move on to talk about some local news, local tournaments, and some talk about next year's Railhead Rumble. Next up in Heroic Interventions, the boys review an Ork list and make some suggestions for improving this to a 1500 point tournament list. In the next segment, Sandman Mike takes the reins and the boys discuss the rise of the 2+ armor save armies back to the world of 40K. How recently, a lot of tournament lists are shifting to those deadly terminators. To close out the show, the guys do another Special Character Highlight, this week on the Eldar character Maugan Ra! They give the full back story of him and move on to talk about his influence on the table top.
Opinion: Overall this was my favorite podcast of the week. They talked up Necrons quite a bit, which right now have me chomping at the bit (My first 40K army was Necrons) so anything I can get on them right now is great. I liked what they did with the Ork list in Heroic Intervention, but the discussion about the 2+ armies coming back was outstanding! And they closed out the show with a pretty good fluff piece on Maugan Ru. Overall, and outstanding podcast guys!
Highlights: This week the guys open up the show with some announcements about their tournament before moving into "This Week in Gaming" where they discuss the games they played this week. Next up in Pat's Corner, Pat interviews Lars from the Farseer blog and they discuss his feeling on the current Eldar codex and looking forward to what needs fixed with them in their next Codex. Next up, Pat has an interview with Adam from the blog Yriel, an Eldar blog. They discuss the list he took to 'Ard Boyz and has done well enough with to advance to the finals with! Then in "the List" the guys decided to build a Shrike Space Marine list with some Scouts and a goofy fun Ork hoard list. Next up in Tactical Terrain, Aaron and Neil discuss terrain on the tournament circuit. They talk about designing the terrain to meet with the expectations of size and height and a formula for how much terrain you need to run an event. The guys close out the show with another installment of Ralph where this week they show us how to deal with Grey Knights by discussing what they feel are the Red Herings of the codex and where not to focus your attentions. They also run down some typical Grey Knight lists so that you know what you are up against. Next up, they give Ralph some advice on how to battle Grey Knights with Dark Eldar.
Opinion: This week's show was great; I loved every part of it! It seems the closer to their event they get the less they play, but that is understandable. I really liked the idea of some of the lists they built this week, and the discussion about tournament terrain is making me re-think the terrain on my tables. I especially loved the "How to beat" Grey Knights section, this army is a thorn in my side and it giving me some ideas on how to combat them. I also highly recommend Neil's articles on their blog for even more detail. Overall, a great show fellas!
Imperial Vox Cast – Episode 61 ***Explicit***
Highlights: This week it is just Bill and Dawson and they open up talking about what they have been up to lately, and this included some really good painting discussion. Dawson moved on to talk about the games that he has been playing since the last show, which included a new Wolf list versus Silas' Grey Knights. Next up in the main topic for the show this week, the guys are breaking down the Sisters of Battle Codex. They start off with the HQ choices and point out some of the good in this Codex. This then moves into some of what is wrong with this Codex and they boys discuss all the things that do not work in this 'book'. They continue to run down each FOC slot and try their best to point out good things, but mostly this is a bad Codex overall and it is hard to put a good spin on it. At the end of the segment, Dawson gives us a rundown of a 2000 Point list that he believes could be a competitive build. Up next the guys are taking about Da Boyz GT and the now famous COMP scores. The go into how the COMP scores are done and where the big dings on the system come into play. They also give some examples of where this COMP system might make it hard for certain armies just to play. They close out the show by building lists that they believe would work within the rubric and still beat some face at the tournament.
Opinion: Another great show from a great podcast, their coverage of the Sister of Battle Codex was outstanding! I do appreciate that they tried to put a good spin on the book, but overall it already needs an overhaul and is by GW's admission an update and not a new Codex. I was curious as to how they would feel about Da Boyz COMP scoring and it was interesting to hear their thoughts. Overall, a good show!
The Overlords – Episode 71 ***Explicit***
Highlights: The week the guys are back to full strength, and open up the show talking a little about Necrons, the latest pre-Hersey releases from Forgeworld, and the new KR Multicase releases. Then in local Overlords news, the guys talk about their YouTube channel contest, their upcoming Double-Take tournament, and move on to talk about what they have been doing in the hobby and gaming in the last few weeks. Next up in Steve's Round Table, the guys discuss army transports and other means of moving your army from point A to point B. Then, Commissar Random starts off a new segment called Terrain Fatigue, and he discusses the challenges in building, buying, and more importantly maintaining your clubs terrain. They make the great suggestion of the 'Terrain Building' party! The guys close out the show with an interview with Black Library author Bill King.
Opinion: Another great show from the Overlords! I am one of those guys who has spents thousands on figs and not a dime on a transport, so it was a good thing to hear about my options. The Terrain Fatigue section was most enlightening, and it gave me some more ideas for building and fixing up some of my table top terrain. And the interview with Bill King was great, and got Dagmire into the show! Great show guys!
Subscribe to our newsletter!
Get Tabletop, RPG & Pop Culture news delivered directly to your inbox.
40K UK – Episode 26 ***Explicit***
Highlights: This week the guys are weighing in was a massive almost 4 hour podcast! This show is almost entirely dedicated to the most recent tournament they attended called Octoberfest 2011, a 1750 Point, six rounds, team-oriented tournament held in London. They open up the show by going over some of the non-standard missions that were used at the tournament, and talk about the terrain setups there. They then go over the lists that they each took to the event. They then begin their blow-by-blow evaluations of each of their games in each round and follow up each round with an interview with their opponent when possible. The final interview from the players of the tournament also included an interview with Mike Birch, the Tournament Organizer. He and Dave discuss the event itself, how well it ran, and discuss some of the fun that happened that weekend. To close out the show, Dave has an interview with Franco Marrufo, the Octoberfest 2011 Champion. They discuss his list and his overall performance at the event.
Opinion: A good show this week, a solid beginning to end rundown of their tournament experience. I can tell you I am jealous of their local tournament scene, as they have a new one to go to each and every month! A great show, it was a lot of fun to listen to!
Honorable Mentions – All great podcasts that just missed this cut this week, but you should still check them out, in no particular order:
Jaded Gamercast – Episode 52 ***Explicit*** – Celebrating 1 Year and a Warhammer Fantasy Tournament!
El Pee and the Man – Episode 35 ***Explicit*** – Meta changes, balanced lists, and a ton of topic tangents
40K For Old Men – Episodes 21 & 22 ***Explicit*** – Army Transports, Campaigns, Army Background, and Big Changes to the show!
Side Note Commentary:
So a rather bizarre post showed up on the Eternal Warriors' website this week and it appears that Rich has left the show. I do not know what this means for the show and its continued success as one of the premier war gaming podcasts in the world. I believe all of the recording equipment is at Rich's house, but I could be wrong. Is this it? Is the show over? Have the group of guys I have had the pleasure, no the honor, of listening to for the past three years plus called it quits and the show is now over. Please, say it ain't so.
So, that is it for This Week in 40K podcasting, thanks for reading. Got a podcast all about 40K, or mostly 40K that I am not listening to? Let me know about it, [email protected] and I'll be happy to add you to my listening schedule! Disagree with my review? Post comments for that too!