This Week in 40K Podcasting – 9/30/2011 – 10/06/2011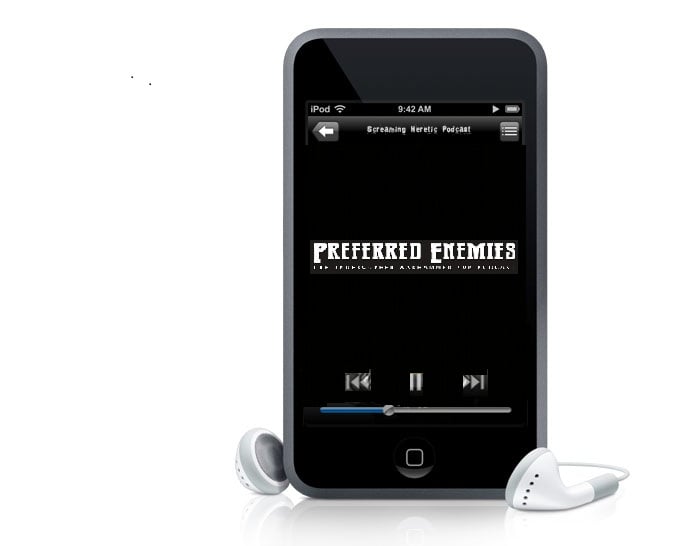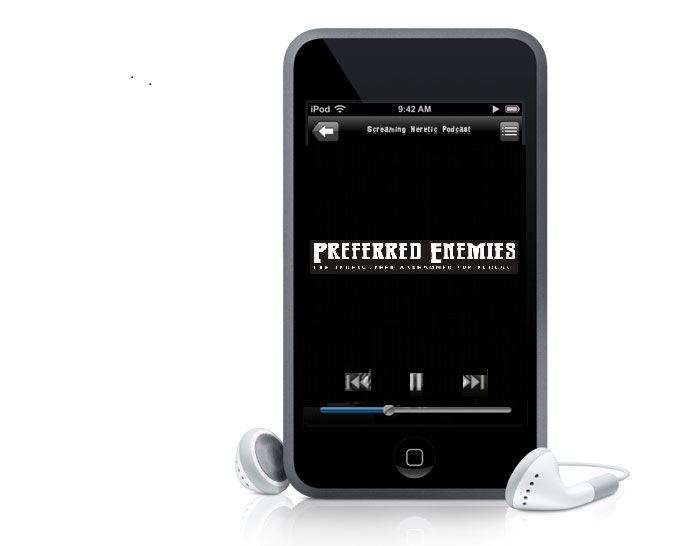 Welcome to another "This Week in 40K Podcasting,"

Here is this week's top 7???
Okay, so I know that the tradition here is to do a top 5 each week, but with 15 podcasts dropping this week, and each of them outstanding in their own way, I really could not decide on a solid top 5. It was so hard for me in fact, that I can't do it, and have decided to review the top 7 podcasts this week… now take a break guys! I need an assistant…
Preferred Enemies – Episode 13 ***Explicit***
Highlights: This week, Dennis is out of town this week so Tim sits down with the cast for the first time. The guys open up with an introduction to Tim and his 40K experience. They move on to talk some about Black Crusade from Fantasy Flight Games, and their brief overview of the game. This moved into a conversation about Space Hulk, Dreadfleet and other GW side games. They then go over some rumors of IG model releases and the lack of releases in other armies (*cough* Tyranids *cough*). Rob then talks some about his 'Ard Boys experience where he went 1-2. The guys then roll right into the main topic of the show, which is Ant-Mech tactics in 5th Edition 40K. They, of course, talk about the main counter to mech which is the lovely Meltagun! But they also talk about some army specific weapons and tactics that will help you battle all of those tanks. They close out the show with some hobby progress, and talk about what they have gotten done lately.
Opinion: This is a great podcast this week, and easily my favorite for the week. This cast has a great chemistry and the show's content was top of the line. They hit on all things 40K, from Black Crusade, to news and rumors, to a great tactical segment on Mech and Anti-Mech tactics. Outstanding work, I really enjoyed this week's show!
Highlights: This week, the cast is back to full strength with John, Steve, Ciaran, and Dean. They open up with some news from GW itself about Gamesday and some new releases from Black Library. They then move on to talk about some local Overlords news, which included their upcoming Double Take Tournament. They then move on to discuss what they have been doing lately in the hobby and talked about the games they have been playing. Next up in the Meat Locker, the boys are on to part 4 of the deployment tactics and this week talk about a unit's footprint. This included some clarifications of tank movement. Then, in Steve's Round Table Discussion, the guys do a full review of the new foam from KR Multicase that will hold 2 Valkyries/Vendettas (magnetize those wings boys!). Then we are back to the Meatlocker for Ciaran's review of the Maelstrom Team Tournament. He gives the full rundown of the event, including talking about meeting the 'Roll with It' gaming club and the Overlords team performance. They close out the show with some interviews recorded by Dagmire with some Black Library authors and they discuss why they are doing so well lately.
Opinion: This was another great show from the Overlords. I have to say I am really liking the little bit of tactical discussion with the guys, it looks good on them! This series of deployment tactics have really been outstand and worth looking into, the KR Multicase review makes me want a KR case even more, and the Maelstrom tournament review was pretty cool. Overall a great show!
Screaming Heretic – Episode 11 ***Explicit***
Highlights: This week the cast is down some heretics due to work and family conditions but are joined by an in studio guest, Randal. They open up the show with what they have been doing lately in the hobby and painting. They then move on to talk about some gaming news and new releases in the hobby, including Liquid Green Stuff and Dreadfleet. Next up, Jen runs Kiss my List completely by herself and she reviews a very Spamy Dark Eldar list. In the next segment, they open up with Noob 411 and they continue on their painting tutorial and this week they cover shadow placement, dealing with eyes, and gluing those models together. Next, then had an interview with Darrell from KR Multicase and they discuss the company, the service that they provide with their awesome army transports, and some of their more popular cases. In the last segment of the show, Jen takes on Girl(s) on Gaming this week solo and she talks about "Game Overload" and "Game Burnout", which breaks down into a time management conversation. This then falls into a conversation about the Wyrd Miniatures painting contest. Lastly, Randal sits down and discusses what it takes to set up a Master's Level painting class at your local gaming store.
Opinion: I really am enjoying this podcast overall, and this week's show was a good example of why. Despite being a few folks short, the crew did an awesome job with some new stuff (Liquid Green Stuff?), Kiss my list is always a good time, and Noob 411 is going to change my painting techniques. And Randal added quite nicely to the show this week. So overall, a good show!
Highlights: After some announcements, the boys open up the show with "This Week in Gaming" and the guys discuss their preparation for the Battle for Salvation tournament. Neil is testing out his dual Land Raider Grey Knight list. They are running a drawing for donations to the James Ayles Memorial Fund, so check that out, Steven actually did some magnetizing and there are new Objective Markers available. They then move on to talk about the games played this week. Next up, Pat has an interview with Nick Nanavati and they talk about his Tyranid 'Ard Boyz list and some about his Battle for Salvation Deamon list. Then, Pat has an interview with the famous Fritz from the blog Fritz 40K! They talk some about his time with BoLS, the tactics of Going to Ground, and his blog. Next up, Pat has an interview with Jen and Joe from the Screaming Heretic podcast and they talk about the James Ayles Memorial Fund. Pat also talks to Tom from the Podcast Tyrants Due and they talk about his podcast. He also talked to Teras from Geek Nation Tours. Next up was another Tactical Terrain and this week they explore Codex Creep and changes in Edition that have changed how terrain is used in 40K. Then the guys get back to "The List" and this week they build a Deathwing Dark Angels List, an Ultramarines Clagar list, and a Dark Eldar list. To close out the show, Pat has a Black Library book review (yes, a book review from the tactics guys, really!) of Ravenor by Dan Abnett.
Subscribe to our newsletter!
Get Tabletop, RPG & Pop Culture news delivered directly to your inbox.
Opinion: This was another great podcast from the Myrtle Beach Wild Bunch, somewhat what I have come to expect from them! This week in gaming was great, Pat had some pretty good interviews this week with Fritz and Nick Nanavati, I am really digging the Tactical Terrain segment and picking up all sorts of new ideas there, and of course the List was packed full of tactical goodness! Great show guys!
Imperial Vox Cast – Episode 60 ***Explicit***
Highlights: This week the podcast has a full crew with Bill, Dawson, Silas and Dawson! They start off talking about what they have been up to lately; Silas participated in a comp tournament using Da Boyz GT rules, Tor talk some modeling, and there was some prep for Da Grand Waagh. They then talked about their trip to San Francisco to visit with Carl from the Independent Characters, the game stores that they visited, and they overall trip. They then talked about the tournament, starting off with a full rundown of their lists and brief rundown of the setup, comp, and missions. Next, they give a complete overview of their performance at the event, talking about each game and their outcome. This was a pretty in-depth review and it also hit on some of the fuzzy stuff that they had seen there and some of the poor sportsmanship that they observed. Overall though, it was a good time.
Opinion: This was a pretty good podcast, and when the cast is a full strength it is always better. The bulk of this show was tournament coverage; either the RTT that Silas attended Da Grand Waagh! So it was filled with great rules debates, tactics, and game battle reports. All the stuff that I love! Great work guys!
The Independent Characters – Episode 38 ***Explicit***
Highlights: This week the guys are covering Da Grand Waagh! They open up with some updates on the Hobby Challenge (I love this!), Forbidden Lore and the KR Multicase's Backpack. They then move on to talk about their Hobby Progress and painting. They then move on to talk about their most recent games played. Geoff had not played much, but Carl played in Tasty-Taste's RTT tournament prior to Da Grad Waagh. Next up, they guys give their full review of Da Grand Waagh! They guys then go over Carl's lists first, quickly moving to talk about the tournament itself, and the missions played there. Carl gave an overview of each of his games in the event. He played a Seer Council Eldar list first, Grey Knights in the second round, and a Salamanders SM list on day one, going 1-1-1. On day 2, he played another Salamanders list and finished off with Grey Knights and went 0-0-2, finishing off with a total of 1-1-3. Next up the guys give their overall review of the event itself, which included participation, terrain, tables, and more. Next up, Carl played an interview with Bill and Dawson from Imperial Vox Cast and Dave from the Eternal Warriors, and they discuss the event, their games, the local gaming area, and all the fun that was had at Da Grand Waagh! They close out the show with an interview with Teras of Geek Nation Tours and discussed his company and their Tour to Adepticon 2012.
Opinion: This show is mostly dedicated to Da Grand Waagh! From top to bottom, this was a good podcast and very enjoyable to listen to. It was interesting to hear Carl's view on his performance in the event. It was of course great to hear from Bill, Tor, and Dave as well. Overall, a good podcast guys!
40K UK – Episode 24 ***Explicit***
Highlights: This week's podcast is all about the Northern Warlords tournament the boys attended this past week. Dave opens up talking about the UK GT selling out in only 12 hours and the 40K UK will be an official blog. Next up, is a review of round one of the Warrington Warlords GT, and the boys discuss travelling to tournament, their complete lists and their round one game experience. Next, in a change from their normal format, we break away from the tournament coverage and move on to the GT News segment. They mention about the website now being a full blown blog. Then, we hit back to the Tournament Report with round two's full review. Next up was a new segment called Forged in Battle, where Dave and Leon 'Boomstick' Smith review some Forgeworld models being used in standard 40K. This first segment is an overview of some models that could be considered 'legal' in 40K. Next up, the guys are back to the tournament report and they guys discuss Rounds Three and Four. Then, we get back to Forged in Battle where Dave and Leon and the talk about the awesome Land Raider Achilles. We then bounce back to the tournament report for Round five of the Warlords GT. Then, we jump out and Dave has an interview with Matt Robertson, the TO of the Warlords GT. They discuss the tournament, the missions, and the turnout. The guys close out the show with coverage of Round 6 of the Warlords GT.
Opinion: This week is mostly dedicated to the Warrington Warlords Tournament that some of the guys recently attended. I am not sure how I feel about the format this week, having broken up the review throughout the show. We will have to see if this grows on me, but I did not care for it on this show. Other than that the review of the Tournament was great, the new Forged in Battle segment is awesome, I love it and I am looking very forward to more of it, but again, this too was also broken up over the show. Overall this was a good show, but it felt out of rhythm to me, you would be in tournament mode, and swing out to Forgeworld, and then back to tournament. I loved the content but not the presentation.
Honorable Mentions – All great podcasts that just missed this cut this week, but you should still check them out, in no particular order:
Initiative 1 – Episode 7 – Tournament News and Running a Gaming Club
Tyrant's Due – Episode 12 ***Explicit*** – Finecast revisited, Boarding Assault, and Dreadfleet
40K Radio – Episode 28 ***Explicit*** – Meet "the Chiller", lack of info from GW, and more!
Jaded Gamercast – Episode 49 ***Explicit*** – Forums and Modeling large kits:
El Pee and the Man – Episodes 31 & 32 ***Explicit*** – GT Primers and local tournament wrap up
Failhammer – Episodes 16 ***Explicit*** – Dreadfleet and Space Marine
Gamers Lounge – Episodes 40 ***Explicit*** – Malifaux Wiki:
Seanhammer – Episodes 57 ***Explicit*** – Mailfaux Twisting Fates
So, that is it for This Week in 40K podcasting, thanks for reading. Got a podcast all about 40K, or mostly 40K that I am not listening to? Let me know about it, [email protected] and I'll be happy to add you to my listening schedule! Disagree with my review? Post comments for that too!