This Week in 40K Podcasting – 11/04/2011 – 11/10/2011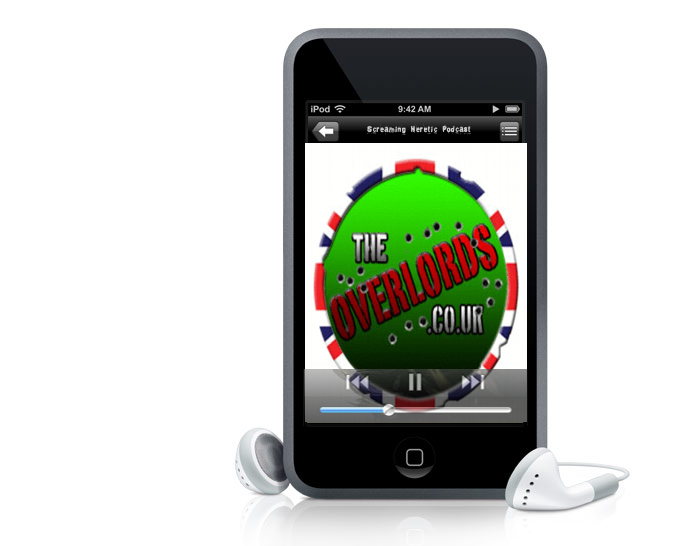 Welcome to another "This Week in 40K Podcasting,"

Here is this week's top 5!
Highlights: This week the Overlords clock in with a massive 4-hour show and are joined by a very special guest, Mr.Gav Thrope! The guys open up talking about the new Necrons Codex before moving on to new releases from Forgeworld and the Black Library. Then the guys move on to talk about local Overlords news, including a story of a stolen army. Then the guys go into what they have been doing this week, which included hobby done, books read, and games played. Next, the boys move on to interview Gav and talk to him about his career at Games Workshop, how he got his start there and what he has done there. He goes really deep in the early history of Warhammer 40K and how the story have been defined and refined over the years. After that, the staff review the Kaiser II army transport from KR Multicase. Next, was Room 40001 with Gav Thrope! He discusses some of the things he would like to see removed from 40K, thing like hovering tanks on terrain, mis-judged 40K fluff on the internet, and more! Up after that was an interview with Teras from Geek Nation Tours and they talk about his gaming history, his favorite 40K armies, and playing the game of 40K. To close out the show, the gang dives into the new Necron Codex and give part 1 of their review. They open up with their first impressions of the Codex and the story, and move on to talk about some of the special rules, new weapons, and some unit reviews.
Opinion: This was just one of those special podcasts that will be a benchmark for this and other shows. Having Gav Thrope on the show to not only interview one of the founding fathers of 40K but also to have some fun with him in Room 40001 was just outstanding! Back that by their standard excellence of podcasting and this made for one heck of a show! By far and away the best podcast this week and I would call it a must hear! I am thoroughly impressed guys, great work!
Deepstrike Radio – Episode 25 ***Explicit***
Highlights: The boys open up the show this week with what they have been up too lately, including hobby done and games played. They also talk about some new releases: from 'other' modeling companies to Forgeworld, the Black Library, and new army cases, the guys cover it all. Next up in the Librarius, the boys go into the story and history of the new Necrons! They also go into the story of some of the special characters and each of the major Dynasties. They also talk about how the story has changed with this new Codex. Next up in the 'Briefing Room', the host's start breaking down the Necron Codex and discussing some of the rules, the models, and playability of the units contained within this new book. Then, in the Armoury, each member of the staff took turns building new Necron list. Chris built a 1500 Trazyn list with quite a few Night Scythes and some Annihilation Barges. Jim did an 1850 point list with a stock Overlord, a Royal Court with a Veil, and more. Chase did a 2000 point list and built it around the special character Anrakyr. To close out the show, the guys dig into the Hobby Trenches and discuss the models themselves and the amazing painting possibilities!
Opinion: Awesome Necron coverage and anyone looking to learn the ropes of this new army early might want to pay attention to this podcast. The guys do an awesome job of a complete review of the army, included full back story and the rules. Overall, this was an outstanding podcast and would recommend it to everyone!
Highlights: This week the Myrtle Beach Wild Bunch opens up their show with some announcements, their tournament being ready to roll, and "This Week in Gaming" where they cover some new armies in their weekly game. This included a continued theme of how to make Eldar kill things and still survive. Next up in Pat's Corner, Pat has an interview with Bob from the blog Blood, Skulls and Fire and they talk about the Dark Eldar army he took to the Battle for Salvation. Next, Pat talked to Ben Mohile, the Team USA ETC captain, and they discuss the process they plan to use to set up next year's team. Pat also interviews Nathan from Jaded Gamercast, Teri from the blog 'That Teri Girl', and Kyle from the blog Imaginary Wars and they discuss the narrative event that they had run recently. They talk about the non-competitive nature of the event, special rules, and some neat surprises they have lined up. After the community segment the guys get back the teaching 'Ralph' how to fight the scourge that is the Grey Knight Codex. This week they cover in detail where they believe the Grey Knight weaknesses are and how to best exploit them. They also talk about how to build an Eldar list to match up against Grey Knights. Next up, in the Muse, the boys lay down some of their first impression of the new Codex Necrons. The guys give their evaluation of the new Reanimation Protocol, the Death Ray, Open-Toped vehicles and more. They also talk about what they think will be the most effective units in the codex, like the Triarch Stalkers, Crypteks with Solar pulse, Lord with Mindshackle Scarabs, and more. To close out the show Pat had another Black Library book review, and this week talk about the audio drama Madness Within.
Opinion: These guys always put out a high quality podcast and this is yet another! I really like the interviews this week, especially hearing from Ben Mohile, and the Jaded Gamercast Cast and friends was also a treat. Ralph is still a t this point my favorite segment in any podcast period right now and this is another must hear. And of course I have been waiting desperately to hear their first impression of Codex Necrons. I am saddened by their early findings, but I still think they will be a fun Codex to play. Competitive, well… let's wait until 6th and see! Great show guys!
Highlights: This week the guys open up their show with their hobby progress, discussing the modeling, painting, and games that they have been playing lately. Next, they move on to the news were they talked about the Space Marine video game and theorize about the next 40K army after Necrons. They also talk some about the Railhead Rumble. In the second segment the boys go over their first impressions of the new Codex Necrons. They start of by going over the new model range and their feeling on the look and feel of those new models. They then start discussing some of the special rules and how the new special rules might affect the game. They then start talking about some of the tactical uses of some of these new Necrons and how they might look on the table. In segment three the guys discuss the preparations needed when attending a GT far away from home. They talk about the travel itself and setting up for cheaper hotel stays. They also go into building you army list, and preparing for a competitive event. They talk about planning for food, fluids, bathing (very important), and comfortable clothes and footwear. In the fourth segment, the guys do another Special Character review, and this week they review one of my favorites, Ghazghkull! They go over his back story and origins, his special rules, and his tactical effects on the battlefield. Next, Chem-Dog Cory and Uncle Buck do some reviews of the Black Library books they have been reading lately. To close out the show, in "Deep Six" the boys talk about the all-important Display Board. They talk about what it is, why they are needed at big tournaments, how to make one on the cheap, and painting and basing techniques.
Opinion: This was a great podcast, top to bottom. I am soaking up all of the Necron goodness I can get right now and these guys did a pretty good job reviewing it. I am really looking forward to their full review of the army. They also go on to offer up some great advice for attending a long distance event. Also, the coverage of Gaz was just a lot of fun! Overall, a great podcast I really enjoyed.
Subscribe to our newsletter!
Get Tabletop, RPG & Pop Culture news delivered directly to your inbox.
40K UK – Episode 26 ***Explicit***
Highlights: After some announcements the guys open up the show with Operation Codex and discuss some the Blood Angels' Troop choices. They give some of the stock, standard tactics used with the Death Company, Death Company Dreadnaughts, and Assault Squads! Next up, Gary has an interview with Jon Taylor and they discuss the range of army building software that is out there, including Army Builder and Battle Scribe. Then, in the next segment, the guys are back to 'the Big Fight' and this week we have a head-to-head battle between Chaplin Grimaldus of the Black Templar and Ragnar Blackmane from the Space Wolves. They close out the show this week with "The Tournament Report' as Dave interviews Rob Madeley and he gives his report of the Open War Tournament. This was a 1750 Point 3 round tournament, with no special characters allowed. Rob gives a blow-by-blow review of each of his three games in the tournament. He runs down the list he brought, his opponent's lists, the missions played, and their outcome.
Opinion: Dave and his crew really have something going here with this podcast, I love that each and every week I am educated with new and interesting tactics to use on the battlefield. The interview with Jon Taylor was really interesting as I currently use his product. The Big Fight is just a lot of fun and this week was a real good fight. And of course their tournament coverage is top-notch. Overall, a good show!
Honorable Mentions – All great podcasts that just missed this cut this week, but you should still check them out, in no particular order:
40K Radio – Episode 30 ***Explicit*** – Necrons Review Part 1 and introducing IPB!
Imperial Vox Cast – Episode 63 ***Explicit*** – Alternative/Anti-Meta List Building
Jaded Gamercast – Episode 54 ***Explicit*** – Dreadfleet Review
Editorial Note:
40K Warcasting is BACK! This one managed to slip under my radar for a few months now but it looks like the boys are back to record a monthly podcast. I just missed their November release, but I will be sure to review their next podcast. Welcome back guys, you've been missed!
So, that is it for This Week in 40K podcasting, thanks for reading. Got a podcast all about 40K, or mostly 40K that I am not listening to? Let me know about it, [email protected] and I'll be happy to add you to my listening schedule! Disagree with my review? Post comments for that too!