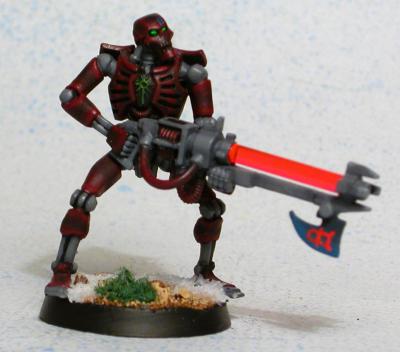 As it sometimes happens, this article took a sharp turn as I was writing it. Originally this was set to outline my take on the Necrons, both now and with a mind toward future releases…

…but a better idea came along, so we're rolling on with that!
Greetings all and sundry! Let's jump right in: does anyone know a 'Grendel'? No, not Beowulf's short-lived sparring partner, but the moniker for one seriously talented hobbyist?
Why am I asking? Glad you asked! Check this image…
Gotta love Google Images; I was looking for pictures to stand in for my unfinished army when this picture jumped out. Can't tell you how much it appeals to me.
I'm stealing the idea, and no I don't care its almost ten years old.
The site is Grendel's Cave (located at http://www.grendelslair.org/ – go figure!) and it's an older style web blog tracking this dude's projects going back ten years. Like so…
The pic links to the site, but don't go exploring just yet! You won't make it back to this humble article… and it won't be much longer now then you can run play with the other children.
Notice how it's loosely set up by year? It seems Grendel took on a major challenge each year or so – but more importantly he finished what he started.
(Also, it seems he is a fixture on the regional tournament circuit in New Zealand, so no doubt somebody out there can let this guy know I'm talking behind his digital back!)
Now, let's take a little stroll down Grendel's Cave (heh!) and see what we can see. Starting with the oldest images waaaay back in 2000…
…and ending up with the Tau in 2008. So instead of asking the question, "What's this guy been doing for the last four years?" let's rather point out the obvious.
This guys made a massive leap in ability from where he started to where he's at now.
No, it's not like he was a chump to start out with or anything, but there's a world of difference between the Imperial Guard in 2000 and the Tau of 2008. And what about the Dante-Counts-As Chaos Lord sized up against the Confrontation Devourer?
There's simply no comparison. Turns out practice does make perfect.
* * *
Grendel! I don't even know this dude and I love this dude!
(Since I'm the guy with the tag Hugs and Gropings he's probably not hip to return the affection, but what evs.)
His output was massive, but to me – most importantly – the love of the hobby just bleeds through these images. This guy put in the time because he loves the hobby. I know there are a bunch of you out there.
Just like we all know there are guys who can't seem to start painting their armies before trading them off on Bartertown. The Metal and Plastic Tabletop Crisis of the New Millennium continues apace, sirs and madams, Unicorns and kiddos.
Some of you people need to ditch the excuses and buy a can of Army Painter spray paint and a matching Citadel Wash. Here's a link to an excellent article by Ron, the man behind From the Warp, discussing how easy zenithal painting is.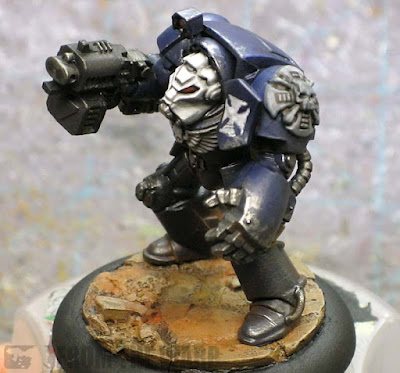 Yea, I stole this image! I'm rowdy today I am!
Heck, I even went out today and bought a can of Krylon Oxford Blue to test out the technique – and I finish armies already.
What's your excuse?
* * *
Okay, this turned into a bit of a rant. Turns out this article changed twice.
Despite that, I'm not really trying to bust your chops. I understand real life happens and it's hard to sit down with paint, a brush, and free time, but c'mon! This hobby we all love is simply many times better when you're playing with a painted army.
It just is. Don't doubt it.
And it's many, many times better when you painted the army yourself.
It doesn't have to be great. Chances are, starting out, it won't be. But there are techniques and articles out there that can really, truly can get you there. You can't help but trip on them; the Blogosphere is simply littered with talent.
We're still only in February. Set a goal this year of finishing an army, start to finish!
Make 2012 the Year You Finish.
I know. I know! The carrot is better than the stick. Rant over. Encouragement is coming!
Those articles – those brush jockeys – are out there. I'll do my best to get some of them here for a guest article. Still…
…let's encourage each other. Like all those weight loss Before and After shots, send in your progress.
So thoughts? Comments? Hugs and gropings?