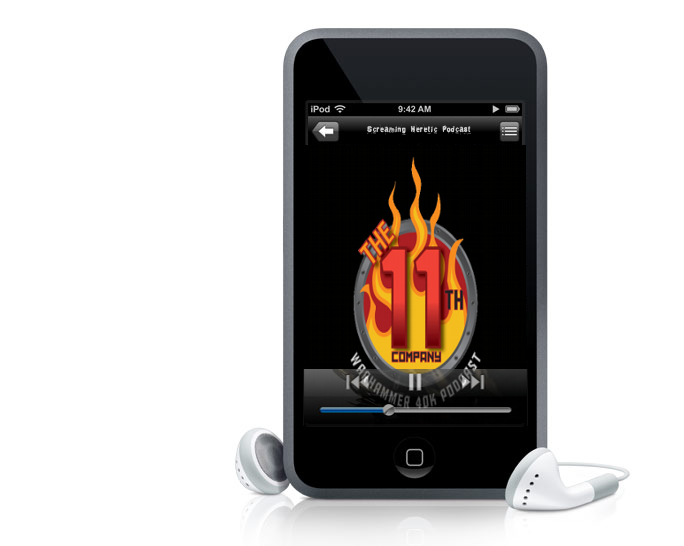 Welcome to another "This Week in 40K Podcasting,"

Here is this week's top 5!
The 11th Company – Episode 109
Highlights: This week the guys are fresh back from the Indy Open GT, and they open up the show with 'This Week in Gaming' where the boys cover the games that they played there at the bar afterwards. The boys each went 3-3 and had a great time. After a song from the Screaming Heretic crew (check this one out at their site!) Pat is back with 'Pat's Corner', and this week he has an interview with Greg Sparks and they talk about him taking over the USA ETC team. Next, Pat talked to Damien, from the blog Eternal Legion, and they discuss his unconventional Space Marine list. Then, he talked to Doug from TableWar.com and they chat about the Ork Speed Freak list that he took to the Broadside Bash. Then, Eric is back with 'Tactical Terrain' and this week he covers the benefits of Difficult Terrain, how much you need on your table, and some ideas for building it. Then, in the community segment, Pat gets back to part 2 of his interview with Matt Weeks from Adepticon. They talk about some of the events that will be run there this year and their 10th anniversary. Next, Pat gets to part 2 of his interview with Mike Brandt from the Nova Open and they talk about some of the scoring changes for this year's GT and terrain on the table. Pat also talked to Damian about a local RTT his gaming club will be running, Cowboy Kenny about the Railhead Rumble, and Sam from PAX East. To close out the show, Pat and Robert from the blog '3 Color Minimum' do a Black Library book review of Deliverance Lost.
Opinion: This was easily my favorite show of the week for many reasons! First, it was great to hear a loser, 'hanging at the bar' style review of the Indy GT. Next, Pat comes through with some simply outstanding interviews that included some of the biggest names in the hobby. And Eric's 'Tactical Terrain' segment was simply stellar with some tips I plan to use on my gaming table.
The Overlords – Episode 90 ***Explicit***
Highlights: This week has a full cast minus Steve and they open up with the news where they talk about the latest Black Library releases, as there was not much from either GW or Forgeworld. They then move on to local Overlords news, and this rolls into what they have been doing lately in the hobby and the games that they have been playing. Next, the guys gave their review of the Black Library Live event. Ciaran, Dagmire, and Alex all attended and they were able to pick up some products early, talk to some of their favorite authors, and attend some of the seminars that were hosted there. Next, in 'Ciaran's Meatlocker', they boys continue their talk about assault armies. They cover building a Codex Space Marines assault list by reviewing the units that best fit this role in the book and their upgrades. They close out the show with a new segment called 'Search and Destroy', and this week Jason has an interview with his friend Brian Gilmore. They discuss his Space Marine chapter's back story and how he plays them on the tabletop.
Opinion: Overall I was pleased with this week's show. The guys' coverage of the Black Library Live event made me jealous I could not go to such and outstanding event. They also have been doing some outstanding tactical work, and this week's 'Meatlocker' was quite thought provoking. The final interview of the show was alright, I found the guest a bit hard to understand sometimes, however the story of his army was quite interesting.
40K UK – Episode 45 ***Explicit***
Highlights: This week's show focuses on the Rankings HQ countdown for 2012. After some announcements, the boys look at the top 16 players in the UK. They open up by discussing how the scoring system has changed to better represent the players. Then then move onto a comprehensive player-by-player review of the best 16 players in the UK. They talk about the armies that they run, the common tactics, the units that they use, and how well they have been doing on the competitive circuit.
Opinion: The Ranking HQ shows have quickly become some of my favorites from this podcast, and each and every time I learn something new. This was quite a good show, full of tactical and strategic tid-bits that I will find quite useful in my next tournament.
Preferred Enemies – Episode 23 ***Explicit***
Highlights: This week's show is centered on their Army for Noobs segment, with their look at the Tyranids! They open up the show talking about the new GW model releases for both the Tyranids and the Space Wolves. They then roll right into their review of Codex Tyranids. They give a brief history of the army in the fluff and then discuss how they play on the battlefield. This included a review of the Synapse USR for the army. They then move on to a light unit-by-unit review of some of the better units out of this codex. They then go on to debate is 'Nids are an army that a beginning player should try. They close out the show by talking about their hobby progress and goals for the near future.
Opinion: The guys reviewed my favorite 40K army this week, and did a darn fine job doing so. This was a great show I would point anyone to looking to start the Tyranid army to, as it was a great overview of the army, its play style, and the models in the range. Their 'Armies for Noobs' have been great, and I hope they keep it up!
Signals from the Frontline – Episode 37
Highlights: This week, Reese and the guys review the Bay Area Open. They open up the show by talking about some of the internet celebrities that they met at the Open, including Goatboy on the final table. They also talk about some of their 'Team Zero Comp' teammates and how well they did at the event and how things went overall. They also discuss some of the winners and where they placed, what they ran, and some of the awesome paint jobs that they saw. They close out the show with an announcement about their next 1750 RTT they will be running.
Opinion: Reese and the Team ZeroComp gang make their first appearance here in the top 5, so I feel inclined to let you all know that this show has a much shorter format then most I review. Which I truly love! While I tend to lean more towards the long format shows, this is a great, twice a week show to keep you up to date in all things 40K in around 30 minutes. For those looking for that quick 40K fix, I would recommend Signals from the Frontline! The Bay Area Open was a great event this year, and who better to hear about it from then the guys who busted their butts to put it all together. Great work guys! I love the show!
Honorable Mentions – All great podcasts that just missed this cut this week, but you should still check them out, in no particular order:
40K Warcasting – Episode 46 Tournaments played in and the new FAQs
Tyrant's Due – Episode 21 ***Explicit*** Dark Angels and Chaos Rumors
Jaded Gamercast – Episode 69 ***Explicit*** High Elves and Firestorm Armada
Seanhammer – Episode 63 – Malifaux
So, that is it for This Week in 40K podcasting, thanks for reading. Got a podcast all about 40K, or mostly 40K that I am not listening to? Let me know about it, [email protected] and let me know about it. Also you can find me on My YouTube Channel for Battle Reports, Tactics, Reviews and more! Disagree with my review? Post comments for that too!