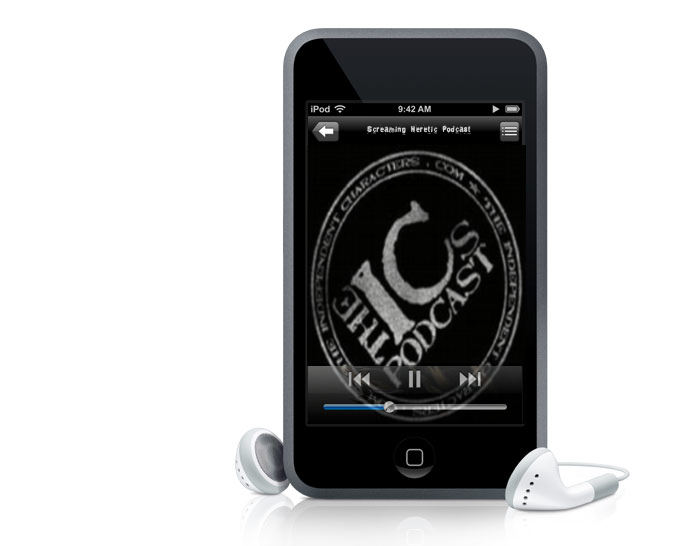 Welcome to another "This Week in 40K Podcasting,"

Here is this week's top 5!
The Independent Characters – Episode 49 ***Explicit***
Highlights: This week's show is dedicated to the 'Golden Throne' Awards, their version of the Warhammer 40K awards show! They open up the show with 'Workbench' where the boys talk about their latest hobby progress. This included Carl's Bay Area Open experience. Next, the guys move on to Part 1 of the Golden Throne Awards! This satire award show included awards for the following categories: Best Model, Best Wargear, Best Dedicated Transport, and so on. Part 2 of the Golden Throne awards included Best Codex Author, Best Close Combat Character, Best Upgrade Character, and much more. Next, Carl has an interview with Brandon from the 'Smells Like Wargaming' painting service. To close out the show, the boys run do a bloopers segment from this week's show, setting up all of the bits for the awards show.
Opinion: This show was just a lot of fun to listen to and pretty damned funny! This show did not take itself seriously, had a lot of fun with some of the best characters in the 40K universe, and even took time to poke some fun at fellow gamers. While this did not have the latest news or tactics, was loaded with laughs and is just plain fun. This was easily my favorite for the week. Outstanding!
Highlights: This week the guys open up the show with what they have been doing in the hobby and in gaming. Jim also went over his experience at the Bay Area Open and running the narrative event. Next, it was onto the news, and they covered the show's new YouTube Channel, new Tyranids and Space Wolves, Black Library releases and more! Next up in the 'Librarius' the boys talked about the Silver Skulls, specifically about the information found in the Black Library book 'the Gildar Rift'. They go in-depth with a look at this rather unusual Space Marine chapter, their, history, their back story, and their current status in the Imperium. Also, they talk about how this chapter differs from their loyalist brother in many ways. Up next in the 'Armory' the boys each take a turn building varying point limit sized lists. Chase took on the 1500 point list, Chris did an awesome 1750 list, and Jim pulled out a 2000 point drop pod list. Then in the 'Hobby Trenches', the cast reviews 3rd Party kits/bit versus their GW counterparts in terms of look and price. To close out the show, Chris and Jim have an interview with Black Library author Nick Kyme!
Opinion: This podcast is easily one of my favorites each and every show, and this show is a great example of why. First, they give some really interesting back story on the Silver Skulls, a chapter of marines I knew nothing about before Gildar Rift. They also have a great hobby segment with some new places for me to get bits, and close out with a great interview with Nick Kyme! Definitely check this one out!
The 11th Company – Episode 110
Highlights: This week's show opens up with 'The Week in Gaming' and this included their near death experience on the way back from the Indy GT. Next in 'Pat's Corner', Pat has an interview with Kirby from the blog 3++, and they discuss 3++ Con. Next, Pat talked to Reece from Frontline Gaming and they talked about this year's Bay Area Open. Then, Pat talked to Carl from the Independent Characters and they discussed the filming of the top table at Adepticon this year! Next, Pat talks to Grimlock from their forum, and they talk about the Nova Open promo video due out on the web. Then, in the 'Codex Countdown' the boys are back to the Imperial Armor Apocalypse 2nd Edition book. This week the boys talk about the Necron and Dark Eldar selections from this book. After the community segment where Pat talks to tournament organizers from around the country, Eric is back with 'Tactical Terrain'. This week he is reporting from WFN GT, and talks to his opponents during the event. Then, the cast gets back to 'the List' segment, where they built a specific list for a listener. This week they build a 'sneaky' Grey Knights list and a Necron list. To close out the show, Pat has another Black Library book review and this week he reviews 'Fifteen Hours'.
Opinion: This was really a great show this week. I have to say the highlight for me of this one was the tale of near death at the hands of Delta airlines. I genuinely could not control my laughter in my cube as I listened to it. And of course they had some top notch interviews this week, including one of my favorite people, Carl from the Independent Characters. They also covered Apoc and built some lists, including a great Necron list I might just have to steal. It was everything I hope for in an 11th Company podcast.
Highlights: The guys are back, minus Ciaran, and Steve is among them! They open up the show with the latest news, not much from GW, but both Forgeworld and the Black Library had some releases. Next up was some local Overlords news, and this runs over to what they have been doing lately in gaming and the hobby. Then, in 'Inquisitor Steve's Round Table', the boys have put together a random mission generator and they talk about what they have come up with. Next, in 'Top Chat', Steve leads a discussion on his army and how he wants to add Deathwatch to his forces, and what story will join them? He tells the grand tale of how all of these forces were brought together as one. To close out the show, Dagmire has an interview with Black Library author (and fellow cast member) Sarah Cawkwell and they talk about her latest release.
Opinion: I was really glad my man Steve was back with the cast, and I found his random mission generator a great topic. I just hope it translate over to 6th edition this summer. The 'Top Chat' section was really interesting, and covered all of the fluff and story behind his army. The Interview with Sarah was outstanding, even if she is an occasional cast member. A great show this week!
40K UK – Episode 47 ***Explicit***
Highlights: This week the guys open up the show with another 'Voice' segment, and this time around they review a listener's Blood Angels list and try to improve it. Next up in 'Operation Codex', Dave and Rob breakdown some of the Heavy Support choices from the Chaos Daemons. This week they cover the Daemon Prince and the Soul Grinder in great detail. Then, in the GT Updates, the boys are less than two weeks away from the big event, and they talk about some of the side events that they plan to host those days, like the 'Swap Shop'. Next up, Gary has an interview with Teras from Geek Nation Tours and they talk about his upcoming UK Tour. Then, it was back to 'The Big Fight', and they finish off round 1 of the second season. This time, Asdrubael Vect from the dreaded Dark Eldar codex went toe-to-toe with Kor'sarro Khan from Codex Space Marines. To close out the show, in 'Evolution', the boys look at Dave's Imperial Guard army and look back at how the list has evolved since he started playing them.
Opinion: This was a pretty good show, I really have enjoyed 'the Big Fight' and I was glad the got back to it this week. The conversation on the Daemons Heavy Support choice was informative, as we do not see Daemons that often on the battlefield anymore. And heaving how Dave's list has changed over the year proved to me how important experience on the tournament circuit is. Great work guys!
Honorable Mentions – All great podcasts that just missed this cut this week, but you should still check them out, in no particular order:
The Eternal Warriors – Episode 34 ***Explicit*** Starting the game of 40K
Jaded Gamercast – Episode 70 ***Explicit*** Grey Knights and the Warhammer ETC
Life After the Cover Save – Episode 45 ***Explicit*** Thunderdome Survivor Series
Skared – Episode 7 Review of Path of the Renegade and the Warmaster's Challenge
Battle Plan Roll 6s – Episode 7
Wound Allocation, 3rd Part Products, and Chaos Space Marines
So, that is it for This Week in 40K podcasting, thanks for reading. Got a podcast all about 40K, or mostly 40K that I am not listening to? Let me know about it, [email protected] and let me know about it. Also you can find me on My YouTube Channel for Battle Reports, Tactics, Reviews and more! Disagree with my review? Post comments for that too!