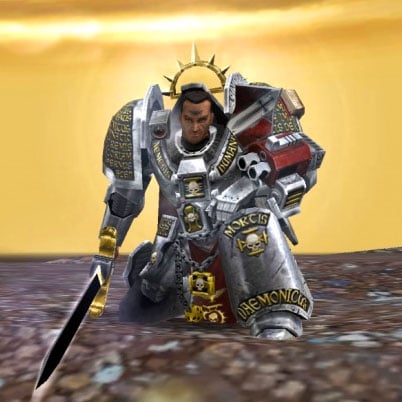 Mercer from www.imperiusdominatus.com here. Its time to cut those Grey Knights down to size.


I read on the internetz that Grey Knights are stupidly awesomez, brokenz and full of cheese. I'm not discussing that. What I am discussing is how to beat them as all the awesome sauce with cries of broken and cheese topping seem to have gone to people's heads and folk cannot still fathom how to beat the unbeatable; Grey Knights. If the silver guys are giving you trouble and putting a bee in your bonnet, then this article maybe for you.


So are the silver bad boys giving you a beat down? Are the Grey Knights kicking your toy soliders in the groin? Are those force weapons laying the smack down? Well here's how to even the score.
Grey Knights are Space Marines
Ok that's a obvious title, but look at the big picture for a minute, Grey Knights are exactly that, Space Marines! Everyone knows how to kill Space Marines and that's with mass fire power and mostly plasma weapons, though anything AP3 (i.e battle cannon) or below will do very nicely.
The Grey Knights are a balanced Marine army in terms of shooting and assault as they can do both nicely. They're not vanilla Marines who do mostly shooting and they're not Blood Angels who do mostly assault. These guys to do both. Shooting wise they can have a decent amount of fire power as all models come with storm bolters standard and you'll find most units having the psycannon upgrade which is S7 AP4 rending. To balance this amount of shooting out the majority of G.K weaponry is 24″ range which isn't too bad, if you think all weapons are assault that's at least 30″ range so keep that in mind.


Assault wise all Grey Knights have a force weapon standard which is also a power weapon. All squads have the hammerhand psychic power which is +1 strength so if you're going to assault them make sure it's a hard hitting unit which either strikes first or can withstand a punch i.e Assault Terminators. Though, before piling in make sure you check what nemesis force weapons the Grey Knights have, nemesis halberds are I6! If you're not sure about nemesis weapons check here: A guide to nemesis force weapons
Now you know they're effective at shooting and assault how exactly do you beat them? Well as mentioned at the start they're Space Marines and always keep that in mind as people brick it when seeing Grey Knights. You keep that in mind it will keep you focused.
As mentioned the fire power isn't too bad but not massive range so try and out range them on weapons and blast them far away with anti tank weapons to nail their Rhinos/Razorbacks and let them walk up or even use anti tank weapons to chip model count down from range, after all Marines don't come in huge units so a few lascannon shots should knock out one or two of the power armoured silver ones, though lascannon is a last call option btw.
In combat only engage them if you have a horde (as long as it's not Purifiers!) as larger numbers will bring Grey Knights down i.e Tyranids or Orks or use a hard hitting assault unit such as Terminators or Nobz, though beware because of the force weapons Nobz can be instant death'd. If you're going to assault Grey Knights make sure you chip them down with fire power first and assault them with muliple units, if you're not running large units, and try not to assault with a monstrous creature unless that monstrous creature is striking first, you don't want that Carnifex to eat a force weapon!
You shall not pass, psyker!
Every single Grey Knight is a psyker, even the vehicles too which count as LD10. Other units in the codex can be psykers too i.e Inquisitors. That means Grey Knights don't like psychic hoods. As these guys will be using powers often a psychic hood or a Rune Priest will be getting some use out. Sure Grey Knights work without psychic powers but it's annoying when they can be stopped.
Grey Knights have the aegis special rule which basically means any psyker targeting a unit takes -1 leadership when doing psychic tests, now that's not too bad but obviously depending on the psykers leadership. One problem is Dreadnoughts which have a -4 to leadership but a 12″ bubble! So Grey Knights are anti psykers too, if you're using any psykers in your army which have powers which affect any units i.e jaws of the world wolf or psychic shooting attacks make sure you stop the Dreadnoughts if there's any in the army.
Big new shiny stuff!
Like all the other new codexes in the past the Grey Knights comes with some cool new shiny stuff which has caused up a dust storm. How exactly do you beat all these giant walkers and units which don't need LOS to shoot?
Dreadknight
The Dreadknight isn't as scary as you think. Sure it's a big monstrous creature with 2+ armour and 5+ invulnerable but it will go down to weight of fire like anything else.


I'm sure it doesn't like plasma etc and it only has 4 wounds – how many 5+ invulnerables can it make? Another thing about the Dreadknight is it is pretty cheap bog standard but to make it ranged will get it into the Trygon price range. Think about it – the more your opponent spends on these the less he spends on the force. Just dish out either poison rounds on them i.e hellfire rounds or low AP fire i.e plasma, melta or lascannons etc. Anything which wounds easily or forces the invulnerable save will bring them down soon enough. Honestly, Dreadknights aren't that bad!
Purifiers
But these guys hurt in close combat I hear you say, auto wounding every model on a 4+ in combat before the fight even starts. Well yeah, that is a pain, but it's 4+ so only 50% chance to wound and you get a armour save.
Like other Grey Knights hack them down with fire power then charge and just grin and bear it and you will bring them down. Honestly, cleansing flame isn't as scary as people make it out, like pretty much of 40k it comes down to good dice rolls.. It's a good power and mildly annoying but not game breaking, so chill your beans 😉
Purgation Squad
Uhm, yeah, these guys don't need line of sight to shoot! Well that's pretty cool but factor in their weapons are 24″ range max which isn't awesome but not mega bad. It's a psychic power to use so you have chances of stopping that i.e psychic hood, shadow in the warp etc if you're close enough and a big and the power gives a 4+ cover save which is massive.


The only time you need to worry about Purgation Squads is when they have incinerators and you're hiding behind a wall close by and you have a 4+ armour save or worse…
Paladins
Badass Terminators with two wounds and feel no pain thanks to the Apothecary!
Ok these guys are two wound Terminators that's it. Sure they will be hard to deal with and no doubt people will play wound allocation tricks with them with unique wargear. Don't worry about the Apothecary too much as it's a 70 ish point upgrade and not always worth the points thanks to wound allocation trickery.


These guys only have a 5+ invulnerable so blast them with AP2 fire and double toughness i.e lascannons, meltas etc and I.D them. Use plasma with weight of fire to bring those wounds down quickly.
That's about it for now, and as you can see Grey Knights aren't as badassed as you think. Sure they're cool but at the end of the day they're Marines with force weapons, storm bolters and psychic powers and if you use your noodle you can have a good game against them instead of bleeting like a sheep about codex creep and everything is cheese 😉