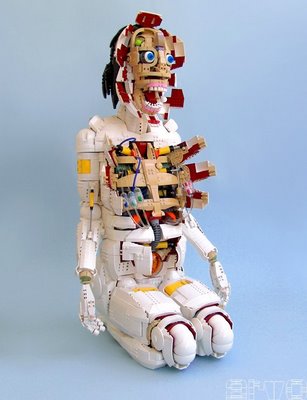 With the dying gasps of 5th edition looming – I have decided to pull away from the hustle and bustle of competitive nonsense and have instead decided to delve into the other joy of this hobby – conversions.

I am playing my Chaos Demons army at Adepticon next week – deciding to go with a big boy pants army. So with that in mind I have decided to showcase one of my more interesting units in the army – my Heralds of Tzeentch on a Chariot.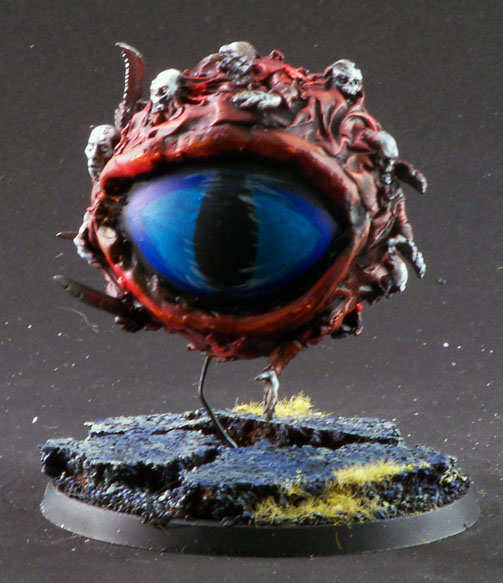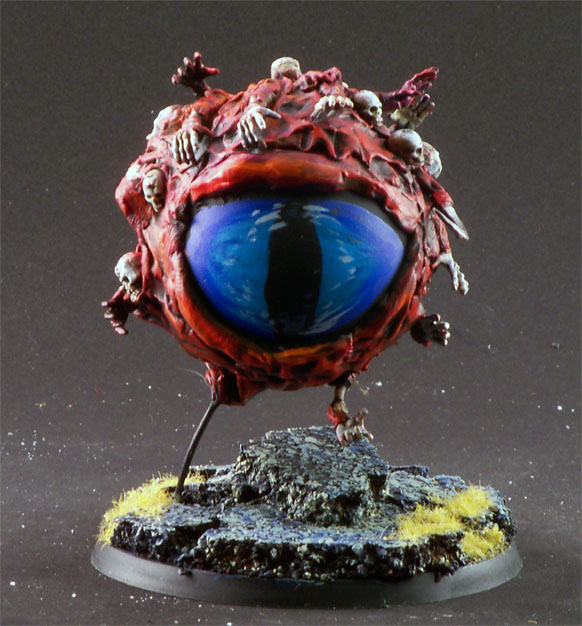 My good buddy Brent got me started on these flying jerks and I haven't looked back since. 5 Wounds, 4+ Inv Save, and the option to shoot two things with their uncomfortable gaze of death makes them a really neat unit. So with that in mind I wanted to have some. Of course I didn't want the normal design.
I really did not like the normal disc getting pulled by Screamers. In fact I really just hated the screamer part. I also hated the idea of the chariot in 40k. I know that chariots were a neat part of Fantasy, but the idea of a stingray drawn buggy with a giggering mouthed horror just did not sit well with me. So I put my goat brain to work and came up with this idea.
If you have played D&D then you know about Beholders. I think some other monster was like them too and I just can't remember the name. They protected things instead of just being a jerk to everyone with eyebeams and the gimpy mouth. So with that in mind I set about creating this floating jerk.
I started with a ping pong ball. We will play games of Beer Pong every now and again so I had easy access to some unused balls. Stop laughing! From there I grabbed as many zombie bits as I could find and started to coat the ball in green stuff. STOP LAUGHING! I added the zombie bits to give the idea that this monster is full of different souls that keep trying to burst out. I also used a space to create the eye for the monster.
I painted it up in the Red and blue style my Demon army mirrors throughout most of the units. I put a small bit of glaze on the actual eyeballs to give that wet look. From there I just zoom around and make pew pew sounds as I try to hit things with my eyebeams. I put the model on a Dreadnought base as this guy isn't a Monster Creature and there is no true "Charoit" base for 40k. There are some other bases that are made by different companies that would work as they give a bike base feel but with the wide ass it needs to cover this type of unit.
Next update I plan on talking about my Demon army for Adepticon and from there a battle report. I hope to get into some Chaos Legions soon so my feverish Goat brain can complete the cycle from counts as jerk to complete Army Jumper Super Nerd.
So what weird things have you guys put together?