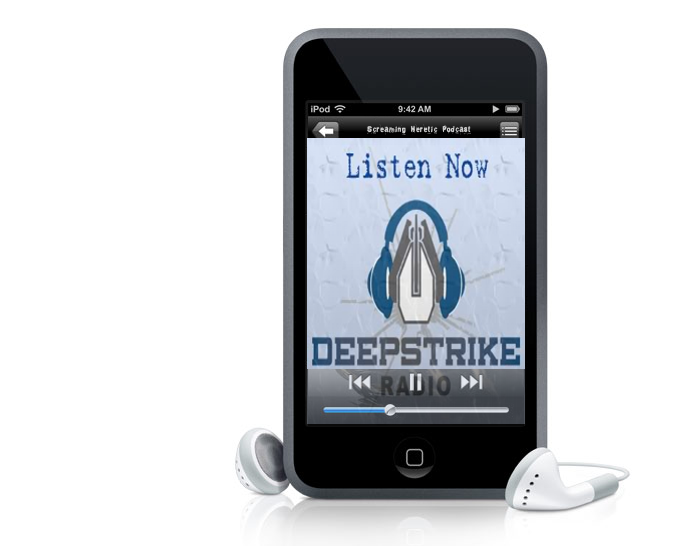 Welcome to another "This Week in 40K Podcasting,"

Here is this week's top 5!
Highlights: This week Chase is not with the cast, but Jim and Chris motor on without him. They open up the show with what they have been doing lately in gaming and the hobby. They then move on to the news where they discussed the latest releases from GW, Forgeworld, and third party companies. Next, in the 'Librerius' the boys delve into the world of the Dark Eldar. They cover their origins, their separation from the Craftworlds before the 'Fall of the Eldar', the city of Commoragh, some of their more famous conflicts, and best known characters. Then, in the 'Armory', Chris leads off by building a 1000 point list, based mostly on the Battleforce, and Jim follows this up with an 1850 list. Next, in the Hobby Trenches, the boys talk about some alternate games to 40K to help cure 40K burnout. They close out the show in the 'Briefing Room' where they discuss Battle Missions: Death Worlds, the latest White Dwarf expansion.
Opinion: Overall this was just a great podcast and my clear frontrunner for the best this week. For starters, the time that they dedicated to the background of the Dark Eldar was just amazing, and it quite interesting to learn the history of these 'bad' Eldar. They added to this by a little jewel at the end with Battle Missions: Death Worlds. This is something that slipped under my radar and I now plan to pick it up just based on this review.
Highlights: This week the guys open up the show with what they have been doing lately in gaming and the hobby. Then in 'This Random Time Period in 40K', the guys focused on recent news and rumors on the internet. This included the new GW paints, the latest Forgeworld releases, and more. Next, was the podcast's signature 'Battle Report' and they started off with a description of the two armies involved in this 1000 point battle, in this case Eldar vs Necrons. They also discussed the battlefield, the mission, and the deployment for this battle. Next was the dramatization of the battle itself, followed by a summary of the game and discussion of its results. To close out the show, the Turn 8 crew has their first interview, and they interviewed Tournament Organizer Mike Biancone from the Berks 'Spring Assault III' tournament. They discuss the event and the overall feel of this 'non-competitive' event.
Opinion: If you are not listening to this show, you really are missing out on something quite good. Their battle reports are unlike anything out there, and worth the download each and every episode. I also like that they are adding to the show by interviewing key members of their local gaming community. Mike was a great interview and has me wanting to take a trip east that weekend.
Highlights: This week is a massive 5 hour plus show, and instead of a standard show, they decided to take the week off and played a clips show. They replay a lot of the old great segments, to catch all of you up on what they have been doing over the last 94 episodes. To start off with, they replayed the awesome Dean's Dimension's where they cover the complete Imperium from the Emperor, to the administration, the Guard, Space Marines, the Inquisition and more! They also replayed their 'Outrageously Bad Dice Disorder' commercial before playing a Dagmire interview with Black Library authors Andy Smile and Josh Reynolds!
Opinion: This was a first as far as I know in the world of 40K podcasts, a clips show. Now, by far and away my favorite segment from the Overlords has been the 'Dean's Dimensions' where I have really received a lot of my 40K background knowledge from. This was mostly a collection of the Imperium shows, which was outstanding to listen to all combined like that. So while this was mostly recycled material, it was done the right way for those who have not been listening to them since the beginning. Check this one out, even if you have heard it all before.
40K UK – Episode 49 ***Explicit***
Highlights: This week is a monster of a show, clocking in at well over 4 hours and it is completely dedicated to the UK GT! To open up the show, Dave and the guys talk about how this 1750 point event was run over two days. Each of the staff then goes through their lists that they brought to the event, as they move through their full game-by-game coverage of all 5 games at the event. Next, Dave interviews Stu Robertson, the UK GT Champion, who took Tau and won it all! To close out the show, they have a roundup of the GT, and discuss how it all went.
Opinion: First, the show is moving to a monthly format and I am not too happy about that. I will miss the guys each week, as they are a good part of my weekly podcast consumption, and reducing the show to once a month will be a bit a major change to the show. We will see how this works out. As for this show, it was a good review of the UK GT from the guys who ran it. If you have any interest at all about how that event turned out, I highly suggest you check this podcast out.
The Eternal Warriors – Episode 37 ***Explicit***
Highlights: So, post 'April Fool's Day' gag the guys are back in force! The boys open up talking about preparing for Adepticon. Dan is looking to replace his Tyranids army with something that might have a chance at winning a game, Grey Knights. CSwizzy is back to 40K and is also making a Grey Knight list! In fact, there is quite a bit of Grey Knight talk in the first half of the show. They move on to talk about their 'official' Adepticon plans for the big weekend.
Opinion: First, man am I glad that last week's gag was just that, a gag. I could not imagine not having some of the founding podcast father on the air anymore. Next, I have to say I sort of like the new format where they really do not have a topic of choice and it is just a conversation with gamers. This one was a lot of fun, full of great stuff like GW paint reviews, Grey Knights information, and old people jokes.
Honorable Mentions – All great podcasts that just missed this cut this week, but you should still check them out, in no particular order:
The Codex Project– Episode 5 Big Jim's new show about fan generated codices! 'And they Shall Know No Fear' Special Rule, painting tips, and what they want out of the new Chaos Codex!
Signals from the Frontline Table Top Art, Chaos Rumors, Forgeworld Finecast and more!
Seanhammer – Episode 64 White Dwarf 387 and going small!
Jaded Gamercast – Episode 74 ***Explicit*** Ogre Kingdoms and Tomb Kings
So, that is it for This Week in 40K podcasting, thanks for reading. Got a podcast all about 40K, or mostly 40K that I am not listening to? Let me know about it, [email protected] and let me know about it. Also you can find me on My YouTube Channel for Battle Reports, Tactics, Reviews and more! Disagree with my review? Post comments for that too!