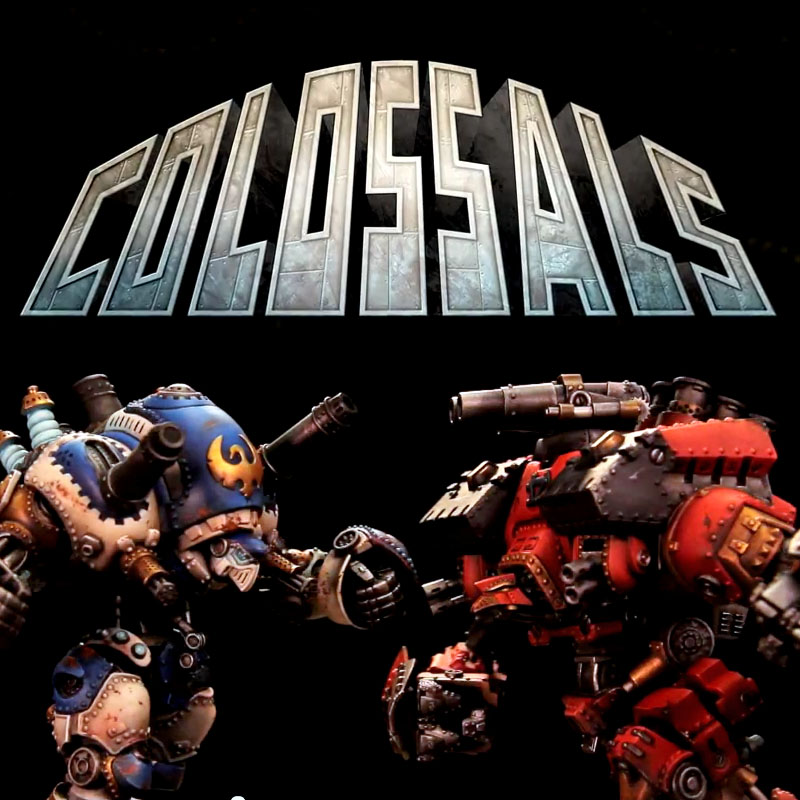 Colossals may not be out until July, but already spoilers have begun finding their way onto the internet. No telling what you've read or haven't read, but here I promise you'll find nothing but the truth.
The Basics
Colossals contains new rules for 15 models. Two of these are Warcaster attachments that are paid for with the Warcaster, and one of them is Alexia Mistress of the Witchfire. This means there are only 12 completely new choices in the book: six Colossals and six warcasters. I'm sure there will be a lot of moaning about this in the coming weeks, but lets try to focus instead on the amount of playtesting that must have gone into this book. There's also a ton of new fluff with all sorts of cool stuff going on in the Iron Kingdoms. We find out what's been going on with Karchev. Stryker, Nemo, and Haley team up with Irusk, Sorscha, and Strakhov to paste some Cryx. Vlad fights his way through an entire Protectorate army to yell in Severius' face. And of course there's all sorts of fun intrigue with some of the more infamous Liche Lords. And also… Colossals!
If you've already seen any spoilers about the Colossals that sound too good to be true, they're probably dead on. These new machines are every bit as powerful as their size would imply. Each carries a devastating array of weaponry that seems staggering until you weigh it against their equally Colossal point cost.
Colossals 101
Let's start by discussing what makes a Colossal a Colossal. While most of the basics were discussed in NQ #42, it can't hurt to go over them again. First and foremost, a Colossal is a warjack on a Huge (120 mm) base. That means they can be allocated 3 focus under normal circumstances. That "normal circumstances" caveat there leads us to the next cool thing about Colossals. They can be bonded just like any other Warjack. That means a few lucky warcasters will be able to serve up a Colossal loaded with 4 focus, plus whatever other nastiness their bond entails. And of course any cool battlegroup/ target warjack spells will affect any Colossal as normal. This also means they are also viable for any tier lists that allow "warjacks". Of course should any tier ever specify "Heavy Warjack" or "Light Warjack" then Colossals are out being neither of these.
It should come as no surprise that they share many special rules with Battle Engines. These include the rules for Huge Bases, Targeting a Colossal/Battle Engine, Facing and Line of Sight, Cloud Effects and Forest Terrain, Targetting in Melee, Predeployment, Massive, and Pathfinder. They also have some special rules of their own. Many Colossals have an S system which will house a particularly important weapon, or some other piece of special equipment that does something cool. If the S system represents a weapon, it may attack targets in either of the Colossals firing arcs. Colossals can only advance during their own activation and cannot be placed. Jack Marshalls can never control them – they become autonomous when reactivated by one. They may never come under an opponent's control. They can never gain Advance Deployment, Stealth or Incorporeal. They all have Reach by default, unless noted otherwise. They can all make ranged attacks while engaged, although they can never gain an aiming bonus if they do so. They may even fire at models in their melee range with no penalty. The Caveat here is that Colossals have neither Virtuoso nor Weapon Platform, so you will have to choose whether to make ranged or melee attacks with it each turn.
Every Colossal can also make any power attack a warjack can, plus two more unique to them. First is the Power Strike: basically a slam that can be made without moving, against a smaller based target. Making a Power Strike requires a functioning open fist. Next is the Sweep: essentially a Thresher type attack with the model's base strength against models within 2″ of one of it's front arcs.
Each Colossal has two damage grids; one each for the left and right. Which grid is damaged depends on which of the Colossal's arcs the attacker is in. Damage from the rear arc or from a model not wholly in either arc is assigned by the attacker. Now let's get a little more in depth and meet the bunch.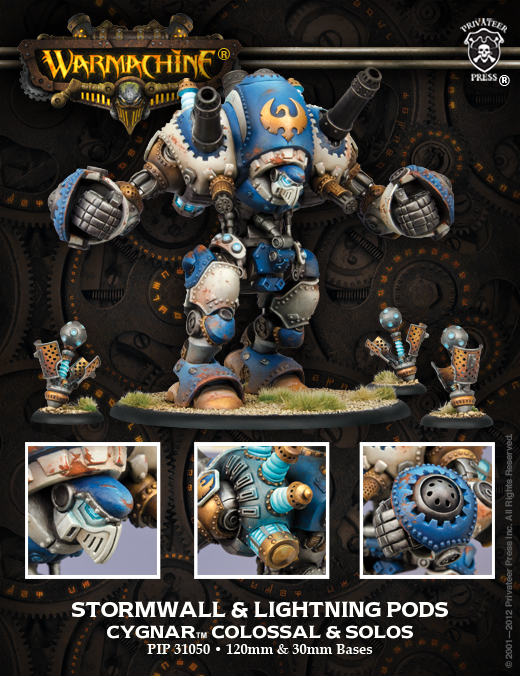 Going Down the List…
Going by book order, our first metal monstrosity is Cygnar's Stormwall. And hey, I hardly have to write this part… Privateer Press already showed off this guy's cards on one of their insiders. One thing they neglected though were the Lightning Pod rules. They stay in play as immobile solos and can be used by friendly Stormcallers for Surges and Triangulations. With those cards there for you to look at as a baseline, I'll lay out how Stormwall stacks up to the rest of the Colossals. Its SPD stat is shared by all but one of them (try and guess who the slow one is). Stormwall is a pretty average Colossal in the strength and P+S department. Its MAT score of 6 is actually shared by all Colossals. Its RAT is the highest, but only one point above average. It's in a three-way tie for highest DEF. ARM 19 is also pretty common amongst the Colossals – only one scores better. Stormwall has the smallest Damage Grid. The largest has a full eight more boxes. The rest average about two more. I guess that's what happens to the faction that has a solo that can hand out +3 ARM. All the Colossals are FA 2. Finally, half the Colossals share Stormwall's point cost and the other three weigh in at a point cheaper. Now that I've framed it all for you, lets check out the rest.
For the Protectorate, we have the Judicator. Like Stormwall, this enormous machine boasts 6 different weapons. Its two rocket pods are kind of similar to the Redeemer's Skyhammer rockets in design. They have an extra two points in POW and two less range, but suffer from the same Innacurate rule. They are only ROF 1, but have the Secondary Blast rule which allows you to roll deviation for a second 3″ AoE after resolving the first. With the obligatory Vassal a Protectorate player can therefore lay out six AoE's; all of them dealing blast damage at POW 9's assuming the obligatory Choir. If that wasn't enough, the Judicator also has a ROF 1, SP 8, POW 12 Flamethrower incorporated into each arm. Both of those arms will be swinging with P+S 20 open fists in melee. If you visit BoLS a lot you should already know about the Judicator's S system. The rules for its reliquary were spoiled here awhile back. It is a bit sturdier than some of the other Colossals with 30 damage boxes a side, but with a DEF of 8 most things will only miss it with a roll of snake eyes.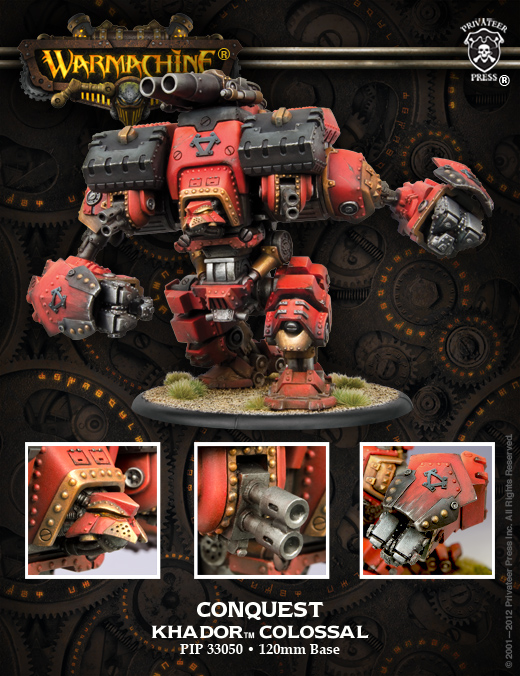 Conquest is next. Its most impressive single ranged weapon is its somewhat confusingly named Main Guns. It's like a Destroyer's Bombard cranked up a notch with an extra point added to its RNG, AOE, and POW. To keep things interesting it also has the Critical Devastation rule. Conquest's two other ranged weapons are its Secondary Batteries. Stat-wise we're looking at hand cannons with a 3″ AoE. After resolving an attack with one of these weapons you can immediately fire it again at the same target. I'm going to assume that means if the first shot destroys that target the potential second shot is lost. You can also use these guns to lay down a Creeping Barrage, placing up to two 3″ AOE's per gun, completely within the weapon's RNG. These may be placed anywhere within the weapons' range and LoS (ignoring intervening models) and within 1″ of one another. Conquest can dish out even more pain in melee with its two open fists hitting at P+S 22. This makes it the hardest hitting of the pack and also gives it the highest unassisted P+S in the game. It also has the highest Colossal ARM value with a 20. I was expecting that number to be a bit higher but there it is. Given how much of a pain a run of the mill Juggernaut is to bring down I'm thinking ARM 20 is plenty high enough. Especially when Conquest also has the most boxes on its damage grid with 31 per side. All that armor comes at a price however – Conquest is the slowest Colossal with only SPD 4, and has the lowest rat of the bunch with a 4. It's also one of the three "expensive" ones, tying Stormwall and Kraken at 19 points.
And speaking of Kraken, it's similar to the others in a lot of ways. Most of its stats are about the same as the rest of the bunch. Its STR of 15 is a bit low for a Colossal and its Def of 10 is a bit high. Otherwise it's about on par. What sets it apart from the rest are its unspeakable feeding habits. Apparently it enjoys stuffing its living victims into those… orifices on its side. The rules for this behavior are probably close enough to what you might have expected. Living models slain by its melee attacks provide the Kraken with a Corpse token of which it may have up to 3. These tokens can be cashed in for focus during the control phase. Or you can keep them around to give the Kraken an extra point of strength per token. The downside to this carnivorous behavior is that until the Kraken is fully loaded with tokens, any models it boxes will be removed from play, denying a soul token to anyone who might want one.
Holding onto those corpse tokens might be the right idea, since the Kraken's Harvesters are the weakest Colossal melee weapons at P+S 18. Although they makes up for it nicely with the Chain Strike and Chain Weapon abilities. Chain Strike plus a SPD of 5 gives the Kraken the highest unassisted charge threat range of any Colossal. Like so many things Cryx, the Kraken suffers slightly in the shooting department with only 2 ranged weapons. The first of these is the massive Hellblaster Cannon. It boasts an impressive 16 inches of RNG, a 4″ AOE, and a POW of 14 that gets a +1 to damage rolls for each corpse token on the Kraken. Its smaller gun is the Flayer. It's another RNG 12 POW 12; this time with the Rapid Fire (D3+1) ability. While it only has two guns, the Kraken will get to use them more often than most other Colossals thanks to the Kill Shot ability. Once per activation, when it destroys a living model with a melee attack, it may immediately make a ranged attack.
Hyperion is the Retribution's Colossal offering. Its primary ranged weapon is where I'm going to have to start. The POW 18 Starfire Cannon is now the strongest gun in the game. In addition, it has a 5″ AoE, the Critical Consume ability, and it's Magical. Its RNG of 10 is unfortunately one of the lowest among the Colossals, but hey – in Warmachine 10″ is still pretty decent. Hyperion's two Thresher Cannons each have the Auto-Fire D3 ability. As for those stats, it's Hand Cannons again. In melee, it sports two open fists with a suitably colossal P+S of 20. Hyperion's damage grid is a bit diminished compared to other Colossals. But this is only because it boasts a Power Field like most of the Retribution's Myrmidons. In fact, with its 12 Field boxes it actually has the highest total damage of any of the Colossals; 2 more than Conquest.
Last we have the Mercenary Colossal Galleon. I was particularly curious about this one – mostly with regards to how it would weigh in against the rest of the pack. The truth is that the Galleon is every bit the equal of the other 5. In fact I'd say it has a few things faction players will be jealous of. Foremost is that mighty Harpoon Cannon. With RNG 10, it hits at an impressive POW 15 and like those Cryxian harpoon guns you're probably used to seeing, it can Drag its targets towards itself. Once it has them in melee it can beat them into submission with its P+S 19 Cargo Claw, or its P+S 21 Trident Strike. Since Colossals can't be pushed, you'll have to content yourself to dragging around warjacks. Still, it can be a very powerful ability. It also has two other very impressive ranged weapons: a pair of RNG 14, AOE 3, POW 13 Gun Ports each with the rapid fire D3 ability. The only real drawback to the Galleon is that it's the only Colossal without two open fists.
What It All Means
Confronted with all this new information there's only one conclusion I can reach: this changes everything. First and foremost are the Colossal special rules. In particular the ones that prevent you from making an opponent's Colossal go somewhere they don't want it to be. This means when you're building a competitive army you either have to build it completely around going for caster kill, or bring along enough muscle to bring down a Colossal. All those great tools that existed to get resilient targets out of control zones without actually killing them aren't going to cut it anymore. You can't place a Colossal outside of a zone with Telekinesis, push it out of a zone with Force Bolt, or throw it outside of a zone with Chain Attack Grab and Smash. While this was all true of Battle Engines, those were significantly easier to kill with about a third of the health.
Obviously killing a Colossal represents its own unique set of challenges. To eliminate even the least resilient among them will require on average 8 POW 19 hits, assuming no boosting and no armor buffs. With the restriction of 3 focus that affects all warjacks, a charging Colossal will only be able to kill another in a single round if it rolls really well or gets some help. This means any caster with the Jackhammer spell just got a lot more interesting since they will be able to give their Colossal enough attacks to end another one in a single turn. Bonds will also help tremendously since the extra focus they allow you to allocate will translate into an extra attack. Given the surface area of all the Colossal's 120 mm bases weapon master infantry can actually lay a lot of hurt on one of these. But your troops will have to be able to endure a lot of ranged firepower on the way in. High POW ranged attacks may also be seeing their way into a lot more games since you can pretty much always draw LOS to a Colossal and target it in melee with no penalty.
If you opt to go for the caster kill route your life has also gotten a bit more difficult. You can bet any savvy player will do a good job of hiding their caster behind their Colossal. A huge based model with reach will be really difficult to maneuver around. This is true for shooting but even more so for charging. And of course any pop and drop style tricks won't work on these models since they're immune to knockdown. Any shooting attacks that allow you to ignore intervening models just got stronger. And so did anything that ignores free strikes or that can just move right through enemy models.
On the other hand the Colossal is now the ultimate all-your-eggs-in-one-basket approach. Any player wanting to take one along had better have a plan for eliminating upkeeps. If your new toy gets hit by Crippling Grasp, or any other upkeep that affects its ability to charge you'll end up with a very expensive (although still effective) gun platform. It will then be up to the rest of your army to try to score those control points. And speaking of scoring, no matter how powerful your Colossal is it will only ever be able to score on one control point at a time. This means there will always be some wisdom in opting to take multiple cheaper choices.
~I'm going to have to save warcaster specifics for another article even though it's taking everything I have to not just keep writing all day. But I have to stop at some point or I'm going to end up giving you folks a novel to read. I think in this post-Colossal landscape there are some real winners and real losers. But I'm going to exercise restraint and save those specifics for other articles. So keep your eyes here since we plan on doing a lot more in depth Colossal analysis in the coming months. So now let me hear your thoughts!