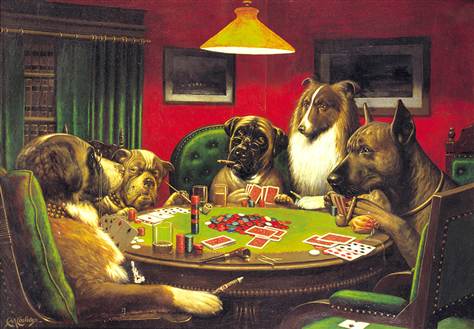 Goatboy here again – waiting on 6th and hoping some of the rumors are troll bait while others are little gems of sugary enjoyment.

So with that in mind I didn't want another rehash, "review" or discussion of 6th edition. Instead I want to talk about why I go out of my way to fly around and play tournaments.
Now depending on who you talk too – I might be known as one of those WAAC gamers. Those type of gamers that proudly display their mathematically sound lists and spout things like "fail" and "mathhammer". I know I play mean lists but at the heart of it all I really just want things to work in any army list I play. I also like to play things I like and if it works I usually put two in to make sure I get to create that event during any given game. I don't trust my dice and so if I have a fail safe set up I can usually guarantee one moment of "damnit I guess Goatboy does get to win" in an epic match of dice and tape measures. So with that out of the way let's look at why I spend a lot of money flying around and looking like a fool in my orange Fez.
First – I get to see people I only normally talk to via rounds of texting "heh" and phone calls about units and other plastic nonsense. Everytime I go to these events I meet a new fan and just have a great time with people I can nerd out with about models and game systems. Real life can be a pain and having this access point into a world of like minded individuals is one of the best things about this game. I was sad when I first left the game and so happy I was able to come back, find enjoyment, and continue on my quest to become the best 40k Goatboy I can be.
I also get a chance to compete with armies, players, and missions I might not normally get a chance to locally. Each area has their own "badass" and it is fun to play and compete. Look I know this game is random so I don't expect to win no matter what the Math says about my list. I still get a chance to learn something new, figure out a new tactic, or find out that a unit I think was crap might actually kick me in the dingus.
I also get to see some insanely awesome looking armies. Nothing gets my mind brewing when I start to see some spectacular conversions and paint jobs on the table top. Yes I want to crush them with my chaos/counts as/etc nonsense but I still just enjoy playing games with awesome models. These events generate so many new ideas that I just can't wait to get home and pull out the green stuff and get a hold of my hobby knife.
The other thing I find important about these events is that it gets me out of town. My life isn't hectic but it helps to get out every now and again to just immerse myself into the hobby. Mortgages, bills, and a crazy dog can take its toll on you. I don't have kids yet so that is a help as I plan on taking my wife along to more events as she enjoys exploring the area as I throw dice and gyrate.
These events are not just about winning. They help grow the hobby and continue to create this game web we all enjoy day in and out. If you read this site everyday then you know how important all these events are. Without them we lose a lot of what makes this hobby run as well as it does. I hope to meet more fans in the coming months as I travel around the country throwing dice and taking names for the great and all might Goat!
So why do you go to tournaments? PS, Wargamescon is ONE Month away – GO REGISTER!