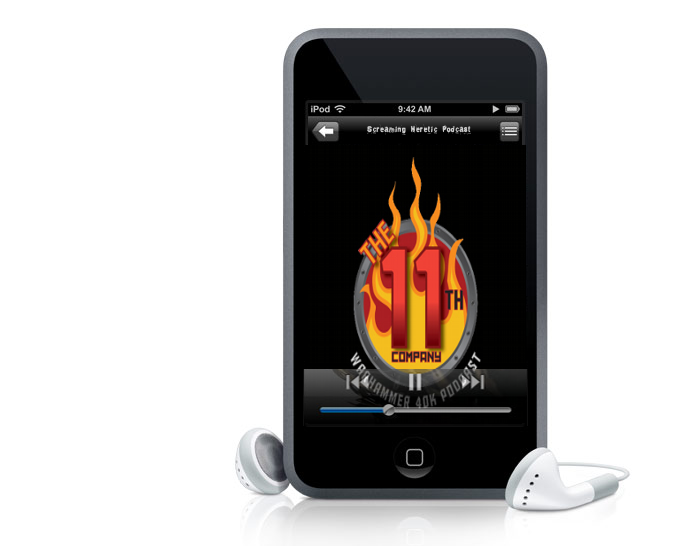 Welcome to another "This Week in 40K Podcasting," Here is this week's top 5!
Highlights: This week the guys open up the show with 'This Week in Gaming' where they discuss the few games that they played this week. Then, in 'Pat's Corner', Pat has an interview with Alex Fennel who took his Pink Necrons to Adepticon this year and took 3rd place! He also talked to Kenny Boucher and they discuss his Daemons versus Grey Knights and his 'Next Level Painting' company, and Tim with his Draigowing list he took to the Bay Area Open. Next, Eric from Tactical Terrain has a battle report from the Berk's Spring Assault 2012. In the community segment, Pat talks to Matt Weeks from Adepticon, Romeo from Battlefoam, Joe and Jen from the Screaming Heretic, and UltraRaider from 'The Brush and Bolter" blog. Next up was part two of the Codex Countdown: Necrons. This now three part series covers some more units, covering their troops and elite choices from the army. To close out the show, Pat has an audiobook review of the Black Library book Double Eagle.
Opinion: This week's show was jam packed with great interviews, and my personal favorite was Alex Fennels. I was proud of him taking a non-net list Necron list and to have been close to the final table! And of course, part two of their Necron coverage was outstanding as usually. Looking forward to talking to you this weekend guys!
Highlights: The full crew is on this week's show and they open up with what they have been doing lately in the hobby and gaming. This then moved on to the latest in 40K news, which included Necron second wave, Forgeworld, Black Library, and third party releases. Then, in the 'Librarius' section of the show, the boys move on to part two of their coverage of the Ultramarines Lore. This week they touch on some of the more controversial aspects of the Chapter's background and how they have changed over 25 years of 40K. Next up in the Armory, each of the staff build armies based on specific battles in the Ultramarine's history. Battles like the Assault on Black Reach, the Battle for Macragge, and the Battle for Ultramar! Then, in the 'Hobby Trenches', the boys discuss their upcoming 6th Edition motivational challenge. The boys talk about building a new army at the dawn of 6th and how they will be running it. They close out the show with the 'Briefing Room', where the boys discuss the possibilities of 40K 6th being a lot like Fantasy 8th Edition and what is rumored to come over and what they would like to see come over from Fantasy.
Opinion: This was really a great show this week, with two great topics. First, I found the discussion of the 'real' history of the Ultramarines and how their backstory has changed over the year absolutely fascinating. Second, what they want to see come over from 8th edition Fantasy was interesting, even if it was based on rumors we cannot verify.
Highlights: This week the guys reflect on their Adepticon experience and their video coverage of this year's event. They open up the show with 'The Workbench' where they discuss what they got done in the hobby prior to Adepticon, and what they picked up while they were there. This moved on to what games they had been playing before and during Adepticon. Next up the guys discuss their Adepticon experience, starting off with their full review of the 40K Friendly event and some of the fun they had there with 'The Dude'. Next, Carl had an interview with Chris Wraight of the Black Library, and he discusses Battle for the Fang and some behind the scenes of working with the Black Library. After that, the guys go on to their complete review of the Adepticon Team Tournament. This included their 'Phil Kelly Theme', and Geoff and Zach discuss their games played in the event. Then, the boys discuss the big day, their coverage of the 40K Championship! They talk about the heavy Grey Knight influence on the event, some of the awesome games played this time around, and the great players they saw like Reese and his Foot 'dar, Alex and his pink Necrons, the great Tony and his Wolves and Brad who won it all with Grey Knights. To close out the show Carl had an interview with Rod Sanders, author of Legion of the Damned and they discuss the book and other he has written for the Black Library.
Opinion: For those who did not know, The Independent Characters did an outstanding job covering this year's and I high suggest checking out their UStream channel. This week's show was not only a review of their experience at two great events at Adepticon, but some of the great games they covered in the finals. They did an outstanding job covering everything, and I would recommend this one for a great review of Adepticon 2012!
Highlights: This week 'the Stig' makes his return to the show! The guys open up the show with an announcement that the show is taking a month off to reformat the show. They then move on to talk about what they have been doing lately in the hobby and gaming. Then, they move on to the news, mostly talking about the Necron second wave release. Next up, the guys have a question and answer section as they answer questions from the email bag. This included questions about Grey Knight breaking the game, why they play the game, how they got into the game, and what they want to see in 6th edition. They close out the show with an interview with John Willingham, part of the USA's ETC team. He talks about this year's team members and what the event itself is like.
Opinion: This was a really good show this week, and I will miss them for the month they are taking off. I really like all of the 6thEdition talk on all of the podcasts, and their take on what they would like to see was pretty fascinating. And hearing from John Willingham was just outstanding!
Highlights: This is a gigantic monster of a podcast, clocking is at over 6+ hours! This show is almost completely dedicated to the 6 Nations Tournament, where England, Scotland, Ireland, Wales, Northern Ireland, and Belgium battled it out ETC style. They open up the show with what they have been doing in their month off. They then talked about the 6 Nations Tournament, starting with the setup, point limit, and discussing some of the missions. They then move on their tradition round-by-round coverage of this massive tournament. In between round coverage, the show was booked ended by either an interview with the opponents from that round, or some other articles. This included not one, but two rounds of 'the Big Fight' (Doom of Malan'tai vs. Ragnar Blackmane and Wazdakka Gutsmek vs. Asdrubael Vect) an Operation Codex on the Grey Knight Fast Attack units of the Storm Raven and Interceptor Squads, and Franco turned in a tournament report from Scotland. Gary also has an interview with Steve and they discuss his new army, the Sisters of Battle!
Opinion: First off, as big of a fan as I am of this show, this was too much even for me. I would have much rather had two 3 hour show broken up over two week then to have one massive show like this. Also, the audio quality on this on was not up to your standards. That being said, this was a very interesting podcast with a wealth of battle report information. If you have the time commitment, then I'd say still check it out.
Honorable Mentions – All great podcasts that just missed this cut this week, but you should still check them out, in no particular order:
So, that is it for This Week in 40K podcasting, thanks for reading. Got a podcast all about 40K, or mostly 40K that I am not listening to? Let me know about it, [email protected] and let me know about it. Also you can find me on My YouTube Channel for Battle Reports, Tactics, Reviews and more! Disagree with my review? Post comments for that too!