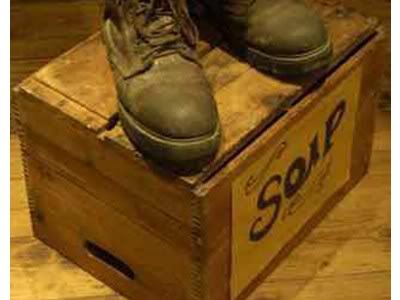 8th edition fantasy received a wide variety of responses when it was released. Many claiming that it destroyed the game, while fewer others (like myself) felt it give a fresh look to the game, which was dominated by 3 armies (sound familiar)?

Hey everyone, it's Adam from TheDiceAbide.com, and today I wanted to give my thoughts on the 8th edition army books so far. You may have noticed that I don't often write opinion articles on BoLS, but I really wanted to share how I've been experiencing the a game. It would be unfair to judge 8th edition before giving the authors a chance to flush out their intentions with new army books. Compared to previous editions, these books have been coming at a steady pace, with about a third of all the armies having received an update so far, as well as two expansions, both of which I've found to be quite enjoyable.
Something I've noticed so far is that the 8e Army Books have been fairly uniform in their reception and perceived powerfulness (with the possible exception of Ogre Kingdoms, though it may just be that I notice this more, playing Ogres as often as I do). In previous editions, and other games *cough* 40k *cough*, there has been a tendency of "codex creep" where each book is more powerful than the last. This peaked in Fantasy 7th edition when Dark Elves, Vampires and Daemons got their book in the same year, and crapped all over the meta, then to make it worse, Skaven were later thrown on the uber-pile.
So, going in order of release, I'm going to talk a bit about the 8e books and how I've felt that I see them perform on the field, what's an improvement, and where I think they may have been taken down a notch (which may also be an improvement).
Orcs and Goblins
Like in 7th edition, the OnG book was first up to bat, this meant a whole new approach to army books which nobody had seen before. Being the first full-color, hard bound book, there were a lot of high expectations, many of which were met, while as with any release, there were still plenty of complaints. Similarly, this is the first of the new wave of mega-monsters on the 150x100mm base, which has been an ongoing trend that I absolutely love. I've had the pleasure of facing OnG quite a few times on the battle field and I have to say that I really find the newest book to be quite right in the flavor. All of their weapons having the choppa rule has made them extremely deadly in the first round of combat, even if they don't charge. I feel that their presence on the battlefield is just about where it should be, they are quite hitty in combat, and can bring plenty of cheap goblins to help break Steadfast. In the hand of a canny general, OnG offer a huge variety of units, which can be used in a variety of ways to make effective lists.
Tomb Kings
Second were the Tomb Kings, and boy did they need it. Generally speaking, their old magic system just didn't work in the new rules, so it was refreshing to see them get their much needed update quickly. They had their entire magic system redone, and because of this, they may have suffered a bit in how the hordes of the various Undead would be treated in 8e. Aside from a magic overhaul, TK benefited from troops who were greatly reduced in price, several new monsters, and the ability to have their general and heirophant be the same mode if necessary. I believe they are still an effective army, just requiring a bit of generalship to really maximize their potential, if you are looking for an easy win, this isn't the army for you (which should also be nothing new for veteran TK players). Like OnG, I've had experience with an opponent who regularly plays TK, since the day the book came out, and I can comfortably say, while he works hard for his wins, his wins are frequent.
Ogre Kingdoms
I LOVE MY OGRES! Really, I had to say it, and in caps, even if I find it totally obnoxious. I've been playing fatties since the day they got their first army book, though I honestly can't think of a single game I won with them until 8e came around (and still using the old book). The new edition really let the ogres come to light, with special rules on how monstrous infantry (MI) work, such as ranking 3 wide, 6 for horde, stomp and monstrous support. Ogres are not the only army with MI, though for obvious reasons, they benefited the most from the changes. Aside from those general rules changes, the Ogres got a handful of new toys and in general have enough options to feel like a real army. I've heard plenty of times about how OP the Ironblaster Cannons are, and to be honest, I don't find them any more OP than some of the other particularly nasty units in the game… are they good? Yes. Are they game breaking? I don't think so. Aside from a cannon chariot, they also got a couple of interesting new monsters, which are both interesting in their own right. Lastly, they got probably the most famous Monstrous Cavalry in the old world. All that combined, Ogres have moved from a bottom of the barrel army, to being able to hold their own in the competitive scene.
Vampire Counts
Alright, this was the army I really wanted to talk about. Vampire Counts were one of the nastiest armies in 7e, nearly unbeatable in the hands of a good general, they sat atop the mountain and laughed at anyone that wasn't Daemons or Dark Elves. The times have changed, and I am thankful for it. Similar to the Tomb Kings, the VC are an army where a general needs to be aware of every situation they are in, and how to make the best of a bad situation. Should VC lose a round of combat, they're really losing doubly as soon as crumbling sets in. There is no longer any way to raise Ghouls past their starting number, so if you want to use a big block of these, it is important to start off large. Zombies have risen in favor because of the sheer numbers that you can summon, and Skeletons are even seeing some game time with the Master of the Dead rule. They also got some new toys, which can be integrated into an effective list, such as using Crypt Horrors and Mortis Engines to give them a 4+ regen, making them quite a pain to kill. They also have the Terrorgheist, which was a bit of an early present, but a useful one none the less. The VC are still a very powerful army when compared to the current meta and the other 8e books, though they are certainly not the juggernauts that they once were.
The Empire
The most recent of the 8th edition books are the lovely Empire. One thing that people are used to seeing is GW racking up profits by lowering the point cost of troops, it is something that is almost ubiquitous with a new army book, the Empire book however saw a general INCREASE in points. The changes to artillery in the new edition meant that firing cannons, mortars and the like was made much more accurate, and for a while there, Empire was happily firing away with it's cheap artillery, decimating everything in it's path. The new book has given cannons a much needed, and deserved, points increase, though possibly going a little over the top with the mortar (some Elves may disagree). They also lost their plethora of free dispel dice, as well as some of their rather disgusting magic items (like everyone else). In general, Empire armies are going to be a bit smaller than they once were, but they make up for it with some amazing special rules. Parent units now transfer a heap of special rules to their detachments, meaning if you have that Warrior Priest in a block of Halberdiers, his swordsmen buddies are going to benefit from it as well when they counter-charge. Additionally, they gave purpose to the Empire General and Captain, these cheap characters make your units significantly harder to break in combat, meaning opponents are going to have to focus fire your characters (who are both obnoxiously T4), instead of scoring a ton of points crushing your troops. Like Ogres and TK, they also got some Monstrous Cavarly, albeit with a 1+ armour save, and a fairly affordable point cost.
In general, I have found that my games both using and facing other 8e armies feel much more like a fair game, and has always led to much more entertaining games than against my opponents with 7e books. There are far less gimmicky magic items, and far more emphasis has been placed on the player understanding their army, than just finding the nastiest list on the net and pew-pewing everything. If this trend continues, I will be a very satisfied Warhammer player.
What's your take on the balance and power level of WFB 8th Army books so far?