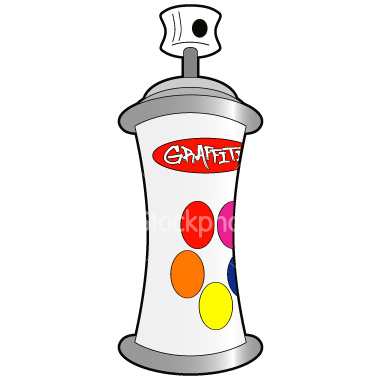 WarGames Con is when?! I have only how long?! Gak! Gotta bust out this article on spray painting then get back to it!

Well then, people are pretty familiar with priming models for paint, and almost all of us us spray-paints to do it.
With me so far? Pretty simple stuff.
Here's the deal: I set myself free when I realized something simple: why not use two colors to base, or three colors to build an effect into the base?
Basing is really just trying to prepare our model for color, so the colors can stick. As long as you're accomplishing that, why not do just a bit more and save yourself some work in the long run?
To start with, let's look at the basics of zenithal airbrushing… or zenithal spray painting, as I end up doing..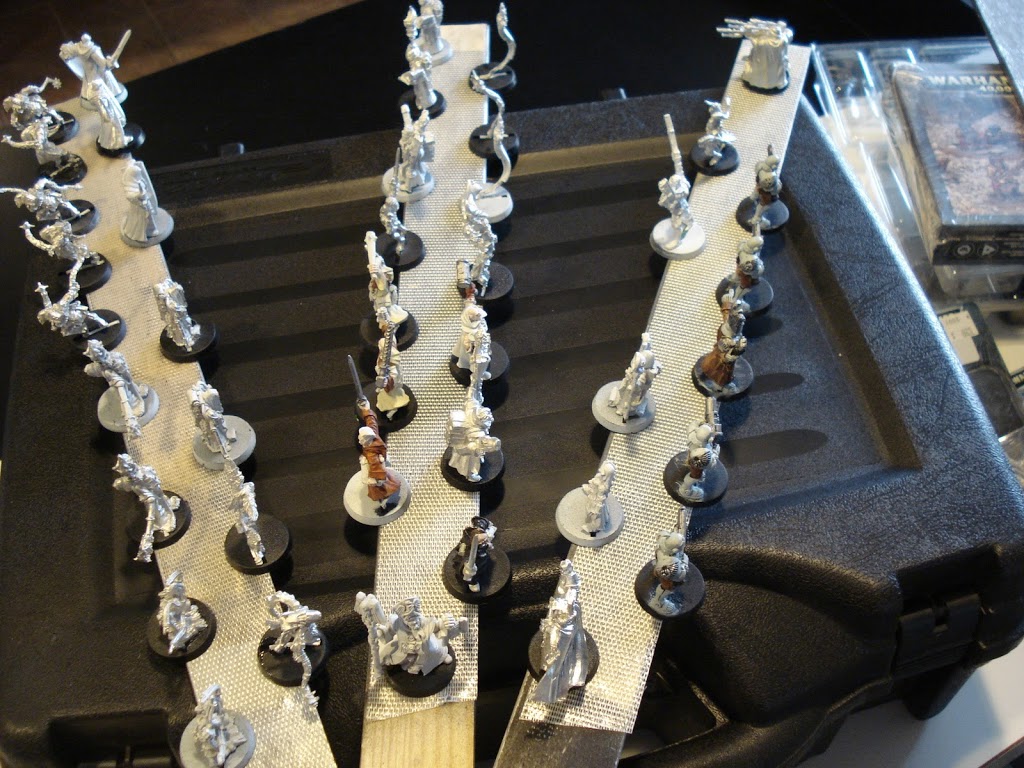 Good! You're using a paint-stick. Makes things roll along just that much easier. Base your model black then spray lighter colors from the top of the model, creating insta-highlights!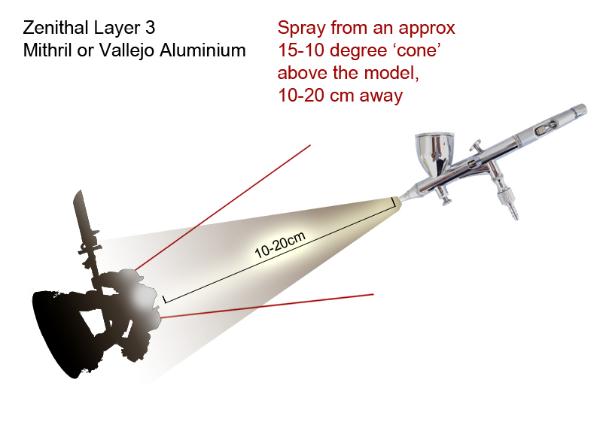 And there you go! The picture was nicked from a very fine article (certainly better than this one!) on Dakka Dakka: you can find it HERE.
That's a picture of an airbrush; I'm sure you noticed. Okay…
…raise your hand if you A) don't own one or B) are scared to use one! No need to sweat it, on either score. We'll talk Airbrushing in a future article (and really, I'm a newbie), but let's stick with our easy as pie spray paints for awhile.
* * *
If you take one thing from this article, it's this: don't be afraid to experiment with regular old spray-paint. It's relatively cheap and you can achieve quick, easy effects with some practice.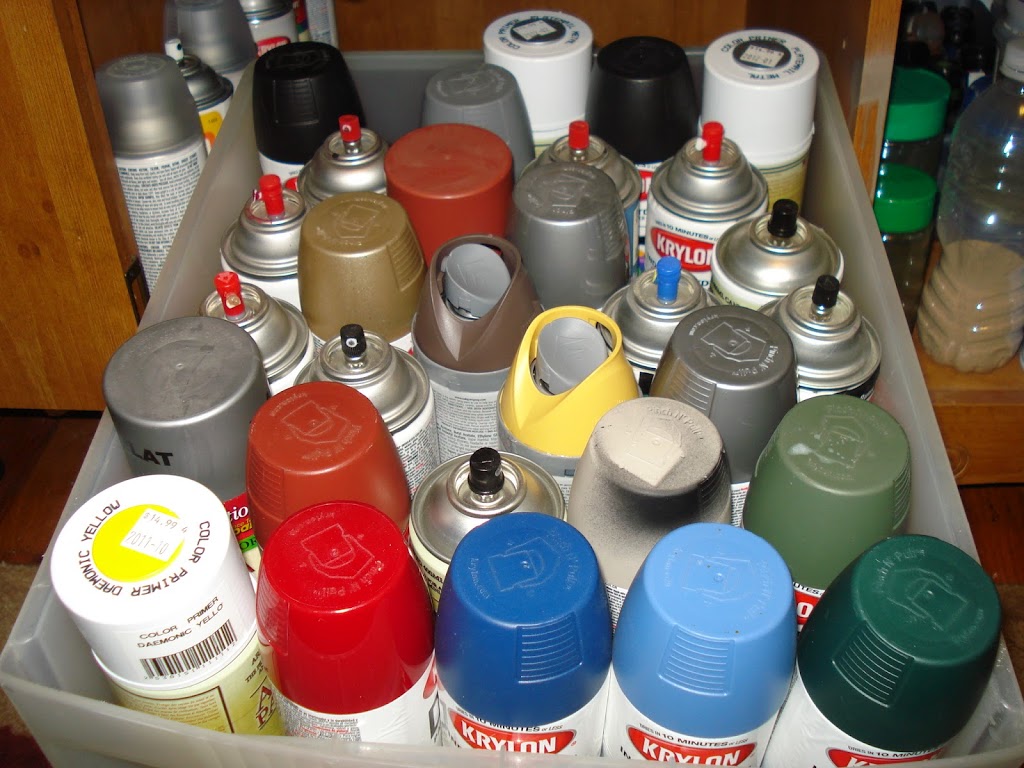 Army Painter products are by far the best, but Krylon flats or satins work just fine, too.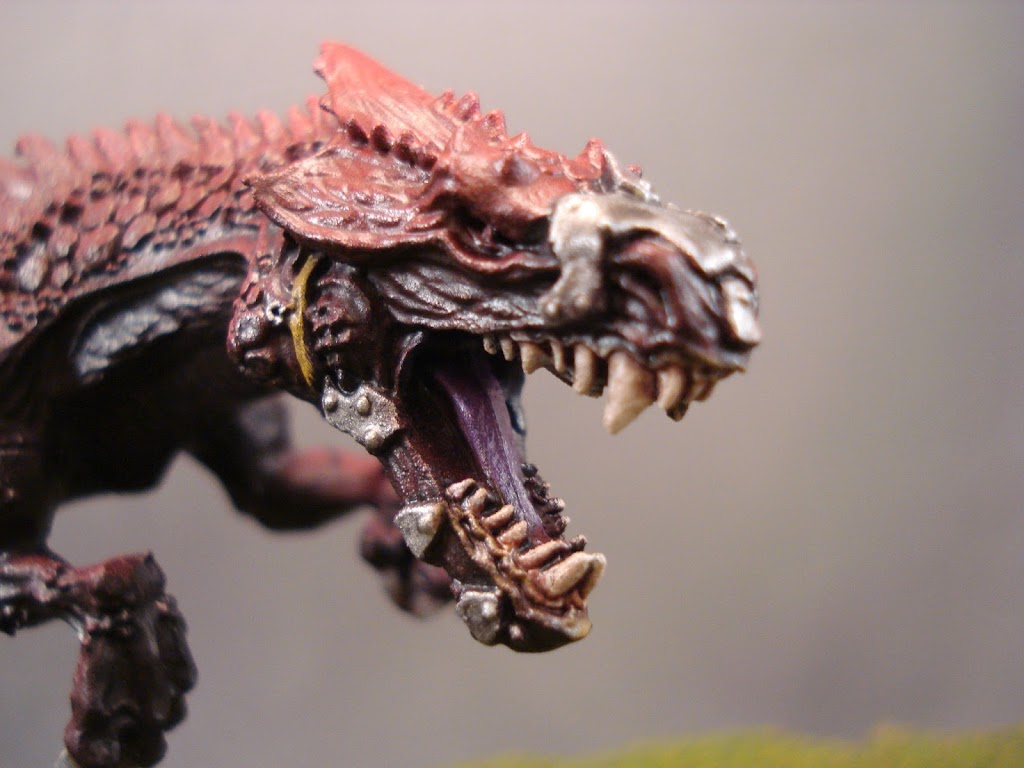 Here's a recent example. In the picture above, you can pretty much see every spot I had to paint with traditional brushwork. Time? About half an hour. Below…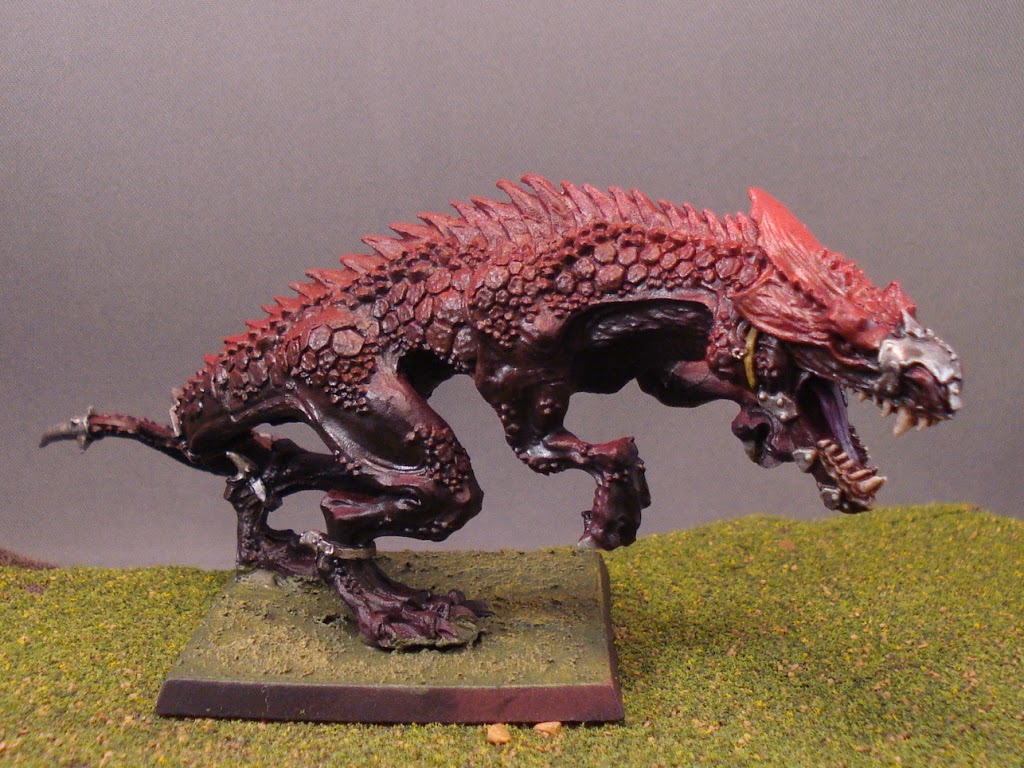 No, its base isn't done!
…you can see the rest of the model, which was painted with spray paints. Black and Rust Brown, to be specific. I based the whole thing black then varied the angles and distance I hit the top with the Rust Brown. When I had a look I was satisfied with, I glazed the crest a brighter red.
Really, the effort on this bad boy was pretty minimal. Maybe you think it shows. Maybe I'd say I have a good tabletop quality model and I'm already on to the next one.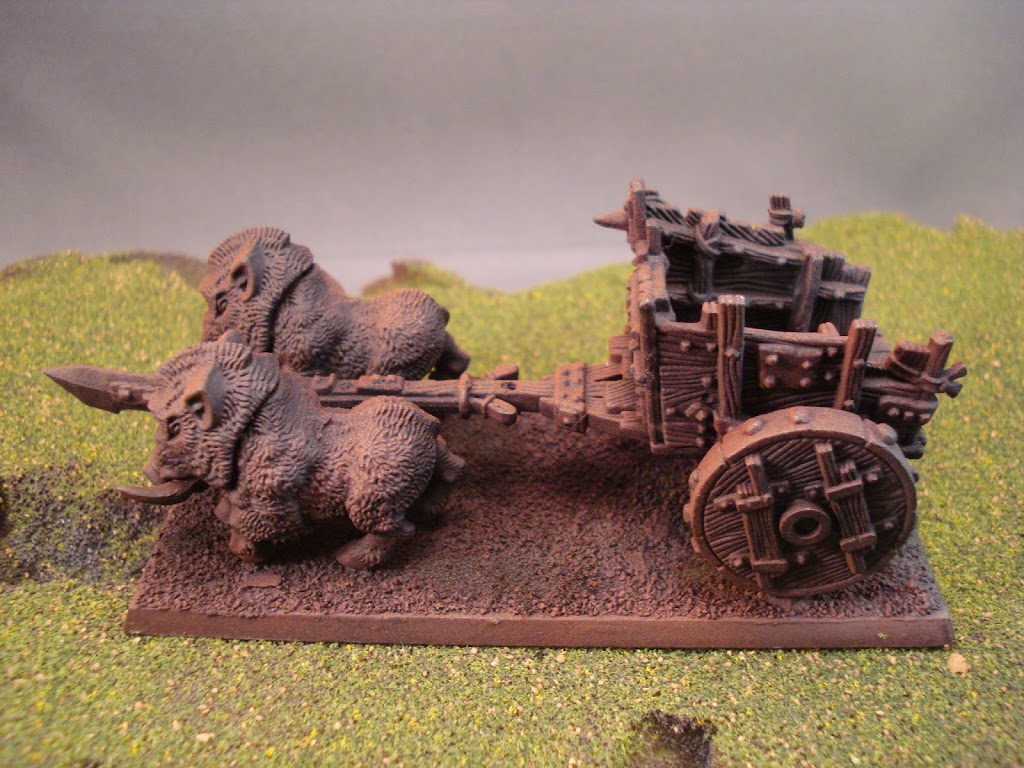 Same colors, different need. Black basecoat, fairly liberal rust brown spray from multiple angles. This who model will be wood and fur – this'll safe some time.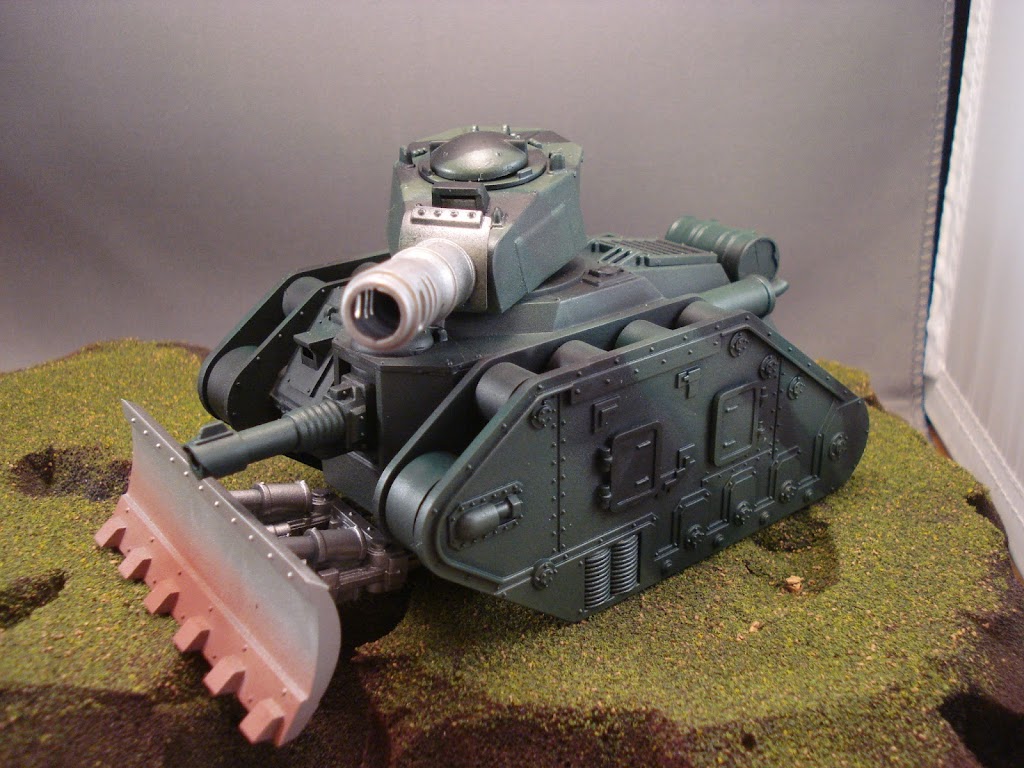 Forgive me, this is a work in progress, but all three main pieces remain separated to make it easier to spray paint the effect I was looking for. On the ram, a spray of silver and one of rust – which will eventually be a deep, rusty-mud effect, was the work of minutes. The tank and turret were only a bit more time consuming.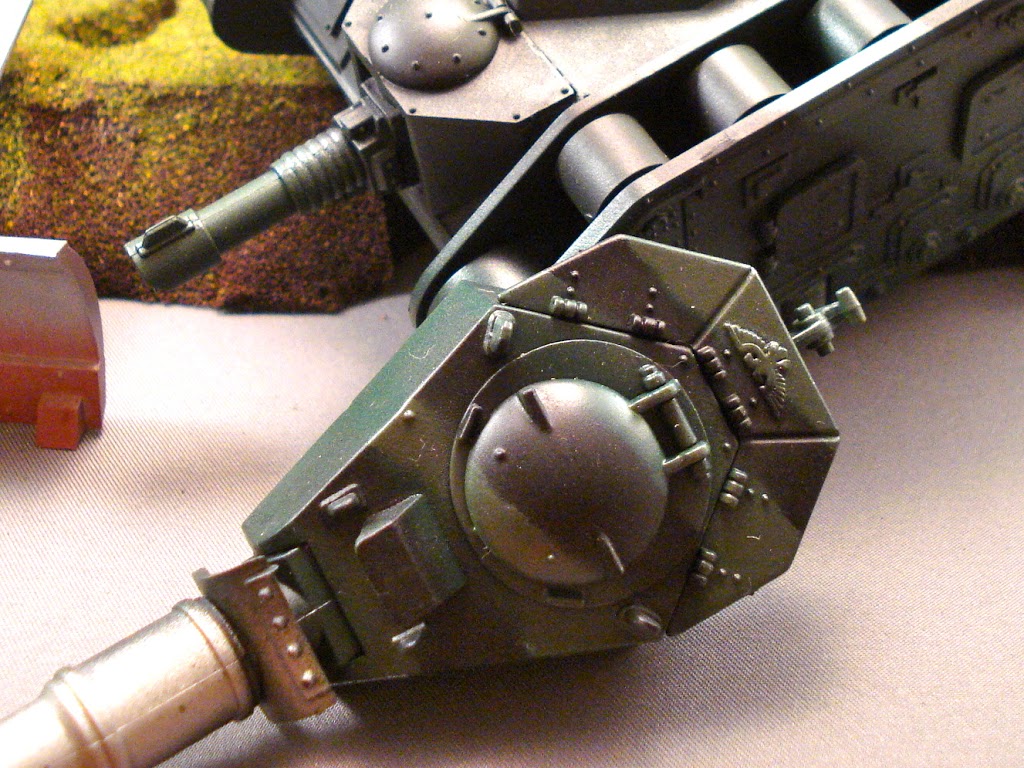 The model was sprayed black, then I masked off stripes, keeping the tape loose at the edges, so the lines won't be hard. Okay, that's easy enough… I sprayed it the darker green, mostly at a zenithal-approved angle. Once the coverage was acceptable, I stopped under the 'less is more' clause. I removed the masking and applied another. This time, the strips of masking tape – blue painter's tape, if you must know – were a bit thinner. Regardless, still loose, and with no real pattern but following the same angle around the tank.
Lather, rinse, repeat. Easy camo, which I can sharpen up later with brushwork. If I care to, that is!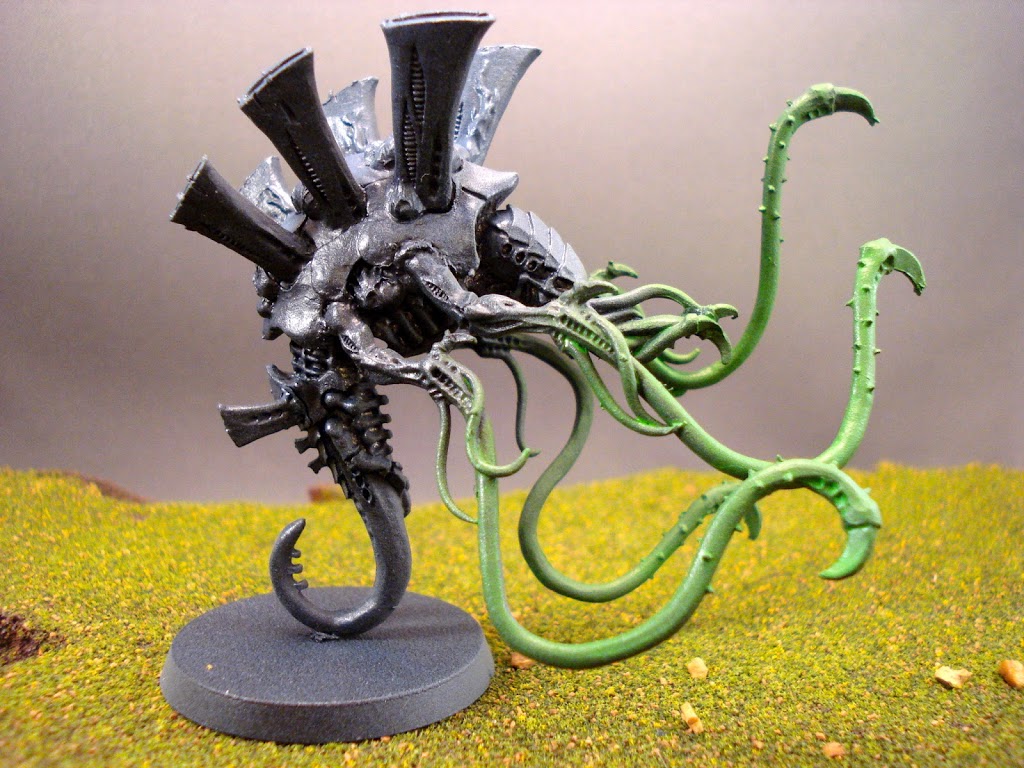 I'm currently working on a commission for Army in a Box. The Nids are basically a blue-grey, so again I'm applying a base coat and much of the 'real coat' at the same time. Based black, sprayed dark blue from the bottom, light blue from the top, and gray in a few select places.
I masked the Venomthrope and spray painted the tentacles green. I wasn't worried about being super-careful; a bit of bleed will work fine on this model.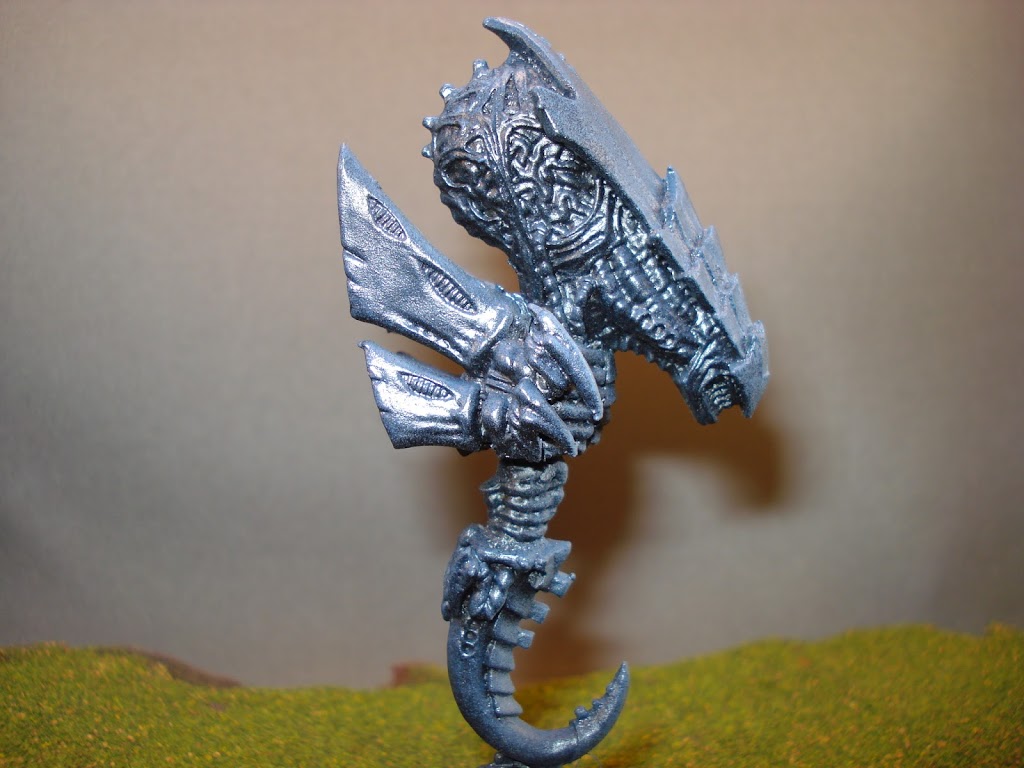 The Zoanthrope has had nothing but the priming spray(s), yet it's easy to see where the paint will go in the next step.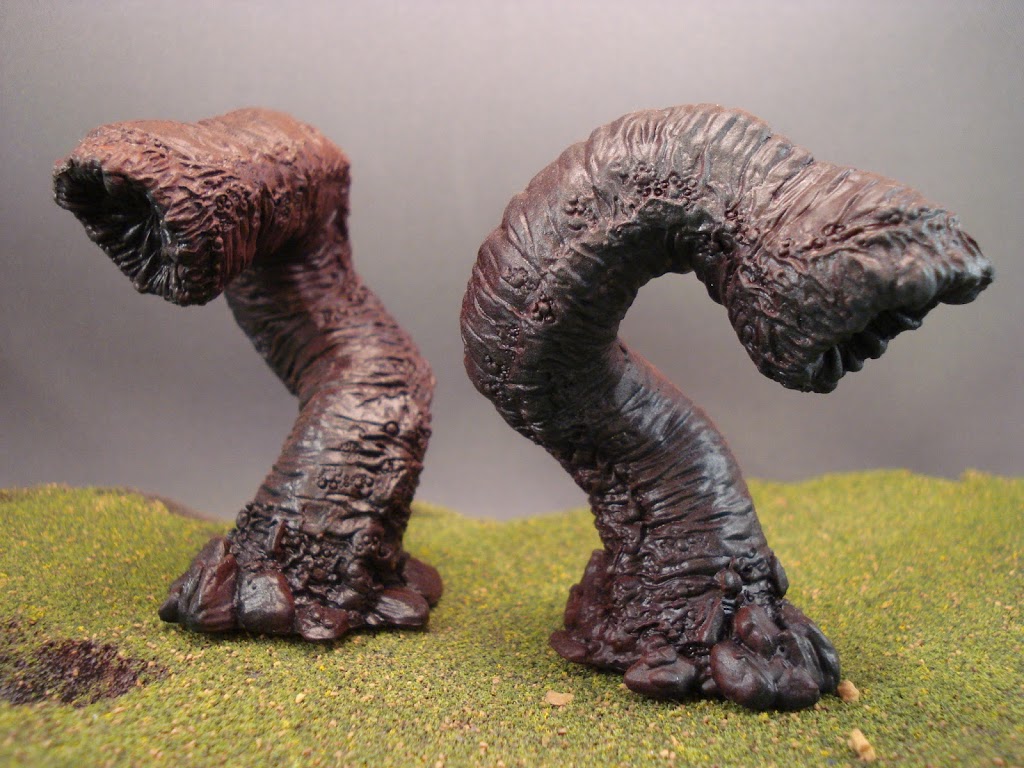 Same with these worms, which will be part of my Beastmen army. Using black and brown, sprayed from various angles, I achieved a basic look I like. The details will follow.
And the details will follow! I've got a decent airbrush and I'm making a mess learning how to use it!
But that's another Terrible Tuesday article by yours truly. Here's hoping you liked this one. Regardless, comments and suggestions are always welcome. Tips and tricks are more than just for *enter bad joke*
Visit Strictly Average sometime! Don't worry, it's low rent and low expectation. So, thoughts? Comments? Hugs and gropings?