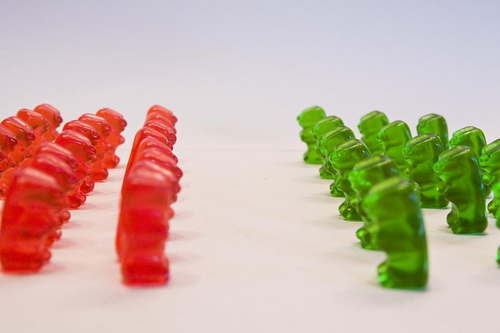 Sometimes the most basic scenario can lead to the most interesting games. In Battleline, you pit your strategy and wits directly against your opponents.

Hey everyone, it's Adam from
TheDiceAbide.com
! If you recall, I've already talked a bit in the past about The Watchtower and Blood and Glory, but I haven't said anything about the most basic scenario in the game! You may be wondering why I'm choosing to write a whole article about Battleline. I mean, after all, it's just 12″ from the edge, set up and kill, right?
Deployment
Alright, like I may have mentioned, this is simply setting up 12″ from the board edge, a fairly common deployment strategy to anyone who is familiar with GW games. But really, there is more to it than that. When you are deploying your army, you have a few considerations to make.
First of all, how many deployment drops are in your army? How many are in your opponents? When you win the dice roll to deploy the first unit, this becomes somewhat of an important question. If your army has more or less drops than the enemy, then there is no advantage in deploying first, but if you have an equal number of drops, then you will get the +1 to the dice roll for the first turn. Some armies, such as Warriors of Chaos, often have fewer drops, which is often advantageous to going first. When you are playing in open-list games, then this is something you should make sure to consider, however, in closed-list games this is obviously something you can't expect to know.
So that brings me to my next point. What if you don't really care about that +1? When it really comes down to it, there is a lot more advantage in knowing where your enemy is before you deploy your army. Most armies that I play have a couple units that are super cheap which force the enemy to deploy more units so that I can react to them. This works particularly well with fast units of charge redirectors, such as single Sabre Tusks, Great Eagles, Goblin Wolf Riders, etc.
So aside from the meta thoughts on deployment, what else is there? Since you have the full 6′ of board side to deploy on, your options here are obviously the most flexible of any of the scenarios. Unfortunately it is so varied, that I don't really have the space to cover it here, so keep your eyes open for me writing about refused flanks, and other fun ways to set up your army in the future.
Victory Conditions
Well, obviously this scenario is based around Victory Points, so clearly, a good portion of this article is going to be about it. This is a fairly simple mechanic, with a few interesting twists that can require some extra work to be sure you get everything you can.
So first, lets talk about the basics. You get Victory Points for every unit that you have successfully destroyed in it's entirety, or for any unit that has fled the board. This all means that if a unit is fleeing, under 25% and cannot regroup, so long as there is one model on the board, you do not get the points. There have been countless games where situations like that have cost me (and anyone else) the victory they worked for, so how do you cope with it? First of all, any unit that is fleeing already must declare Flee! as a charge reaction to any charge. So if your enemy has a unit that you're trying to push off the board, declare charges against it, even if you're at max range, then simply redirect after they flee further to the edge. Something to keep in mind here is that flying units can declare charges over intervening terrain and enemy troops which your regular blocks would not be able, so if you can get some flyers in good position at the end of the game, you can use them to send fleeing troops off the end.
Another way to scrape up the last few victory points out of a unit is simply though shooting. A cannon probably wont be much help here, since unless a unit is running off perpendicular to the cannon, you're not going to hit all the models. The best solution here is good ol' fashioned BS based shooting attacks. A volley of crossbows, repeater bolt throwers, or anything else which has more than one shot can be all it takes to rack up hundreds of points from a unit which would otherwise survive with but a few models. Early in the game, you are better off using your shooting to whittle down units so that your combat blocks can finish them off, but later you'll want to focus everything you can to be sure that every last model dies in expensive enemy targets.
Aside from wiping out enemy units, there are a few bonuses that you can get. Killing the enemy general is a good way to get an extra 100 points and probably kill the most potent enemy character to boot. You can also get an extra 25 points out of a unit by breaking it in combat if it carries a banner, which then dies to the Last Stand rule, similarly you will get an extra 100 points. The final way to get a few bonus points is probably the most challenging to get. If your unit champion kills an enemy character in a challenge, you'll get another 50 points. In my experience, the only armies I've seen get this bonus are Warriors of Chaos and Ogres. I certainly wouldn't expect to rely on these points to win a game with any other army.
Alright, so that was just a summary of how you're going to get these points, but at the end of the day, what does it really take to win? If you said "the most victory points" you were only part right. You need to get 100 more victory points than the enemy. That is an important distinction, especially when you're fighting against a Deathstar style army. When you find yourself against an opponent who has what seems like an unkillable unit, you should probably change your focus onto something much more manageable. A great example of this was a Wood Elf player by the name Justin Rusk, who went 4-1 at the Bay Area Open with his army. The general strategy was to score 100+ points, then avoid the enemy at all cost. He didn't table his opponents, didn't even come close really, but he did precisely what was needed to win. When you're playing any game, it is important to keep your eye on the goal, don't let yourself get distracted by trying to obliterate the enemy, instead, you should focus on what is needed, and do your best to deny your enemy what they need to win.
On the topic of denial, just exactly how does one do that? The greatest strength of a Deathstar army is usually thought of to be the killing power of the mega unit in the army. While they are truly monstrous in combat, what they do even more importantly is sit on a ton of points. For example, my unit of 15 Ironguts, and 3 characters is worth 1500 points out of my 2500 list! If the enemy wants to get those points, they'd better have some good tricks up their sleeve, but if they're just trying to win, it's not terribly difficult to redirect my unit with cheap chaff, while killing off the rest of my army for the win.
In the end, even your most basic scenario in WFB has some interesting things to consider. It is only one of two scenarios which allows you to place your whole army along the 6′ length of the board, in positions where you want them. If you roll for scenarios, you must think of each one as unique and different. Battleline uses Victory Points, and doesn't affect your deployment any, which makes it potentially one of the most challenging scenarios. You can't rely on the scenario to mess up the enemy plans, instead you must use your own guile. Now that I've talked a bit about Victory Points, I can get to writing about the last 3 Scenarios, yay!