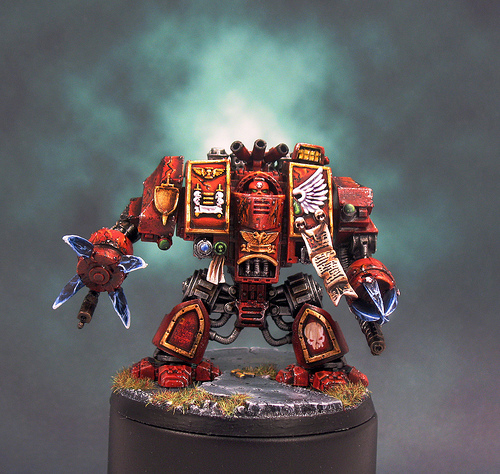 Blood Angels Furioso Dreadnought by Mihalis 'Cadaver' Skalkos
How do, folks, Mercer from Imperius Dominatus here. Times they are a changin… especially for dreadnoughts.

In the past people have loved Dreadnoughts for close combat. Up until the time of the mighty Furioso, I believed this was false. See a normal loyalist Dreadnought has two attacks, if it gets charged it is probably only going to hit once and kill a single model, hardly awesome. Instead of looking at the bigger picture, people would see the dreadnought close combat weapon and think S10 smashy death.
King Ding a Ling
Then the Furioso came along and more particularly with it was blood talons. Blood talons are a nasty bit of kit; basically lightning claws, which for every unsaved wound caused, the Dreadnought gains another attack(this rule for the talons only works if they are in pairs). These further attacks can generate more attacks, until the enemy unit is destroyed, or the Dreadnought fails to wound. Now you can see why these are things are called lawn mowers!
Add that the Furioso is AV13 on the front and the Death Company variant also has furious charge; S7 claw death!
So, in combat, a Furioso (or Death Company) Dreadnought were pretty unstoppable. Until now…

Your Ass is Grass…
So, the close combat Dreadnought is no longer the tough cookie it used to be in 5th. The big reason for this is how wound allocation works and more importantly how grenades work on vehicles.
Firstly, wound allocation. People always say pop melta bombs on a Sgt just in case of a Dreadnought. I say this isn't a bad idea, it's probably not worth it, because being a awesome general like everyone is on the internet, people should avoid Dreadnought's in close combat – you know the Dreadnought wants to be in combat, so do not let them! The best way to stop a Dreadnought is via shooting.
So, melta bombs then. Melta bombs got a buff in 6th ed as it is now AP1 (made no sense before that it wasn't), so it's going to wreck stuff. It also has armourbane (2D6 armour pen) and is unwieldly (strikes at initiative 1).
The wound allocation in this scenario hasn't affected things too much. Previously a Sgt could be in base contact or within 2″ of a friendly model, who is in base contact, the Sgt then could attack. It will works like that now. The only big difference is that models in base contact die first. So, just make sure the Sgt isn't in base contact, or else he's going to be a shish kabob.

The Two Biggies for Dreadnoughts
1. Hull points – a unit with krak grenades can glance a Dreadnought to death. Previously, if a Dreadnought was in combat and glacing is the only damage you could do, then your unit would be locked in combat with the Dreadnought for a very long time.
2. Walkers and assaults – this is the one which makes a mess of Dreadnought's in assault. See in 5th ed, a model could only hit a walker on a 6+ when using grenades (you ever tried putting a grenade on ED-209?).
In 6th, the assault Dreadnought gets a whole lot weaker, as combat is done on weapon skill (checked many times and grenades vs walkers are not mentioned in the rulebook). So hitting those Dreadnought's in combat become a whole lot easier.
To knock the Dreadnought down another peg, immobilised walkers are hit on the rear armour in close combat. Now this one makes perfect sense.
So, your melta bomb armed Sgt is going to be hitting on a 4+, getting 2D6 armour pen and +2 on the damage chart. Evil!
Also, it goes without saying, that blood talons got nerfed in 6th ed as they are lightning claws, which are AP3.
What now, Boss?
To simply put it, the assault Dreadnought has gone the way of the dodo. It's a lot easier to kill in assault and can be glanced to death before reaching assault, weakening it before it even reaches the front lines.
The best way to setup Dreadnoughts is in a shooting role suited to your army. Whether this be dual twin-linked autocannons, multi melta and flamer bundled into a Drop Pod or plasma cannon death from afar.
What you think guys? C.C Dreadnought's old and past it, or has the old (walker) dog still got life yet?