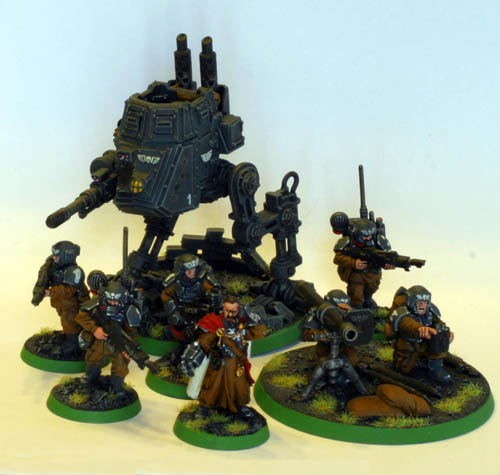 Howdy BoLS. The combination of playing in Wargames Con this past weekend and the release of 6th edition has rekindled my steamy love affair with toy soldiers and the grim dark. The allies rules returning in 6th has gotten me thinking of ways to shore up my IG list by way of the unused Space Marines in my closet.
Let us begin with a rundown of what my guard army typically looks like:
Lord Commissar w/power fist, melta bombs, carapace
Company Command Squad- 4 meltaguns, maybe some advisors, chimera
Platoon Command- 4 flamers, chimera
3 infantry squads
Heavy Weapons Squad with lascannons
Heavy Weapons Squad with autocannons
My main man Marbo
Melta Vets w/demolitions (Ride in Vendetta)
Plasma Vets in a chimera
Armoured sentinels (3) with autocannons
Manticore
Vendetta
Some sort of Leman Russ (or 4)
So yesterday I dug the Space Marines out of my closet and cooked up two attachments that I hope will compensate for all those squishy meatbags riding in metal boxes. We've know that jump infantry get a boost in 6th so I grabbed them first can came up with this:
Captain with jump pack, power fist, plasma pistol
Scouts x5
Assault Squad x10 w/ power sword, plasma pistol sergeant, 2 plasma pistols.
The scouts are a cheap objective holding unit with a bit more resiliency than guardsmen, plus the ability to outflank never hurts. The captain rolls with the assault squad, doing violent things and taking the heat off of my big guns while forcing my opponent to adjust their target priority.
The second attachment I cooked up is as follows:
Captain with power fist
Tactical squad x10 with power weapon, flamer, multimelta
Dedicated Razorback with twin linked lascannon
Terminators x5
First and foremost this group adds two tough scoring units in the form of combat squads. The twin linked lascannon makes the board just a bit scarier for my opponents transports and monstrous creatures. Lastly, the Terminators can deliver some heavy damage, and with the option to deepstrike they can prove to be quite the pest if one forgets that they might be deploying behind their lines.
What nasty allies attachments combos have you folks on the interwebs been cooking up? I want to hear specific allied attachments and who you want to attach them too.