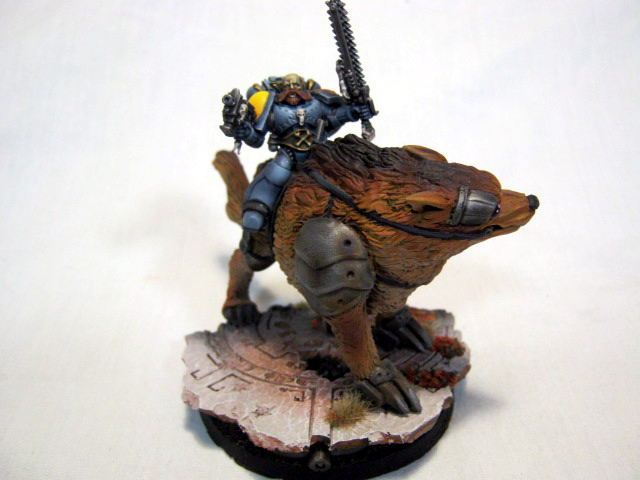 Consider today's Terrible Tuesday Wednesday offering to be something of an experiment. The nature? To harness the power of our community. The purpose? To catch a thief.

Hello and greetings and all that; Brent here, fresh from not posting on my blog Strictly Average 'cause I'm too busy playing 6th Edition games.
Or painting allied contingents.
Or playing with my airbrush – not a euphemism.
Yes, ladies and gentlemen, children and Unicorns, now is a good time for our hobby, and it's hard to sit down at the computer and type when there's so much cool stuff to do! Still, all that notwithstanding, it wasn't terribly difficult to sit and crack open the MacBook. Tonight's subject is fortunately rare, but perhaps all the more shocking for it.
Yeah, I'm talking theft here, folks. Have you seen this model?
EDIT: Sometimes things take a life of their own; much thanks, Lexi! You're spot on.
Pretty nifty, no? It's painted by Kenny from Next Level Painting, a commission painter who makes his living eight plus hours a day, at least five days a week, hunched over his work table cranking out high quality miniatures for sale.
Except, it's not so much about the individual model; this dude paints armies the way you and I paint models. Here's a LINK for the gallery of Space Wolves the Thunderwolf above used to hold pride of place in. (Obviously, with the exception of the lead-in pic, I've used other images from the collection to break up this article – gives you folks something to look at!)
Kenny is a well known tournament player and model enthusiast. He's one of the rare examples of a hobbyist making this hobby… well, pay. I ran into him in Austin recently, at WarGames Con 2012, and pretty quickly started bugging the crap out of him to share some airbrush secrets for a future Terrible Tuesday post. He mentioned his most recent creation was on display at one of the tables, so off we went.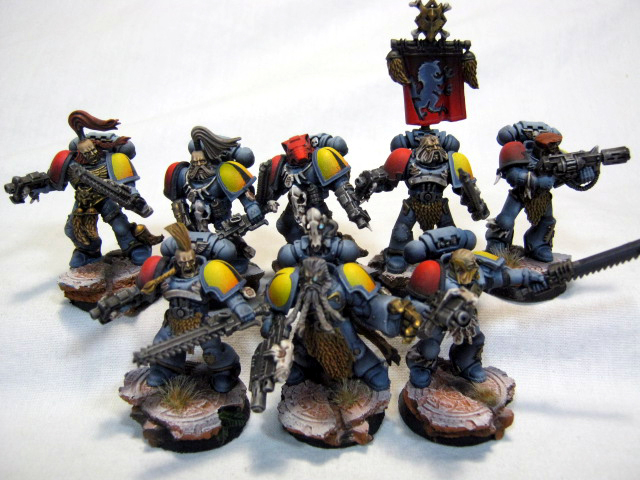 The long and short of it is that's when he learned someone at the event made off with the model. Someone there stole it.
There's no doubt. As you may have realized, I waited a few weeks before mentioning any of this in a post here on the main page of Bell of Lost Souls. It was gone and stayed gone; the vendor vaguely remembers someone with a bag admiring it, so the working assumption is this individual simply walked off with it.
Speaking of assumptions, the purpose of this article is predicated on one. You see, I'm betting most of you can appreciate the time and effort that goes into obtaining, cleaning, pinning, and finally painting a model of this caliber – there is real time and expense here, not to mention the hidden cost of replacing it in the army. Remember, this is Kenny's business; selling armies is what puts food on the table for his family.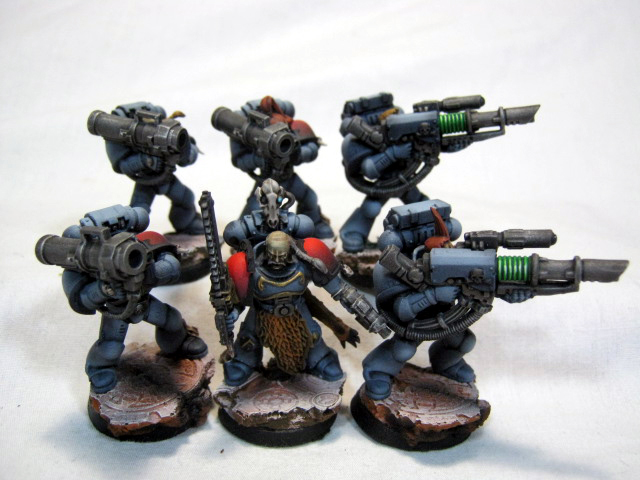 Assumption A: The person who stole this model will probably show it off.
I'm not sure the thief woke up thinking, "I'm going to steal a Thunderwolf," but seeing it he obviously coveted it. It's hard to imagine anyone with the skill to paint a model at that level would be moved to swipe it, so perhaps the thief isn't intending to paint over it and simply use it as a model in his Space Wolves army.
Assumption B: Someone knows who this person is.
Point is, perhaps the thief's local group has seen him with the model. Who knows what he told them, but it's a safe bet it wasn't, "Hey guys, look what I stole the other day!"
Assumption C: Our community isn't okay with thieves.
Maybe I'm hopelessly naive, but we all of us invest hard-earned money on our favorite pursuit – playing with toys.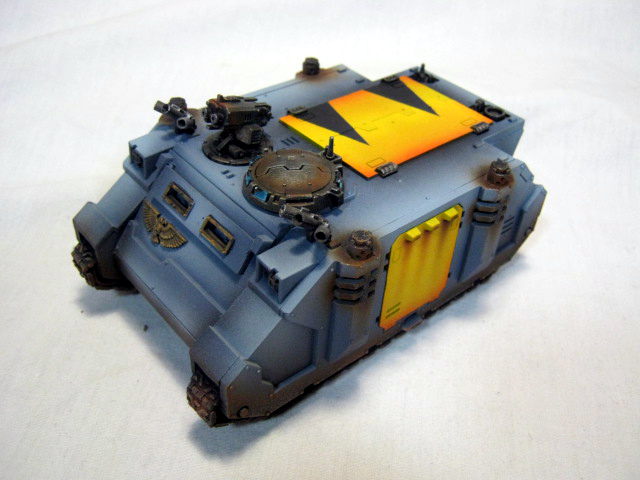 Yeah, sorry that didn't come across as more glamourous, but live with it. I play with toys, you play with toys. Big Red definitely plays with toys.
Nobody likes having his toy taken. Things in the sandbox get ugly when that happens.
If someone at the thief's local store has seen this model, it's hard not to imagine he isn't worried it might be his stuff that comes up missing next time!
As the old saw goes, assumptions can make an ass of… well, me. Maybe nothing will come of this, but here's my hope: someone should return this model.
If you're the thief, my hope is you're young, impulsive, and stupid. Those things are forgivable, if you make amends – and don't worry, we were all of us stupid at some point in our lives. It's not easy to make this right; in fact, you'll have to go out of your way. At minimum, the model should be returned.
If you don't want to contact Kenny directly, email me. The address isn't hard to find if even a half-assed effort is made. Here's a hint: follow the LINK to my blog and look to the right.
If you know who the thief is, things are simpler. Follow the dictates of your conscience.
That's that, folks! Consider it a social experiment; I'm very curious if this community is so interconnected that this article might reach the right set of eyes.
Regarding the comments, that's easy; the subject is…
What do you think of the assumptions I made? Am I off base; have I put too much trust in human nature? Also, have you lost anything through theft? Know someone who has? If so, what? Kudoes to the best – sorry, worst – story!
Thoughts? Comments? Hugs and gropings?