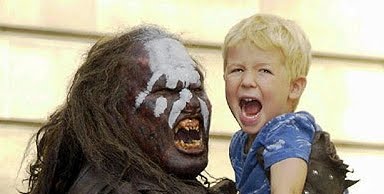 Goatboy here again, starting to talk about what is going to keep us up at nights these next few months – 6th edition and points.

I am very excited about the changes that keep trickling down. Everything sounds neat and I can see a massive shift in the overall 40k game meta as people try to find the meanest cuts in the new set of rules.
So with that in mind I want to talk about what I think will have to happen to create a stronger tournament environment. I know – groan right? I can just hear the grumbles from the "haters" out there but tournaments are here to stay and any chance to keep fostering the game will ensure our "miniature investments" won't go to waste or get glued up in a ball of doom. So with that in mind let's look at some things that might help the upcoming environment.
The biggest thing I think TO's should look at is changing up the point size of the game. The new rules will create a slower game as everyone keeps trying to remember the proper USR wording or the right way to charge into dingus punching. I think games should look at limiting army sizes to 1500. It creates a rather interesting restriction that allows for less models on the table and a better chance to finish the round in 2 hours and 15 minutes. I know some people will complain about not having all their toys – but with Allies being a strong component of the game you should still have chances to get some nonsense on the table top.
I really think the lower point level will allow for a much more interesting build design as you have to think what is worth it and what isn't. It really will help limit some crazy Death Stars as well as keep the MSU nonsense off the table top as much. It will also most likely keep the Ally menace at bay a bit as people can't really rely on an expensive friend to help them out in the end.
This brings us back to Allies as well. As the rules get better ingrained in our playlists we can start to increase the point levels. I know the idea of adding a second Force Org at 2000 points is extremely interesting – especially for Nids and some of the other – not so friendly Army books. This way you can start to create some mean lists that emphasize this new idea of a fully customizable army design. I know we always love those 2000 point games but I really feel we need to get the rules working for us first before we start to add more spices to the mix.
The fortifications addition that armies can purchase could be very interesting. I know we most likely need them as they really give you an option to kill high flyers and keep those guys at bay. High flying MC's might become a problem as they do whatever they want to around the board. Do you like that candy? No this Hive Tyrant wants your candy, your mom, and your car. I am waiting to see if we need them.
The idea of needing buildings is actually kind of interesting as it is a way to create a cool display board that is actually useable. There are a lot of cool places to do some interesting painting on these large flat surfaces. It also gives a chance to go crazy with some Ork conversions and other design aspects. Maybe they will put in some drop pod rocks for Orks.
Right now the only thing I can say is that we will be playing a different game these next few months. Of course the rules coming out in the middle of a tournament season is kind of a pain in the butt but will trudge through it. Hopefully those books can handle the constant thumbing through as we try to look at different charts, USR's, and other options.
So what do you think the ideal point size for 6th is?