Goatboy here again with another Model review. This time I got ahold of the new Khador Colossal Warjack – the Conquest.

I plan on doing a different review as this is a much harder model to discuss. I don't fully play the game so it would be hard for me to determine the value for this in your game. All I can really comment on is the model itself.
I decided to review the model on a 1-10 due to it's size and because I want too.
So with that in mind – let's begin.
First here is the Box. I always expect these kits to be bigger as they represent the king of kings for the Privateer Press lines. Still it was a nice heavy kit so the box didn't feel "worthless" as you picked it up.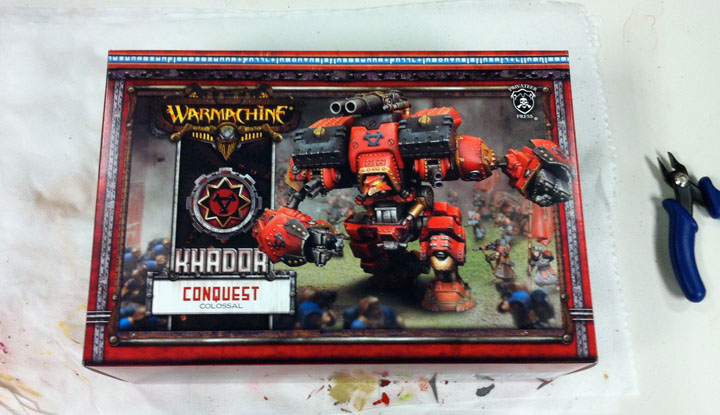 Opening the box reveals sectioned bits that hold the different parts of the model. My kit didn't have any instructions (not sure if they come with them or not) but it did have everything else. You have the kit itself, its base, it's rules, and finally a destroyed marker.
Here I are all the parts laided out. The resin is pretty good with a nice solid feel. It does not have that bendy weakness you see in some of the FW stuff but it isn't nearly as hard as some of the 3rd party bits makers resin. You see that the feet are actually metal which gives the model its weight as well as a nice base to stand up on. I am not a fan of some of the other smaller metal pieces (the arms for sure) as I feel it adds too much weight.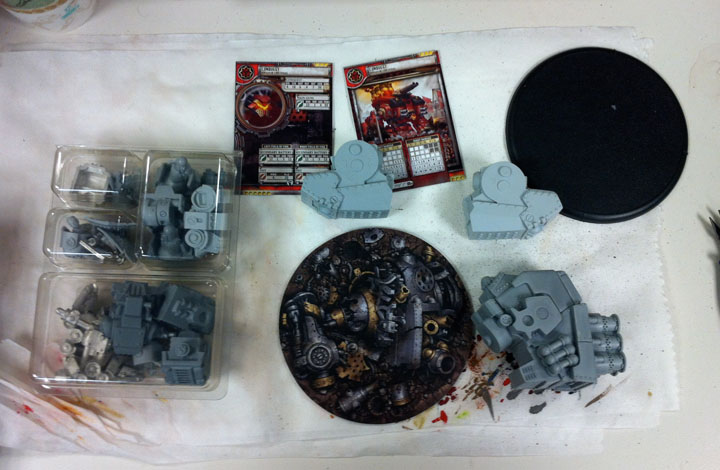 Model – 7 out of 10 – I want more options but really that might be my GW side begging for random bits you will never use.
Here I built the model and actually put it on the base correctly. You can ask Larry about how I messed up the Battle Engine by not using the markers on the base to create its front and sides. This time I correctly placed it on its base. The model is pretty solid with lots of good sections for glue to do its magic. Each piece fit pretty well and the cleaning wasn't too much of a hassle. I do wish we had more pose options with its feet but with a model this big and detailed it would have been a pain for Privateer to create.
Build – 8 out of 10 – Overall this model went together very well. I didn't have to curse any of the options and how they fit on the model. They did a great job utilizing resin and creating a very detail and unique model.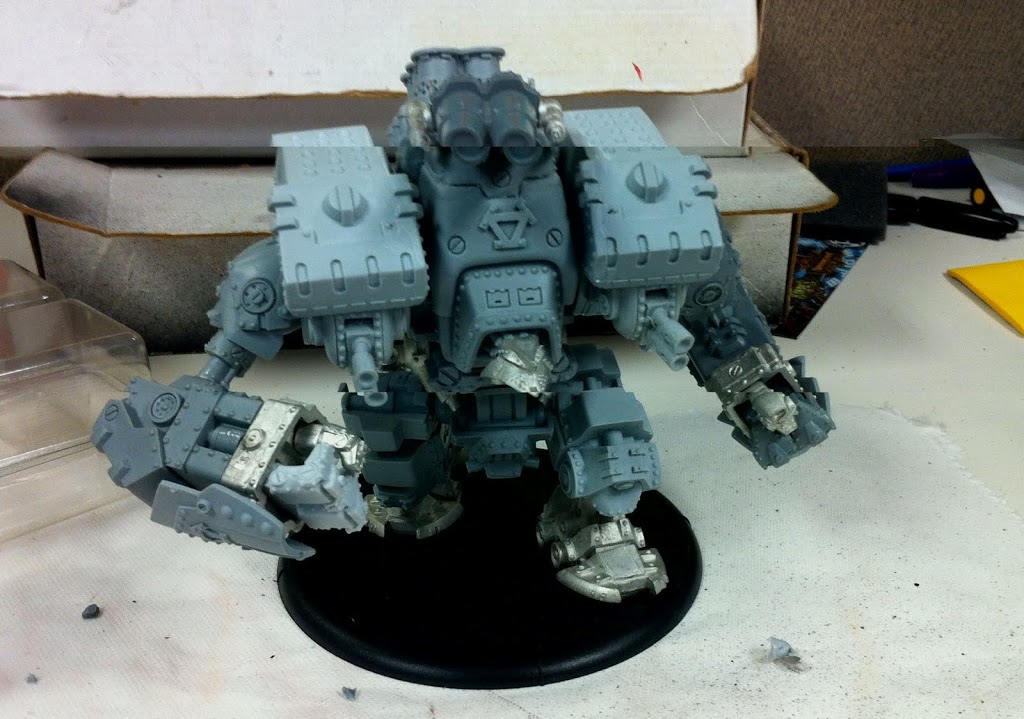 Paint – 9 out of 10 – this was a lot of fun to paint. The arms are spread out wide so you can easily get into the small spaces on the model. Whenever you deal with a model this big you can really utilize some weather techniques as well as have a lot of fun creating the shadows on the kit. The resin didn't hold the paint as well as I wanted so make sure you seal the model very well after throwing some colors on it.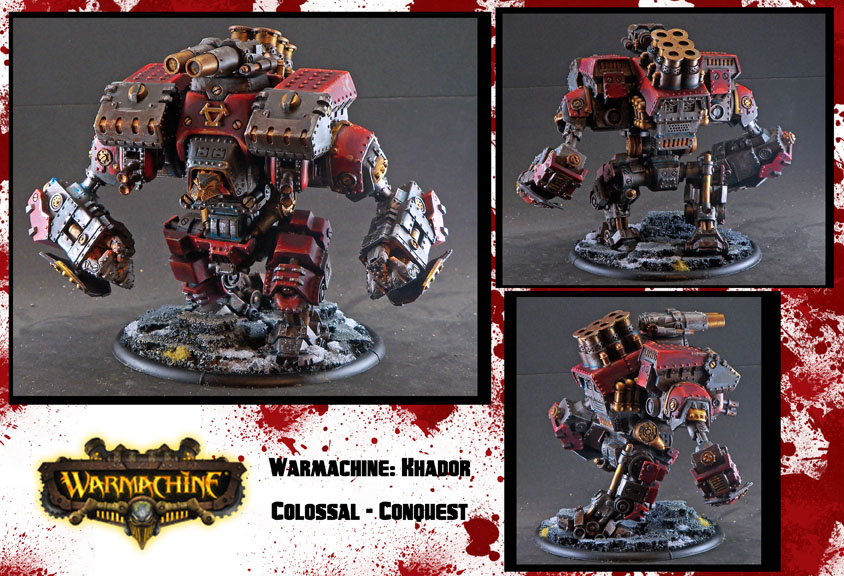 I can't truly comment on it's value as I don't I play this game. From the comments and the other local players, these kits are really adding some neat value to the game play so I would think that if you are throwing down with Khador models this kit is a must buy for your army. It is a bit pricey for a kit but then you probably don't expect to buy two of them for your army like some other game's unit options.
Khador tactics and strategy articles coming soon!
Until the next time this is Goatboy saying "PAINT YOUR NINNIES!"