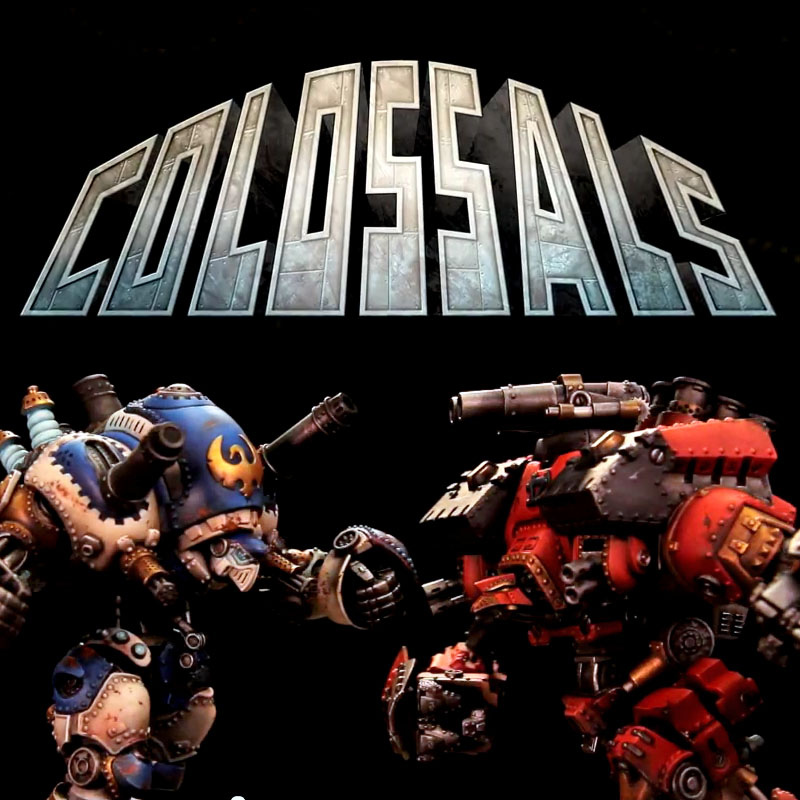 I know what you're thinking. Someone else has come along to put up their own ranking of the Colossals. Who will win? Conquest? Galleon? Hyperion? Well I've actually got something a little different in mind.

My purpose is not to speculate on who got the best new toy. What I want to discuss is which faction has emerged stronger as a whole in this post-colossal world. Who benefits the most from the mere existence of these powerful new machines? I'm going to quantify all of this based on who has the tools to make the most of their Colossal, who has the best arsenal to take down enemy ones, how a faction's playstyle is helped or hindered by the new abilities Colossals bring, and on my own opinion of the faction's existing power level. Like any good countdown I'm going to start at the bottom and work my way up.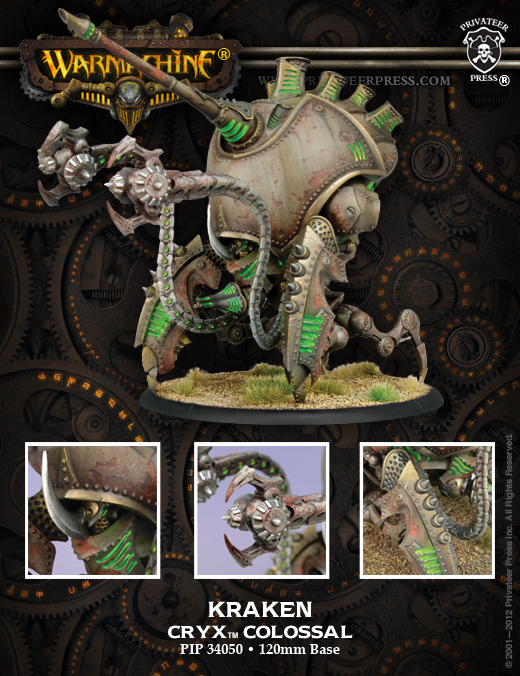 Biggest Loser: Cryx
Yes I do have a sizeable Cryx force. But I promise this is not all about sour grapes. If anything I'm glad to see Cryx get taken down an admittedly small peg. Part of the reason they earned this spot is because of how fantastic they already were. So why do they belong here? Well its really just because of how much Colossals interfere with their established playstyle. Cryx loves to run swarms of infantry and Colossals in general strongly disagree with that. Cryx can create some fantastic lists to counter enemy Colossals, but these lists tend to be rather specialized and won't fare as well against all comers as the old standards. Colossals can also fire in melee and they all have pretty decent guns. This means Cryx warcasters are still under threat from ranged attacks even when they've shoved a ton of infantry down their opponents throats. Cryx warcasters also love their Soul Tokens and those will probably be getting a little harder to come by. The cost of a Colossal means that any army including one will have less to spend on the infantry that generate them.
Cryx's typical swarm playstyle also means they probably won't find their own Colossal quite as exciting as the other factions find theirs. I've always found Cryx to perform best when they have multiple threat vectors. They spread out, keep their opponent off balance, and wait for their opening. When they spot it they send whatever they can through and end the game with a caster kill. A single 19 point model with a huge base doesn't exactly factor in well to that strategy.
So am I saying Cryx are terrible now? Not a chance. Cryx still has some absolutely fantastic tricks and one of their best warcasters may have gotten even harder to ignore. That's right I'm talking about good old straight out of the battlebox Warwitch Deneghra. She's the reason why anyone who plans on taking a Colossal to a tournament is also going to pack something that can wipe debuffs. If she hits a Colossal with Crippling Grasp early on, and its controller has no way to clear it off you've got 19+ points of your army that probably won't be scoring any control points. While it might take some getting used to, Cryx does have some casters who can do great things for Krakens. Skarre 1 can help increase their survivability, Mortenebra and the Coven can get them moving faster, and those three plus Skarre 2 all have ways to vastly increase their accuracy. The truth is, in a faction of debuffs, there isn't a single Cryx Warcaster without something to offer. So yes… Cryx will still beat your face in, kick you while your down, and make you swear they're cheating even when they're not. It just got a teeny bit harder for them to do it.
Slightly Worse Off: Retribution
Out of all the assertions I plan on making this will probably be the most contentious. So let me just say that I don't play Ret and never have. But I do know how they usually beat me. And I don't see it getting any easier for them in a world with Colossals. "But Hyperion has a 5″ AoE with Critical Consume, and all those hit boxes" you say. Well I do think that Hyperion is a great Colossal, possibly even the best for its point cost, but Ret isn't in the position to make the most out of it the way some of the other factions can with theirs. Most Ret casters have at least one out of activation warjack movement ability that their Collosals won't be able to use. And outside of those abilities the faction doesn't have that many ways to get 'jacks moving faster. In addition, none of their current warcasters have a bond they can use to give Hyperion that all important extra focus. Finally Retribution's mechanics leave a bit to be desired. The single wound Arcanist solos with their FA of 2 will be a lot easier to pick off than the 6 man strong FA 3 units that Cygnar and Khador can bring or the multi-wounders Protectorate and Mercs have access to. Fortunately Arcanists do bring the Concentrated Power ability to get a Hyperion hitting that much harder. In a lot of cases it will probably be a bit of overkill, but it might make the crucial difference when it comes to finishing off an opponent's Colossal.
Also, what I feel is one of their most competitive lists will be much harder to make work against armies with Colossals. If you guessed that I'm talking about Adeptis Rahn's Charge of the Battle Mages Tier you're dead on. Facing this list always has me pulling my hair out. Between Telekinesis, Force Hammer, Force Blast, and all those Battle Mages with Force Bolt, none of my army is ever in the same place I left it when Rahn finishes a turn. But if I have a Colossal to bring to the party I have a huge highly durable model that none of those tricks will work on.
Before I go any further I'm going to remind everyone I said this was only a slight power reduction. Rahn is still a great choice if you want to field a Hyperion. Polarity Shield is a fantastic spell to cast on a Colossal. And having one big Warjack instead of several smaller ones can leave Rahn with more focus for spells. Dawnlord Vyros can also add a lot with Mobility and Inviolable Resolve. Ossyan is also a great warcaster for games against Colossals. Quicken will be great if you want to bring a Hyperion along with him. With Gravity Well, some Mage Hunters and Stormfall Archers might be able to bring a Colossal down with ranged attacks alone. And his Chronophage cannon could prove to be a huge pain for it if you can't bring it completely down. Just make sure he's safe from those Colossal guns he'll be putting himself in range of. Even with his feat many of them bring enough ranged power that it's a real risk. Mage Hunters in general also got a lot more interesting. The ability to see through models is a lot stronger with Huge Bases around. The hard part is going to be getting them through all the blast templates enemy Colossals will probably be putting down.
No Change: Khador
Out of all the factions in Warmachine, Khador has the least to get excited about post Colossals. That's because they already more or less had access to one. Weighing in at 7 points less than a Conquest, the Behemoth's Subcortex, Armor Piercing fists, and higher Def and Arm mean the Motherland's Colossal has some serious competition for high point slot models. And when you consider the rest of the warjacks in their arsenal were already some of the hardest hitting and most durable in the game, Conquest doesn't exactly tip the scales any further in Khador's favor. While all the anti-infantry abilities other Colossals bring may hurt some of Khador's favorite Kayazy spam and Winterguard Deathstar tactics, the durability and damage output the faction offers definitely balance out this disadvantage.
Improved: Protectorate
If you like warjacks play Protectorate. It's advice I've overheard and given myself. So it stands to reason Protectorate can probably do a lot with its Colossal. Two of the biggest unifiers among Colossals are their 3 focus allocation limit and their of MAT 6. This means unless they have some sort of upkeep spell going to help boost their accuracy in melee they will often have to make a hard choice between boosting to hit and buying additional attacks. The Protectorate's ubiquitous Choir and their Hymn of Battle help break this curve. The +2 to attack rolls means the Judicator can just roll the usual two dice against most targets in melee and still expect to hit. And if you need to send it in to fight another Colossal the +2 to damage rolls from the Hymn add up to a total of 10 extra damage over 5 attacks. That choir can also protect it from hostile spells or ranged attacks to help ensure it makes it to the front lines in perfect fighting form.
And of course the Protectorate have access to another fantastic Colossal aid in the Vassal of Menoth and its Ancillary Attack ability. So if your Judicator somehow fails to finish off its target with 5 MAT 8 P+S 22 attacks, you can always use the Vassal to grab an extra. But what may be even cooler about this little guy is that he can let your Judicator make ranged and melee attacks in the same turn. So during its own activation, Judicator punch the living tar out of a heavy target, then your Vassal can activate to let it launch some rocket pods at the Nyss Hunters your opponent just brought in as reinforcements – even if it's still engaged.
All that great stuff and we haven't even gotten to Warcasters yet. And almost all of them have at least one great reason to add a Judicator (maybe 2) to their Battlegroup. Lets look at some of the spells Protectorate offers: Ignite, Escort, Crusader's Call, Defender's Ward, Eye of Menoth… the list goes on. While my mind is brimming with combos to throw out there, I've got to save some for when Judicator gets an article of its own. So I'll finish off by pointing out that as good as the Protectorate can make its Colossals, it may be the faction that needs them the least. With access to all the tools listed above, a humble 6 point Crusader can actually scrap a Colossal in a turn. The single P+S 18 and five P+S 22 attacks that a Crusader can dish out with Hymn of Battle, Ignite, three focus, and a free Vassal attack add up to 56 damage exactly; assuming they all hit and roll an average 7 when they do. That's exactly enough to finish off the Stormwall. Yes I know theory-machining like this isn't the same as in game performance, but I still thought it was worth putting that out there.
Biggest Winner: Mercs and Cygnar (too close to call)
Cygnar
These guys are at the top of the chart because they have some great support to offer and they kind of needed a boost. I know saying that about Cygnar might stick in some people's craws, but their best strategies were pretty well known and this was starting to make the faction a bit stale. But not anymore. I don't think any faction can make their Colossal sing quite the way Cygnar can.
It doesn't hurt that the Stormwall is a really good Colossal. All those guns mean it gets to start laying down the hurt early. And if your opponent is a Warmachine player they had better make sure they've brought along some way to handle Disruption. Otherwise those Lightning Pods and the accompanying Stormsmiths will make sure they won't be getting allocated any focus. Then there's the Journeyman Warcaster who with Arcane Shield can bring the Stormwall up to a truly obnoxious ARM 22. And it doesn't hurt that the faction also has what are probably the best mechanics in the game.
But it's their warcasters that really make them shine. I don't think any other faction synergizes quite as well with their Colossal. Let's look at just some of the possibilities. Darius can bring along two of these things and a Journeyman. Fortify one of them and Arcane Shield the other. With the armor buffs its going to be pretty tough to take one of them down in a turn so Darius can just pop his feat to repair them up to full. Oh and he's got Jackhammer so you never have to worry about not having enough attacks to finish off an enemy Colossal. Why not bring along two with Kraye? All their ranged attacks will be boosted thanks to Guided Fire. And with Full Tilt one of them will be able to charge a model 13″ away plus two more inches of threat since all Colossals have innate Reach. Add two inches to that if you do it on his feat turn when all of its melee attacks will also be boosted. And if Stealthed models are giving you trouble he's got Mage Sight. But if you want to see what is perhaps the most terrifying Stormwall pairing just read Relasine's article about the unspeakable things he was able to with it in a Haley2 list. The list of combos goes on, but I'll stop here since I've got one last faction left to go and I'm probably already pushing a lot of people's TLDR thresholds.
Mercs
Just like Cygnar, Mercs can offer some great things to their Colossal. And just like Cygnar Mercs weren't the highest up on the power curve going in. One of the coolest things about the Galleon is that its massive Trident and Cargo claw offer an immediate solution to the low P+S that is one of the faction's biggest shortcomings. Its ranged capabilities are also something for the "faction players" to envy with gun ports that lay down a withering hail of AoEs and a Harpoon Cannon that can drag enemy models quite a distance.
When it comes to support Highborn and Four Star Syndicate players can hire Gorman diWulfe, Aiyana and Holt, and the Ragman who can combine to net a massive +7 to damage rolls against enemy Colossals. Of course since they're all mercenaries other factions can hire them too, with Cygnar being the only faction that can take all three. Of course there are some solos with great abilities that the other guys can't use. One of the ones you'll definitely want to bring with a Galleon is Dougal McNaile. He can give it +2 to all of its AoE ranged attack rolls and let it re-roll deviation if it misses with the artillerist ability, and add +2 to its RNG with Double Powder Ration. If you're having to fight Colossals Taryn di la Rovissi can use her Shadow Fire ability to let you see right through them to the hopefully squishy caster hiding behind them. Mercs also have two very interesting mechanics with Dirty Meg and Thor Steinhammer (yes he can repair non-Rhulics). While they aren't the best in the game at repairing, I do think it bears mentioning that they both have cool guns they can use on a turn they aren't fixing your Galleon. Dirty Meg's Junker in particular can have great offensive potential against an enemy Colossal since a model hit by it will suffer the stall continuous effect.
As far as warcaster synergies go, Mercenaries have plenty. One of my personal favorites is Drake McBain. This poor guy seems to have been largely forgotten after all the excitement he generated when he first appeared. Now, with Failsafe and Jackhammer he's a fantastic choice to run a Galleon with. Broadside Bart is another caster who will likely see a resurgence; perhaps alongside a pair of Colossals. With Hot Shot, Batten Down the Hatches, and Broadside he has a multitude of great abilities to toss around. Even one of my least favorite Warcasters, Fiona the Black, has had new life breathed into her with the Galleon. With the help of a Sea Dog Deck gun and Sylyss Wyshnallyr, she can cycle cast Nonokrian Brand and keep two Galleons fully charged with focus each turn. And your opponent can't deny you this tactic by shoving his army down your throat since Colossals can shoot when engaged. Then pop Dark Omen and her Galleons will be virtually indestructible for a round. Finally special mention goes to Prime Magnus who with the help of Snipe and Dougal, can have those Harpoon Cannons dragging models up to 21″ away.
~Whew that was a long article. In retrospect it probably could have been a two-parter. But that's behind us now and the important part is… did I get it right? There are bound to be plenty of you who disagree with me. So if you do, let me know what I got wrong. And for extra credit please share your own favorite Colossal combo.