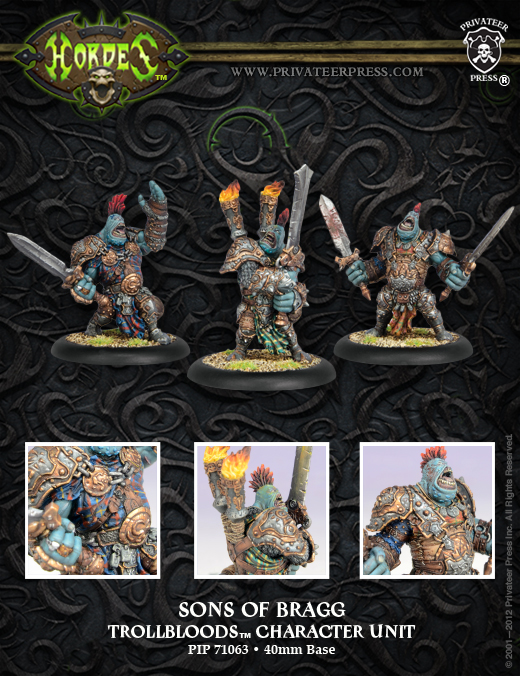 The first Trollblood character unit released this August. While the initial reaction to The Sons of Bragg's rules was a bit lukewarm when they were first shown in Hordes: Domination, the Trollblood community has come around in a big way. Let's investigate why so many Troll players have begun to sing the praises of this Fell Caller trio.
I guess I'll start with the source of some of the negativity these models first received. At 6 points for a unit of three, Wrathar, Torr, and Rhud will set you back the cost of a min unit of Champions or a full unit of Kriel Warriors… at least that's how it looks on the surface. Looking deeper you'll immediately see that as a unit of Fell Callers, these guys have the potential to give themselves a combat buff (Fervor) that's superior to the one a 3 point Fell Caller solo would be handing out. So to receive similar close combat accuracy to what The Sons offer, the other choices will actually set you back 9 points.
The Sons were also criticized for having fewer attacks than the champs. Well there's no way around it – while The Sons are Weapon Masters with potentially higher P+S thanks to Fervor, they'll dish out less damage than the competition with only 4 melee attacks between the three of them. But they clearly make up for this with Tor's mighty Sonic Blast. When boosted through the use of the aforementioned Fervor, this 8″ Spray Attack hits at a RAT 8 with a P+S of 14. And with the assault ability ramping up the potential threat range to 17″, this is one tool that The Sons offer that can be found nowhere else in the Trollblood army. And then there's the fact that one of The Sons, Rhudd, also packs a Reach weapon. This, plus the extra inch of SPD they all have means The Sons might be able to reach an enemy that might have been out of the charge range of another Trollblood unit.
Finally these guys provide a unique form of durability offered nowhere else in the faction. While DEF 13, ARM 15, and 8 health boxes each make the sons of Bragg a fairly resilient choice already, they also pack the Call of Defiance ability. This Fell Call allows The Sons to make their Tough Rolls on a 4+ rather than the usual 5+. Prior to the release of Colossals, it would have been a lot more difficult to accurately weigh the pros and cons of a unit of champs' potential ARM of 20 against a straight 50/50 shot of avoiding death. But with the massive P+S values those huge-based new toys can throw around, a high ARM score begins to mean a bit less. When you're looking across the table at a Judicator with Hymn of Battle and Ignite, swinging at a P+S 24, would you rather have ARM 20, or a 4+ Tough roll? And if they make those tough rolls and are knocked down, they can also rely on Call to Action to stand up at the start of their next activation. That's another great ability that other units can only access through that 3 point Fell Caller solo.
So where then, you ask, do the Sons of Bragg best fit in? Well I think its best to once again view them in a post-Colossals context. One of the fiercest things about a Trollblood army are the ridiculously high stat values they can get with all their buffs in play. But points come at a premium when you're trying to make enough room in your army for the Mountain King or the multiple heavy beasts you'll need to bring down an enemy Colossal or Gargantuan. So lets go back once again to that same comparison I keep making. You can get a min unit of champs that swing at MAT 9, have a concealment bonus vs. shooting, and are ARM 20, all for a whopping investment of 14 pts – after the support system gets added in. Or for 6 you can get The Sons of Bragg. While the nature of their Fell Calls means they will have to choose between accuracy or resilience, they'll set you back less than half the points, perform similarly, and they have a great spray that no one else gets. You can use them to take out infantry, put a serious dent in a heavy target, or hold a point as the need arises. A Trollblood player cannot make a better investment in versatility.
Since they can make themselves useful in so many situations it's hard to find a warlock The Sons don't work well with. Since they do just fine with absolutely no outside buffs, they can make excellent filler in Gunnbjorn or Doomshaper2 lists. If you're worried about Pathfinder, Grim Angus, Jarl, and Madrak2 can all offer them access to that ability – and provide plenty of other great tricks. Or you can just hire Saxon Orrick. But the combo that really has me wanting to get this unit painted and on the table involves good old Madrak1… ah Madrak… my first warlock. His Carnage spell plus The Sons' own Fervor ability brings them up to a truly ludicrous MAT 11. This means that on the turn Madrak uses Crusher, Rhudd and his Reach Great Sword will become a one troll lawnmower, plowing through even the highest defense units. Combos like this abound, but I'm going to leave you with just that one since I don't want to have you reading all night!
~So did I change anyone's mind about The Sons of Bragg? Maybe you all knew how awesome they were already. Either way, please share any great Sons of Bragg stories. If yours have scrapped a heavy warjack in a turn, or annihilated a unit of Great Bears with one mighty Sonic Blast, lets hear about it.