Welcome readers to part 3 of the Malifaux 101 series, this article will focus on one of the most defining areas that separates Malifaux from most other miniatures games and that is the fate deck and the mechanics involved.
Firstly the fate deck comes in several varieties, Firstly you have the regular fate deck, these come in different colours one for each faction colour e.g. Red for Guild, Green for Ressurectionists. You also have the Puppet deck, this deck was originally designed for Puppet Wars but was released as an alternate individually, this deck features puppet imagery of all the book 1 and 2 masters and several minions for Guild, Ressurectionists, Arcanists and Neverborn as well as the Viktoria's as the Red/Black Joker. The final alternate is the Retro Fate Deck, this is like a classic deck of cards but the Malifaux suits echo the original suits e.g. the Rams suit looks like a heart and the Crows look similar to Clubs as you can see below.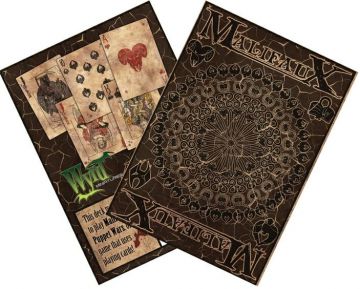 You can also use a regular card deck, there is a table in the rules manuals and Malifaux 1.5 to covert hearts, spades ect into Rams, Tomes, Masks and Crows. Whatever the deck of cards the differences are purely asthetic and it is really the gameplay that defines the mechanism but the cards are cool and are a talking point for those being introduced to the game.
The cards are numbered 1-13, there are 4 suits; Rams, Masks, Tomes and Crows. There are also 2 jokers the red and the black. The Red Joker is a 14 and can be any suit you want, the Black Joker is a 0 and is uncheatable, and you have to use it if you flip it, even if you flip a red joker aswell.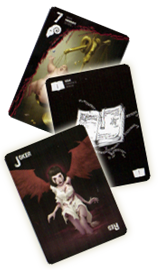 Now to the card mechanism itself. You have a hand of cards that you use in the game, these are refreshed at the start of every game, usually you draw up to a maximum of 6 cards but this can be more or less depending on some models specific rules. There are 4 main areas to the card mechanism. Drawing, Flipping, Cheating Fate and Discarding.
1. Drawing
This is where you take a card from your deck and bring it into your control hand, you do this as mentioned before at the start of the player turn drawing to the maximum number of cards. You can also draw depending on game effects for example with the Trigger Surge you get to discard and then draw a card when you successfully cast a spell mid-turn.
2. Flipping
This is where you turn over a card and apply the value and suit of the card immediately. This is usually in a duel where you take one of your own characteristics for example Cb and add the flipped cards total to try and beat either a fixed total in simple duels or to beat your opponents total in Opposed Duels. You have to re-flip in certain situations too for example when flipping initiative at the start of the turn if there is a draw you re-flip till there is a winner.
3. Cheating Fate
This is where you take a card from your hand to replace one flipped. You can do this during a Duel or when flipping Damage, or when a particular rule or effect forces you to. You can cheat except if the duel is flipped negatively, this is where a particular effect or duel total means you have to flip 2-4 cards choosing the lowest total, negative flips can never be cheated.
4. Discarding
This involves moving cards from the control hand to the discard pile, these usually are a result of ingame triggers or effects for example the Decapitate trigger involves discarding 2 cards or being killed outright instantly.
That's cards in Malifaux. More next time as we delve deeper into the game. If you have any specific questions or topics you want to know about – let's hear em.