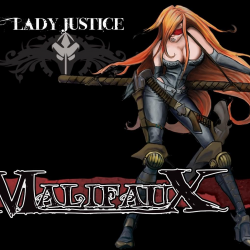 Hello there everyone, this is the first Malifaux Tactics post, this unashamedly is about my first and most favourite master in Lady Justice. Lets get started!

I have previously done a Tactic's interview over at the Aethervox podcast (here), but since then I have had several months more experience, especially when it comes to her avatar form,
The Basics
Firstly, there is one usual myth about Lady Justice for those who haven't really looked at her, and this is that she is just there for the melee abilities, that she is just a one trick pony, while this is one of her areas of expertise I see her as a dual melee expert/crew buffer, with melee being her primary focus in her regular form and the buffer/de-buffer being primary in the Avatar form.
First and foremost her maximising her melee damage. She has a Greatsword as her melee weapon, it has a base Cb of 7 and it gives a positive to the damage flip. Firstly in her activation I always perform the (0) action Sword Style, when this has been successful I chose the effect based on the opponent she will be targeting and what cards are in my hand. Most of the time I go for Fate, this gives +2 Cb per Ram in the casting total, generally I have a ram in hand and I got for +4 Cb taking her to Cb11, I would only soulstone to go for the triple ram if I have seen my cards through means like the Watcher or if i really need the boost such as against models like Zoridia or Lucius where you are at negative flips, if I have plenty of masks I will go for Onslaught, Vengeance can be useful in theory but I find the Cb boost better than an additional positive.
If you are already in melee, I would target a weaker enemy model first as if you can kill a model then she and any friendly model within 2″ gets an additional +2Cb from Inspiring Swordplay, this gives her a potential Cb of 15.
You need a Death Marshal in the crew to get a further boost to her damage, as his spell Finish the Job gives an additional point of damage per ram in the casting total, giving her a potential 11 damage befor any red joker, this would also buff any Death Marshalls, Exorcists and the Judge within the 4″ aura of the spell.
Buffing Your Crew
Firstly as I mentioned before; Inspiring Swordplay. This is my favourite buff, it turns the already exceptional Guild models even better in melee and ranged attacks, for example Death Marshall's go to Cb7, Witchling Stalkers go to Cb8 in melee and Nino goes to Cb11 after this and In My Sights.
Combat Prowess is my second most used Buff, especially if my crew is bunched together you can potentially give up to 4 models melee expert, especially key models like Judge, Executioner, Von Schill or even just your basic Witchling Stalkers. A potential four extra actions at the cost of one is well worth it in most situations.
Blind Justice is useful but i've only really used it against Pandora to ignore the Wp duel to target her, as to make it useful to LJ a totem needs to cast it on her as she isn't effected by her own spell, it is also useful to ignore things like Harmeless and Pitiful.
Keeping Her Alive
There are three main points to keeping her alive. Firstly Soulstones, I would never run with less than a cache of 6, usually 8, these help turn the tide on those important duels. Secondly never forget Riposte, this has won more than one game for me, with your natural positive to damage flips, you get a straight flip against most models, so if you have the red joker in hand you can one shot most things. Finally never over extend or throw her into a mass of models, lots of little hits will take her down faster than you think, pick your targets carefully.
Getting the Most From the Avatar
Firstly the Mark of Balance: Crows, this is the most useful of her abilities in my experience, by the time she has manifested you are usually in the thick of it, most melee models have a higher Cb than your average defence in the Guild of 4-5, forcing masters to hit you on negative flips preventing them from Cheating Fate is a very powerful ability in keeping your crew alive, I find Mark of Balance: Rams less useful as my average Cb is higher than most defences, but it has it's uses in certain match ups.
Blind Justice has the same benefits as her original form and is just as useful against specific enemies.
Adjust the Balance is a good defensive buff, you always win ties so as the attacker always wins draws in duels, iot has its uses in defensive abilities, honestly ive never used this ability as I more often than not have to move using
(0) In Pursuit, this the Avatars best use for moving as she has only a walk of 3″ and a double positive to all duels really can help.
(2) Restore Equilibrium, this is very good against certain crews that can dish out lots of effects both positive and negative. Id find most use for this against aSonnia and Kaeris for getting rid of mass burning tokens or something like Hamelin the Plagued and clearing the pesky Blight Counters.
(1) Aetheric Shackles; I find this only useful against low Wp models like gremlins or against Soulstone users when they are out of cards and stones, although getting a key model out of play can really swing the balance of a game especially in the end turns of the game so sometimes is worth the risk.
Finally (1) Even the Odds, this really is circumstantial but if a model has already take a ton of wounds then chuck them in and cast this, you can potentially kill most models outright especially if Lady J has taken the wounds herself.
Anti-Justice Tactics
For those facing Lady Justice there are a few weak areas that you can take advantage of.
Shoot her from range, especially if you can attack from over her general 12″ threat range, so models like Nino can really do some damage.
Defensive Triggers: Her only defensive trigger Riposte is based of Df in melee only so if you can attack with either ranged attacks or spells, models who negate defensive triggers like the Executioner or attack her in melee against Wp or Ca if possible you can avoid this very nasty trigger.
Multiple little attacks, lots of little attacks like vs Gremlins or Mindless Zombies can take her out very quickly, or things like Headshot which kill outright will burn through all of her soulstones and cards which tend to be essential in keeping her alive.

Basic Crews
I do tend to follow a basic core to my crews, I generally have a full cache for Lady J, I also tend to run 2 if not 3 Death Marshall's in most crews for her. I also tend to go for a balance of melee and ranged. Here are a few example Crews.
35 SS
Lady Justice (8ss Cache)
3 Death Marshalls
Judge or Nino
2 Guild Hounds
Executioner
This crew had LJ, Judge and the Executioner for Melee, the Death Marshalls for Ranged and the Hounds are for mobility.
35ss Slingshot List
Lady justice (8ss Cache)
Student of Conflict
Lucius
Judge
Executioner
Watcher
This crew buffs Executioner with Fast and Melee Expert then slingshots him into melee with Reinforcements, if he slingshots in a group on enemies he can survive with 'loves the job'. Then Judge in the next turn then LJ in the third. You have got the watcher there for card cycling.
35 SS
Lady Justice (6ss Cache)
-Avatar of Balance
3 Death Marshalls
3 Witchling Stalkers
7 stone minion (Nino Ortega, Witchling Handler or Executioner) or the Exorcist and +1SS to the cache.
This crew has LJ and the stalkers for melee and the marshalls and Nino for ranged, I found this crew very good in my last game vs Colette DuBois, and it is fast becoming my go to crew
35ss Elite Crew
Lady Justice (8ss Cache)
Von Schill
Judge
Executioner
Nino
This crew is full of expensive models, but they can all do some serious damage especially when buffed by Lady J, Von Schill can always be swapped out before Lucius so you can have the slingshot.
35ss 'Fluffy' Crew
Lady Justice (8ss cache)
Scales of Justice
Judge
Exorcist
4 Death Marshalls
The crew are all Death Marshalls or Totems, depending on scenario or opponent it can put out a great deal of damage which is what the Death Marshalls do best.
See you out there in the world of Malifaux!