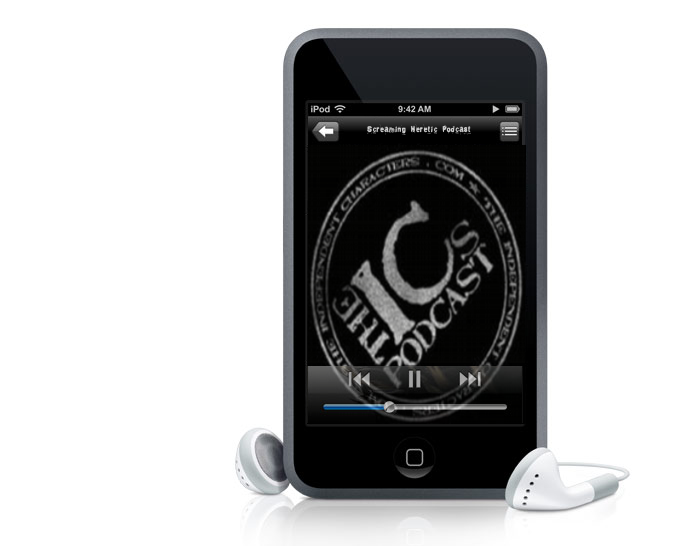 Welcome to another "This Week in 40K Podcasting," Here is this week's top 5!
Highlights:
This week is a monster of a show, clocking in at 4+ hours, and the guys concluded their three part series on competition and 40K.
This week focused on the 'Elite' level 40K players.
They open up the show with the 'Workbench' where they talk about the hobby and gaming they have been doing in the last two weeks.
This also moved on to a conversation on whether 40K is really Science Fiction, or Fantasy is space.
In the main segment of the show, the guys move on to discuss competitive gaming, and the elite level player.
They started off with a definition of what is an elite level player.
They define all of the qualities they belief a 40K player should have in order to be considered elite, which included rules and tactic knowledge, performance on the battlefield, list building, and more.
Next, they had an interview with TastyTaste from the Blood of Kittens blog and they talk about competitive gaming and what makes an elite level 40K players.
He also talked about the 6
th
Edition rules and how will elite players use the Allies rule to fill holes in their armies.
Next, the guys talk about what a person can do to push themselves to that elite level of play, including practice, learning the meta and tactics, making the changes needed to play in 6
th
Edition, pattern recognition, and commitment to the game.
Then, Carl talked to Ben Mohile and they discussed some of the most competitive events that he has attended, what scoring systems he prefers to play in, and 5
th
Edition compared to 6
th
at the competitive level.
Next, Carl talked to Mike Brandt of the Nova Open and they talked about running a competitive event, the Nova Open itself, and what he considers to be an elite player.
Next, the guys discuss the issue that arises from having elite players and should we have them or the tournaments that make them elite.
Carl then interviewed the legendary Tony Kopach and they covered his definitions of elite level play, his feeling on 6
th
Edition, and his advice on becoming an elite player! Next, the guys went on to discuss how they believe they would perform in the elite category of 40K players and in that environment.
They closed out the show with an interview with Alan 'Blackmoor' Hernandez and his take on competitive gaming and the shifts in the meta with 6
th
Edition.
Opinion:
It took quite a podcast to knock the 11
th
Company off of my top spot, and this was it!
The number of interviews with top level player was just outstanding, including the first interview of Tony Kopach that I'm aware of on a podcast.
He was just outstanding to hear from, with a lot of great advice.
Overall, this was by far the best of the three part series and I highly recommend it!
If you want to be elite, think you are, or what to know what these guys do to get to that level, this is the show for you!
Highlights:
This week the 6
th
Edition review rolls on as the guys are joined by the usual cast of characters including Kevin from the Balls-2-the-Walls blog.
They open up the show with a conversation about the 11
th
Company League they have started, and they discuss the games that they played there at this three round event.
Their guests were also in some RTTs this past weekend and they talk about the results.
Next up in 'Pat's Corner' Pat returns for part two with his interview with Adam Gati from the Sprit Chamber blog and they discuss how Eldar are competing in 6
th
Edition.
This included what units are performing well with the new rules.
Next, Pat completes his interview with Jema from the Black Library Expo and Black Library author Gav Thorpe!
Gav talked about the changes brought on by 6
th
Edition and the doors it has opened for the authors.
He also talked about the design philosophy when writing the Chaos Space Marine Codex, what the line of thinking was then and what it was shortly thereafter.
He also discusses what it takes to be a games designer.
Next, Eric from Tactical Terrain is back with a Battle Report and Interviews from an RTT at Stomping Grounds in Eastern PA.
In the 'Community' segment, Pat talked to Craig from BitzBox, Aaron from Feast of Blades, Hitting on 3s and much more!
Next, the guy are back to talking about Vehicles in 6
th
Edition.
This included embarking and disembarking, charging from an open-top vehicle, and the disembarking restrictions, which is a huge change!
They then move on to discuss the power of Flyers, discussing the rules, movement, and what can and cannot hit a flyer.
They then move on to talk about Chariots and how the Necron CCB was nerfed hard in 6
th
Edition.
They also cover open-topped vehicles, skimmers, walkers and tanks.
They then discussed some of the vehicle upgrades like extra armor and searchlights.
They close out the show by answering even more question from their listeners about some fuzzy rules in 6
th
Edition.
Opinion:
Though not in the top spot this week, this was still an outstanding show, with a great interview with Gav Thope being my personal favorite part.
I have been glued to each podcast that has been covering the new 6
th
Edition rules and I learn something new each and every show.
Still the best place to find the best review of 6
th
out there!
Check it out!
Turn 8 – Episode 24
Highlights: This week the guys are joined by Dave and they open up the show with 'the Round Up', where they discuss what they have been up to in gaming and the hobby. Up next in the News, the guys discuss the new Daemon models and rules released in the latest White Dwarf, what's up coming from the Black Library, Forgeworld and the upcoming Horus Hersey rulebooks, and the second wave FAQs. Next, the guys go a lot further into detail on the White Dwarf update of the Chaos Daemons. They talk about the point cost and rule changes to the flamers and screamers, and talk about the new chariots that were added and their rules. Next up was this week's Battle report, they go over the two armies participating in this 1000 point battle, the battle field, the mission and deployment, and the full army lists. Next, was the dramatization of this epic battle between Chaos Space Marines and Sisters of Battle. They follow this up with a review of the battle and how it went for both sides. They close out the show with 'Rules of Engagement' where the guys are back to discussing the core rules of 6th Edition. This time they are discussing movement within the shooting phase. They discussed the Run, Turbo Boosting and the Flat Out special rules. They also discuss what units can or cannot uses these rules and when.
Opinion: This week show was pretty good, with a great review of the new Choas Daemons rules which I found quite informative.
The Battle Report this week was great, as I love to hear from the Sisters of Battle, and was easily my favorite part of the show.
I am also quite happy to see 'Rules of Engagement' back as it is another of my favorite segments on the show.
Great work guys, sorry I missed you on vacation!
Highlights: This week is the just Mike and Bill, with Dawson's recent departure from the show (miss you already man!) and they are recording live 'At Ease Games'.
They open up with what they have been up to lately in gaming and the hobby.
This included some board games played, models built, and teaching games played.
This also included a game between Bill and Mike, and they discuss their CSM on CSM battle, their lists, and how the game turned out.
In the main segment of the show, the boys are discussing Allies, the good, the bad, and the ugly.
They start off talking about having to know multiple codices in order to properly run allies, and the rules that permit allies.
This included a definition of the different types of Allies rules and what you can do with them.
They talk about some of the advantages to taking allies and some of the killer combinations that can come from it.
They each then built lists using allies, and showing of some of the psychic power combos they have discovered.
Bill did his best to make the worst WAC list he could (and it was nasty) and Mike leaned more toward the fluffy list.
Opinion:
I was really sorry to hear that Dawson was leaving the show, however Mike and Bill did quite a good job without him.
The main topic was a fascinating on, and one that I really think will be pivotal in the next two years of this edition of the game.
Right now no one has set the bar for the meta aside from Flyers being OP, but I believe that Allies will be that next step.
This was a great review of those possibilities.
Highlights:
This week the guys are joined by Jason and they open up the show with a quick review of the GW update to Chaos Daemons in the latest White Dwarf.
They run down some of the models and the rules for the chariots, and the updates the made to current models in the range.
They then move on to talk about their experience at this year's Gamesday.
They talked to Phil Kelly briefly about the Codex design process, though they were not allowed to recorded an interview.
They went on to discuss what they had done at Gamesday, including the models on display, the terrain 'make-and-take', the new BioWare game Wrath of Heroes (Fantasy-based), and much more.
This digressed into a conversation about the upcoming Wizard World Comic Con.
Opinion: This week's show seems like it was recorded a while ago, as there seemed to be some confusion of the Chaos Daemons update, and not a new codex.
CSM are still coming guys.
Despite that though, it was a pretty cool review of the new model range and rules.
I wish they had talked more about Gamesday, and less about Wizard World, but overall still a good show.
Honorable Mentions – All great podcasts that just missed this cut this week, but you should still check them out, in no particular order:
Hitting on 3s – Episode 4 ***Explicit***
Hitting on 3s – Episode 4 ***Explicit*** – Local 40K Tournament Results, Night Fighting is 6
th
Edition, interview with Hugo from Ichiban Painting, SM Predator, and more!
So, that is it for This Week in 40K podcasting, thanks for reading. Got a podcast all about 40K, or mostly 40K that I am not listening to? Let me know about it, [email protected] and let me know about it.

Also you can find me on (http://www.youtube.com/user/40kEvilEd209/) for Battle Reports, Tactics, Reviews and more! Disagree with my review? Post comments for that too!