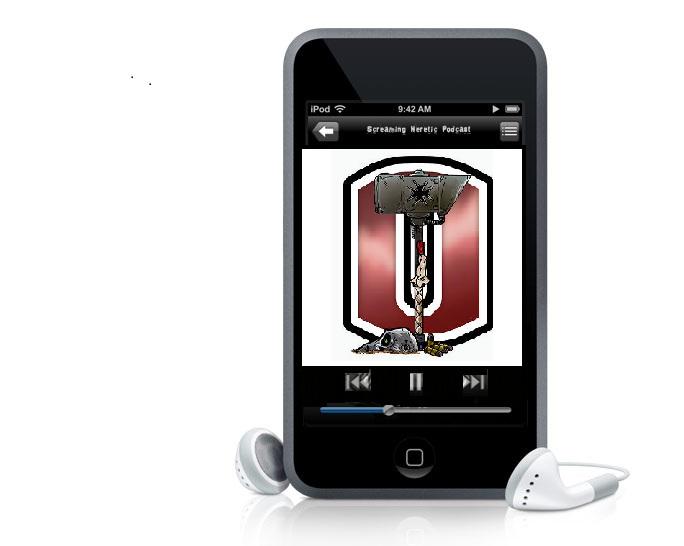 Welcome to another "This Week in 40K Podcasting,"
Here is this week's top 5!
Highlights:
This week the guys open up the show with some announcements before discussing some changes to the podcast's format.
Then, the guys discussed the games they have been playing lately, which included hearing about the new Daemon Chariots in action.
In the next segment, the guys move onto the main topic for the show and were talking about the difference in terrain rules from 5
th
Edition and 6
th
Edition.
They talked about terrain setup and how the terrain can affect the 'narrative' of the battle.
This also included the rule that GW included with 6
th
Edition for placing terrain and terrain density before the game.
They also talked about terrain in the tournament setting, and how the setup process could slow down the game if they used the rules in the book.
They then shifted the focus to Fortification and how they feel Fortifications will affect the game, including the dreaded Fortress of Redemption.
They also talk about how GW might expand the terrain available and potential rules in White Dwarf and future releases.
In their next segment, the boys talk about building terrain, everything from premade kits from GW, Gale Force 9, Battlefront and more, to creating your own terrain out of household items.
To close out the show the guys with an interview with
Bryan Bertsch of The Deployment Zone and they talked about building terrain for a large 40K event.

This included caring for and repairing terrain on the spot for an event and fortifications at his events.
Opinion:
I truly enjoyed this week's podcast as it had a great topic.
Too often we focus on the rules of the games, or the tactics, or lists, or the models themselves.
Terrain and the battlefield in which we play this great game on often finds itself at the bottom of the hobby list.
I really took a lot away from this episode, and it triggered a whole slew of ideas for future terrain projects.
Great show guys!
Highlights:
This week the cast is all here and they open up the show with what they have been doing lately in gaming and the hobby.
They then move on to discuss the latest news, which included the new Daemon Units in the latest White Dwarf, new digital releases from GW, Necrons from Forgeworld, and more.
Next, in the '
The Librarius' the guys cover the back story and history of the Bad Moons, an Ork Clan.

They open up with their classic beginnings in Rouge Trader and their origins in the 40K universe.

They briefly discuss the Ork monetary system of teeth, their piracy, and some of their more notable characters and Warbosses.

Next, in the 'Armory', the guys build armies to fit into the fluff of the Bad Moons.

Jim took the 1,000 point list with smaller numbers then one might think, Chris took the 1750 list, and Chase made a 2K list.

Next in the 'Hobby Trenches', the guys talked about 'Orking up' terrain kits and models to fit their favorite army.

This included a great number of possibilities for Ork conversions, including fun with plasti-card and green stuff.

The guys close out the show with the 'Briefing Room' where Jim and Chris discuss Allies and their application in 6thEdition.

They also discuss the competitive advantages for running allies in your lists as well as the feel for the fluff behind these alliances.
Opinion:
Overall a pretty great show from the guys this week.
You never really hear all that much from the Ork side of the fluff and learning about this classic Ork clan was just a treat.
This went on to some excellent idea on how to Ork-up your terrain kits, which I found really useful.
A great show from a great podcast, catch this one!
Highlights:
The jingles were back for this episode, thanks guys!
This week it is just Jon, Steve and Jason and they open up the show with the latest news from GW and the leaked starter set photos, Forgeworld releases, what new from the Black Library, and more!
Next, the guys discuss some local Overlords news, including the campaign that Steve participated in and an upcoming campaign between Jon and Jason.
Then, the guys got back to their Codex Countdown where they discussed how armies have changed in 6
th
Edition.
They started off with Codex Marines and they included the addition of their new flyer and Rhinos being not so bad.
They move on to talk about the Chaos Daemons flying circus, Orks and their Nob Bikers and lack of Fearless wounds, and Chaos Space Marines, for now anyway.
They then covered Dark Angels who may also be getting a new codex here soon, Eldar and how they have taken a hit in 6
th
, the Tau who are also on the horizon for a new codex, and more.
Next, the guys move into a random topic segment where they talked about some rumors for the Eldar and the exodites and
Rutger Hauer!
Up next in 'Search and Destroy' Jason has an interview with Geoff from the Independent Characters podcast.
They talked about his Salamanders army, including what models he likes and what kind of lists he likes to run with that army.
This included covering the tactics he likes to run and some of the failings of the army he has found against other armies, especially other Marine armies.
They close out the show with Dagmire and his reviews of the Black Library audio drama 'Eye of Vengeance' by Graham McNeill, the Black Library novel Imperial Glory by Richard Williams, and his review of the recent Hammer and Bolter.
Opinion:
I was quite pleased to have the jingles back this week, even if it is for just this week.
Thanks again guys.
This week show covered so much, and I really did enjoy their brief two part codex countdown.
I think they did a good job summing things up.
The interview with Geoff was good, as you rarely hear him talk about his Salamanders anymore.
And what better way to top off the show then a segment with Dagmire!
Great work guys!
Highlights:
This week the guys say goodbye to ChemDog Cory, as he is moving to San Antonio.
Don't worry; he'll still be on the show from time to time via Skype.
The show opens up with Fu Manchu talking about THQ and the video game industry, specifically which companies produce 40K games and other companies that are in need of support.
Next, in the 'Unit Spotlight', the guys talk about transports in 6
th
Edition and all of the changes that have come about.
This included assaulting out of transports, claiming objects in transports, assaulting transports, and more.
This also included what happen to units embarked in transports when it is wrecked or explodes.
This moved on to a discussion about Flyer transports and their effect on the game.
The second segment was a tribute to ChemDog.
They talked about a 40K gamer moving into a new community and how to make that adjustment.
They talk about finding a place to play, getting into or starting a 40K community, and much more.
Opinion: I have to say this week's started off a little odd, almost like there was no introduction, it just jumped right into the show.
That being said it had two really good topics.
The topic of transports is a pretty big one now in 6
th
, and their views were quite useful.
Breaking into or starting a gaming group is something we all have to face at one time or another, and the boys had some great tips for this.
Good work gang!
Highlights:
This week the guys revisit an old 5
th
edition topic, how to deal with tanks, now in 6
th
Edition.
They open up the show with some brief discussion about what codices are on the horizon.
They move on to the main topic of dealing with armor in 40K.
They talked about what the meta was like in 5
th
and how 6
th
Edition Hull Points have changed that.
They talk about the Necron Codex and the debate between Gauss and Tesla, with Gauss now taking the upper hand in 6
th
.
They then talked about weapons that are useful tools when fighting tanks and armor, and which are the most effective.
This included some discussion about Psychic powers in 6
th
and mysterious objectives.
They close out the show with their hobby updates and what they have accomplished.
Opinion:
This was a good show with a good topic, one in which we still are trying to feel out in the new edition. I am still on the fence on whether or not vehicles are more or less durable in this new edition.
The guys had a lot of insightful ideas and some great counters to vehicles in 40K.
Good work guys.
Honorable Mentions – All great podcasts that just missed this cut this week, but you should still check them out, in no particular order:
So, that is it for This Week in 40K podcasting, thanks for reading. Got a podcast all about 40K, or mostly 40K that I am not listening to? Let me know about it, [email protected] and let me know about it.

Also you can find me on My YouTube Pagefor
Battle
Reports, Tactics, Reviews and more! Disagree with my review? Post comments for that too!