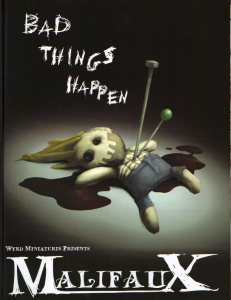 Hi everyone, welcome to part 4 of Malifaux 101. This article will look at Strategies. These are the main areas in which you can earn or deny victory points in the game as you gain up to 4vp for succeding in the scheme, there are also Schemes which give up to 2vp each but we will look at the in the next Malifaux 101.

There are two ways of generating your strategies firstly by choosing yourself, this can be either where you and your opponent decide between you or in things like Tournaments you may get specific Strategies per round, I often choose specific strategies if I need some practice in a particular one I haven't played often before a Tournament. The other way is you flip for it; pages 68-70 and 120-121 in the Rules Manual have the tables for for the strategies, you just flip a card from your deck and choose that, you have two tables Core and Expanded to choose from, if you flip the same as your opponent you play a shared strategy, which tend to be very similar to the individual ones except obviously you get vp's for denying your opponent.
Core Encounters
Treasure Hunt
In this strategy there is a treasure counter at the centre of the board, any model may (1) interact to pick it up, you get vp's if the treasure is in your deployment zone and more if a friendly model is carrying it.
Destroy the Evidence
Here there are 3 evidence markers spread in and around your opponents deployment zone, in shared you have 3 each as well as an additional neutral evidence marker, Again you (1) interact to destroy the evidence. You gain vp's for destroying the evidence in your opponents deployment, vps for those around the deployment zone and in shared an additional vp for destroying the neutral one.
Reconnoiter
This strategy is about controlling table quarters. You need more models than your opponent in each quarter to claim it, and normally you need 3 claimed to get 2 vp and all 4 to get 4 vp. In shared Reconnoiter its 1vp for each quarter which this favours hoard crews and killy crews as you need to either wipe your opponent off the table or outnumber them to gain an adavntage in this strategy.
Claim Jump
In this strategy you place a claim marker within certain restrictions, and you need to have more models close to the marker than your opponent at the end of the game. In shared the marker is automatically placed at the center of the table.
Slaughter
Kill em all. More soulstone costs killed gets 2vp, if you kill 1.5 times more than your opponent you get 4vp
Expanded Encounters
These are as above plus the following
A Line in the Sand
This involves 5 dynamite markers spread across the centre line, (1) interact action to activate for the attacker, (2) interact to disarm. 3+activated gives 2vp, 5 gives the maximum 4vp. In shared vp depends on the total armed/disarmed over 2.
Contain Power
This is basically a kill master scenario, 2 vp if you kill the opponents master, 4vp if you kill the opponent's master with your master, this does favor the offensive masters or those with abilities to take down certain types of models.
Deliver a Message
This is always a tough one for the slower masters, you have to (2) action interact with a non-insignificant model within 2″ of the opponents master to deliver a message, you get 2 vp for interacting and 4vp if you do it within the first 4 turns
Distract
This is a simple one, you have to keep your opponents leader, outside of your deployment zone for 2vp or out your whole table half for 4vp.
Escape and Survive
Here survival and model count is key, you have to get out of your deployment zone and the area around and keep 50% of your models alive for 2vp and 75% for 4 vp. This favors the higher model count and fast forces like Gremlins and Colette DuBois who can keep away from trouble, or those with the speed and hitting power to carve through the opponent and survive the retaliation.
Plant Evidence
This is a fun one, this involves planting evidence with a (1) interact action on terrain in your opponents half of the table, 2 pieces planted nets you 2vp and 4+ pieces gets you 4vp. I haven't played this too often but it makes you think as not only do you have to get into the opponents half, you also have to use vital AP for the interact rather than attacking in shooting and/or melee.
Supply Wagon
This is an interesting mission, here you have to protect your supply wagon, this moves automatically from your table edge to the center of the board. It is tough but destroyable, but again presents your opponent with a dilemma at times. Either damage the non-offensive supply wagon or damage the crew, especially in the earlier turns. Often I'll damage the wagon a little to deny the opponent at least the +2vp. If it survives undamaged you get 4vp, if it is damaged you get 2vp.
Turf War
This is the final strategy, like escape and survive model count is key, but also damage potential as in this strategy you need to have more models in your opponents half of the table then they have in yours for 2vp. You get an additional 2vp if you get model(s)into the opposing deployment zone. Summoners like Nicodem and McMourning can really good on the model count front.
That's the rundown of what you'll be trying to achieve with your Crew. More soon.