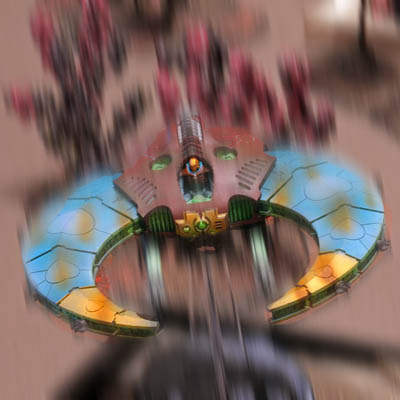 Warhammer 40,000 6th Edition is here to stay, and multiple large tournaments have shown show us the road ahead. The Necron NightScythe may be the game's most broken unit.
Remember a year ago, when Necrons were new, and folks scratched their heads at the NightScythe. It just seemed so – odd. Now with 6th Edition, and the flyer rules plus FAQs in place the unit has gone from zero to hero. Lets take a look at some of its amazing abilities in the current ruleset.

Night Scythe Rundown
Flyer Transport. – Yes, there are others out there in the game such as the Valkyrie, and the Stormraven, but the NightScythe is purchased singly, instead of target limiting squadrons like the Valk, and is used in much greater numbers for the points than its brethren. It really is the only way to field a massive airforce and still have an potent ground force to support it.
Its Tough – AV:11/11/11 Living Metal is nothing to sneeze at. Right away, large percentages of the enemy army have zero ability to harm it, leaving a handful of potential threats on the table. Guess which models the Night Scythes go after first when they reserve in in force?
It Never Slows Down: The newly FAQed "Invasion Beams" sure seem fluffy and cool, but are catastrophic to opposing players. Alone out of all the flyer transports, the Night Scythe NEVER has to enter hover mode, to drop off its payload (who are also safe in the event the flyer is destroyed). So the transport never has to make the calculated gamble of exposing itself to enemy fire to deliver its cargo.
Its Weapons are POTENT – A twin-linked S:7 Assault 4 Tesla weapon (generating additional hits reliably) is a devastating weapon in general, but multiplied by 6-8 times and firing on ground targets from behind the protection of being a flyer is a bit over the top.
Its Dirt Cheap: So in summary, we have a readily spammable flyer transport that breaks all the rules. It has potent firepower, gives its cargo unheard of protection and deployment options for any flyer in the game, is well armored, and difficult to bring down – all for the stupendous bargain price of 100 points, well below any comparable flyers out there.
What's the Solution?
So now that we have looked at the vehicle, how to address it? Top ranking players who both used or faced the Night Scythe are mixed in finding a solution. Some feel that the vehicle is simply undercosted (by a large degree). The general consensus from players was a point value of 150-160 feels about right for its current abilities. These players feel that such an increase would limit the numbers used and help bring the massive numbers fielded down a bit.
The other half of players felt that points costing was only a symptom of a greater issue – that the rules themselves are unbalancing to the game. Multiple players talked about the tactical issues with fighting Night Scythe swarms – namely that their current rules makes a huge percentage of your army meaningless. Thus the Necron player will reserve in, and pinpoint the handful of models that can credibly threaten an AV11 flyer and destroy them in short order, leaving an opponent with several turns of literally nothing that can harm the Necron player – and forcing them to simply endure casualties, while hoping to wind the clock down before being inevitably tabled. Many players would simply walk away from games after anti-air units were finally destroyed. In almost all of these cases (against seasoned players) Night Scythe casualties were very low.
These players felt that its better to bring the resiliency of the flyers down to a level that justifies the 100pt cost and gives opposing ground forces a real chance of fighting their way through a Night Scythe horde. The most common solution pitched was reducing the flyer to AV:10/10/10, and removing Invasion Beams, and leaving the cost as is.
We would really like two things to come out of this.
1) Players weigh in with your experiences of dealing with Night Scythes and what you thing should be done.
2) Matt Ward, if you're reading this – please give the Night Scythe some serious thought. We've seen the Design Studio help us out recently with FAQs to address big issues. What the community most fears is having to deal with the unaltered Night Scythe for 6+ years until the Necron codex is redone.
-The floor is your friends.