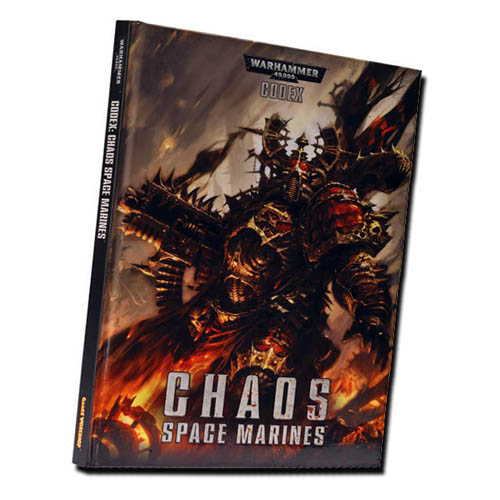 The Chaos Marines codex will be in your hands this weekend – here's our first impressions from what's been shown so far.

First off, look for much more in depth reviews and analysis once it hits the street. That said, right off the bat, this looks like it has Phil Kelly written all over it.
– Good Costings. Kelly makes an attempt to make the CSM units more flavorful with more special rules to reflect their background, while slightly increased in cost across the board. I'm happy to see a movement away from the generic "less is more" feel of the last codex.
– Wargear is Back! Yes, its been a while, but the first codex of 6th edition has a wargear page, and the army lists refer to which sections units can purchase from. Its a nice leaner, trimmer return to the old wargear we loved from the CSM codex two editons back – but with all the useless chaff cut away.
– Old Chaos Fluff Returns. Phil, the next time we run into each other I'm buying you a drink just for returning the old Khorne-Slaanesh, Tzeentch-Nurgle animosity to the rules for the Daemon Princes. BRAVO!

– Old Legionnaires and Young Renegades. Now with a single rule mechanic, Veterans of the Long War lets you custom tailor your army as rock hard bitter crusaders, or Johnny Come Latelies to the struggle against the False Emperor.
– Codex Defining Rules and Wargear. Not only do we see optional new warlord tables to roll off of, but we get the Must Always Challenge mechanic, giving the CSM codex its own battlefield vibe. If that's not enough some new wargear opens up entirely new tactical options. Just as Solar Pulse opened up entire avenues of play for Necrons, turn on your thinking caps and think of what you could do with this item of wargear:
"When the bearer kills an enemy model in the fight sub-phase, he may immediately unlock the Key's power. From this point on, all enemy models that start any phase within 12″ of the Key's bearer treat all terrain as both difficult and dangerous during that phase. Furthermore any friendly units from this codex that arrive by Deep Strike after the Key's power has been unlocked do not scatter."
~Someone better tell TastyTaste to add a new wing onto the Church of Kelly. This book looks fantastic. I can't wait.