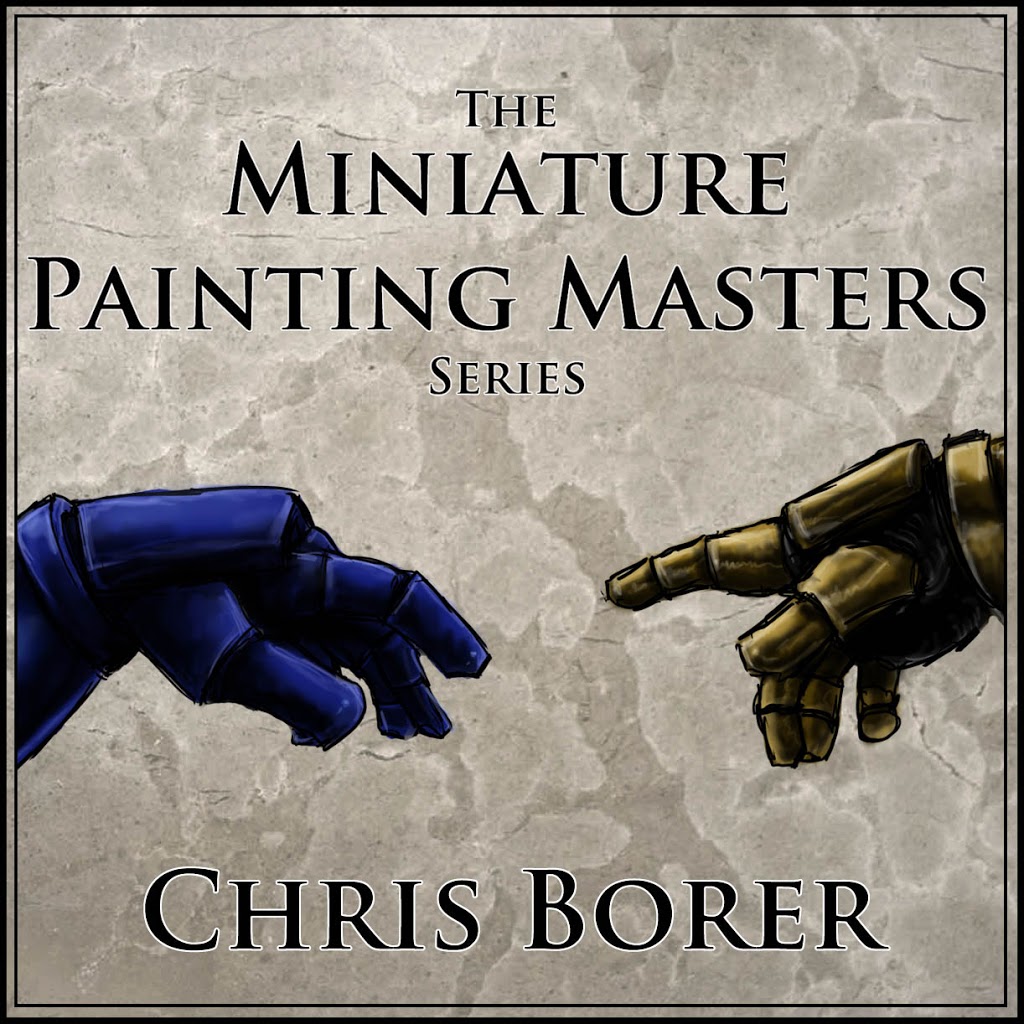 Welcome to The Miniature Painting Masters Series where we sit down with some of our hobby's most prolific and well known painters. We kick off the series with multiple Golden Demon winner and extremely talented (and extremely humble) hobbyist, Chris Borer.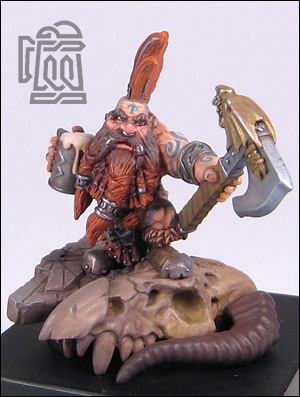 Pint Slayer – 2009

Tyler: How did you first become a member of the miniature wargaming and painting hobby?
Chris: Well, way back in 6th grade (around age 12) a friend handed me some Grenadier Dungeons & Dragons miniatures and asked, "Hey, you're artsy-craftsy; do you want to try and paint these?" and I gave it a try. I'm sure my first efforts (using Testors enamels and plastic brushes) were just awful. I got moderately better when I found a place that stocked acrylic paints for miniatures, though I'm sure if I still had those figures, I'd be embarrassed to show anyone. I painted lots of minis in those days – whatever caught my eye – and it even became my first-ever paying job; painting example minis for the shelves of a local store. Fast forward a few years and I accidentally encountered miniature wargaming. I had gone to another local game store looking for a copy of the Warhammer Fantasy Role Play book, and one of the regulars (who later became one of the first GW Outriders) asked if I played the tabletop version of Warhammer, too. I didn't even know it existed; I think my exact response was "you can play games with these minis?!" We started talking, and he pointed out that month's issue of White Dwarf and some GW miniatures. As it happens, [Warhammer] 40K had just come out and that White Dwarf had the chapters of the Badab Rebellion – I was hooked. That was over 20 years ago, and I've been in the hobby ever since.
Tyler: Which aspect is more important to you, the wargaming or the hobby and why?
Chris: Like many hobbyists in my age bracket (grizzled veteran), I have limited hobby time these days, and I definitely choose to spend most of that time on the painting/hobby side than the gaming side – but that's more a function of where I am in my "hobby-life" these days than a dislike of gaming. I've played tabletop games for literally decades and have really enjoyed that aspect, but throwing down a 2,000 point game of 40K can be a pretty significant time commitment, and that's not counting the assembly and painting of a new army.
On the other hand, I can paint or sculpt for an hour before bed or while my wife and I are watching a movie (more listening than watching for me). Painting isn't dependent on anyone else's schedule, and I get to work on what I want at my own (extremely slow) pace.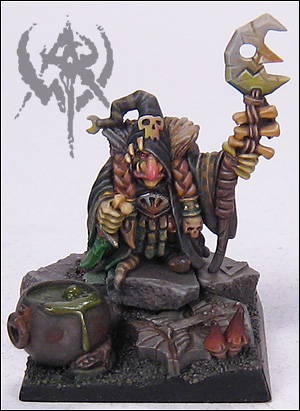 Gazbag – 2009
Tyler: How is your approach to painting a display model and painting a gaming model different (styles, time taken, methodology, etc)
Chris: For many years, I didn't approach gaming and competition models differently – I simply painted everything to the best of my ability and focused on projects that I could game with. This worked fairly well for a number of years, but there came a time when I was regularly gaming with Golden-Demon-winning miniatures and the more exuberant members of my gaming group were still bouncing dice, tape measures, and even other miniatures off my painstakingly painted figures. There was no malice involved, but it vexed me terribly and it just had to stop. I resolved to divide my work into gaming minis and display projects.
So I started a 40K army project (a DIY Astartes chapter) that I referred to as my "Paint to Play" army. I worked up a paint scheme that I thought would look good on the table and would be relatively quick to paint (dry-brushed metallics and weathering). I added sculpted/cast shoulder pads and decals to eliminate time-consuming freehand and magnetized all my vehicle hard points and some of the infantry weapons to avoid painting extra models. Everything was planned to maximize results and minimize time and… it sort of worked. I finished about 2,500 points of marines, but it took three years! Despite my intentions, I still found myself converting and otherwise embellishing models – even the rank and file. It really drove home to me that army painting isn't for me.
When I start a display or competition piece, it's actually somewhat easier – I don't have to concern myself with model durability or wargear effectiveness or poses that might not fit well in terrain; I can just do whatever looks best or makes the most sense for the project. That usually means taking huge swaths of time as I convert every little thing and make sure the paint on every part is as good as I can make it, but that's what I enjoy doing so it's not really a chore for me.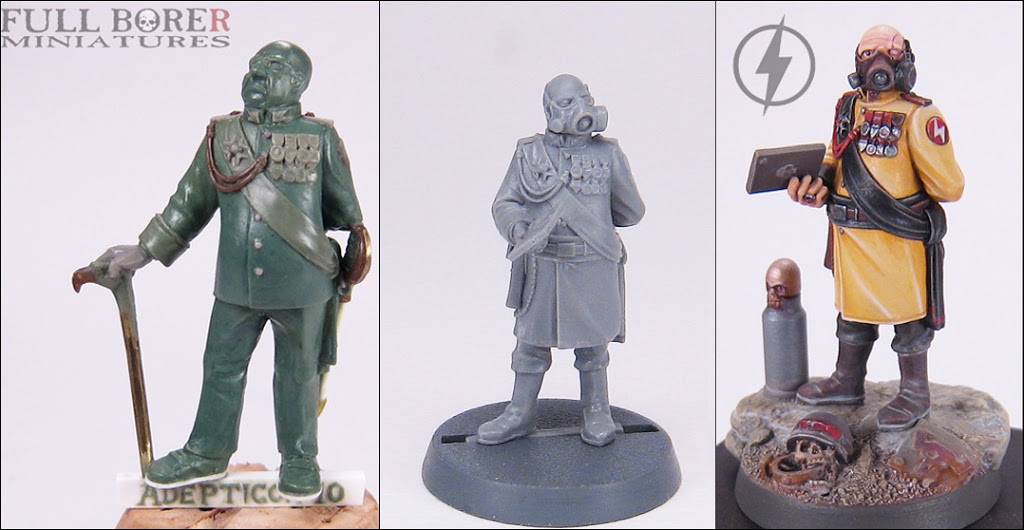 Evolution of the Artillerist
Left: The Governor sculpted as an Adepticon exclusive model 2010.
Center: The same model converted into the Artillerist for the Heroes of Armageddon project.
Right: The Golden Demon winning finished model.
Tyler: What is your favorite model or models that you have painted? This can be the one(s) you enjoyed painting the most, was happiest with the final paint job, or just really appreciated the sculpt.
Chris
: That's a tough call, but I'd probably have to say Fulgrim. That model was a real leap forward for me; the only parts I didn't sculpt were the face, the hands, and part of the wing on his shoulder pad. It was definitely the most ambitious thing I'd attempted up to that point, and it was one of the first projects that I sought advice on as I worked. There were a number of points in both the sculpt and the paint job where I realized I was going off track and had to be guided back onto the path by my peers. It really opened my eyes to how invaluable constructive criticism can be and how willing people in our hobby can be to offer it.
Tyler: Can you name one major change in the painting world that has impacted you the most since you started (basing changing from green flock to an integral part of the mini, more subdued colors, source lighting, etc.)?
Chris
: I'm not sure about impact, but one of the changes that I definitely enjoy is tied to basing. As you said, if you go back far enough you'll find a Golden Demon rules set that requires your entry to be mounted on its gaming base and that base to be painted green. I'm not entirely sure when that changed for me, but I really think a miniature can benefit from a base that enhances or reinforces the narrative of a project. A well-considered base can help you set the scene, pose the miniature, add contrast or harmony – for me, a base ignored is an opportunity wasted.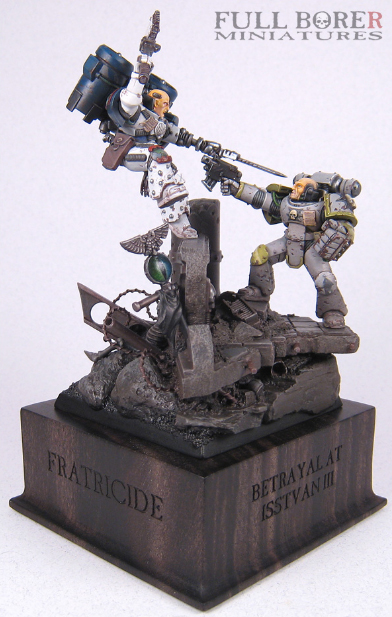 Fratricide
Golden Demon 2008
Tyler: You have recently started sculpting and selling several miniatures from scratch such as The Artillerist and Hannah Valerus. Is sculpting miniatures the next area for you after painting? Can we expect more original Chris Borer sculpts?
Chris: Absolutely. My own personal hobby path started with painting stock minis, then converting minis with stock parts, then fabricating or sculpting parts to convert minis and now I've sculpted a few complete pieces. I don't think I ever really set out to sculpt whole miniatures; it just seemed to be the next logical step for me.
Sculpting your own pieces, even for conversions, isn't required in any part of the hobby – especially these days when there are so many great minis out there to harvest for parts – but the more you are able to do, the more options are available to your projects.
And since you asked, my next three sculpts will come from my friends' web comic –
FreeMars
. It's a sci-fi rock opera following the adventures of a band that goes from struggling dive-bar musicians to symbols of the Martian revolution. It's written by fellow Golden Demon painter Dave Pauwels and drawn by Nicolas R. Giacondino whom you might know from his 40K fan art under the name
Aerion the Faithful
.
The Hannah Valerus character on my site was sort of a test of my abilities and synergy with those guys, and it went so well, she ended up in the comic. They published their first graphic novel through Ape and are working on the second book now. They'll be crowd-funding it through Kickstarter later this month.
They'll be offering all the usual promotional items you'd expect from a comic looking for backing, but since the writer, artist, and I are all fans of the miniature painting hobby too, they'll be offering figures of the three main characters from their sci-fi rock opera, sculpted by yours truly. It will be the first place these miniatures will be available, and I believe they'll be slightly less expensive than retail to encourage folks to back the project.
The first of the three miniatures is done, and I actually used a casting of that miniature in my Golden Demon entry this year. A few minor conversions and she made an excellent Necromunda Escher model, if I do say so myself.
Tyler: Can you explain a bit what it was like to take part in the Slayer Sword challenge in 2008?
Chris
: It was a great experience, probably one of my favorite projects of all time. The Slayer Sword Challenge was a short-lived series in the US made possible by the fact that at the time we had four Games Days (and by extension four Golden Demon contests) each year. Each participant would use the same plastic kit to create an assigned character. You could convert or fabricate as much or little as you liked, but you could only use parts from that kit and raw materials like sculpting putty, plasticard, brass rod, etc. – no pieces from other models. The "winner" would be determined by voting on the GW site.
The previous year's challenge had used a Fantasy model, so the year I was eligible was going to be 40K – which suited me just fine. The plastic chaos lord in terminator armor had recently been released and with four participants, it was natural to assign each of us a character devoted to a different chaos power, which also suited me just fine – because I received the chaos patron I'd been hoping for…
One of the big things I did differently with this model was to consult with one of my "competitors" as I worked. Todd Swanson and I had met about a year earlier in a painting class being run by Jeremie Bonamont. We were both there as students – which goes to show you're never too experienced to learn something. In any case, Todd and I decided to share our works-in-progress and it proved to be a great asset to both of us. I've said it before, but it bears repeating – having fellow hobbyists to offer comments and criticisms on your work is a nearly priceless asset.
In my early competition years, I never showed anyone a project I was working on for fear of tipping my hand or getting overly harsh criticism. But having changed my tune since, I'd encourage anyone to ask fellow painters, sculptors, and hobbyists for feedback, especially if you want to improve. Not everyone will oblige you, and not all the criticism will be constructive (or necessarily polite), but the vast majority of us are in this hobby because we enjoy it. It doesn't require much arm-twisting to get painters to talk about painting…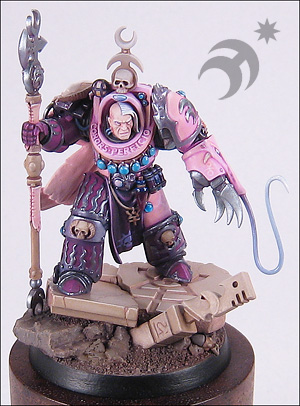 Balthazar
Games Workshop's 2008 Slayer Sword Challenge
Tyler: Any final words before we wrap up the interview?
Chris: I'd like to thank you for the opportunity to do this interview; rambling on about the hobby is one of my favorite things.
I'd also like to congratulate you on winning your first Golden Demon this year. Your savage orc was one of my favorites in the Fantasy Single category; I'm a huge fan of tattoos and warpaint on minis, and you really nailed those.
And of course I'll sneak in one more self-promoting plug: check out the
Free Mars
comic and keep an eye out for their Kickstarter project.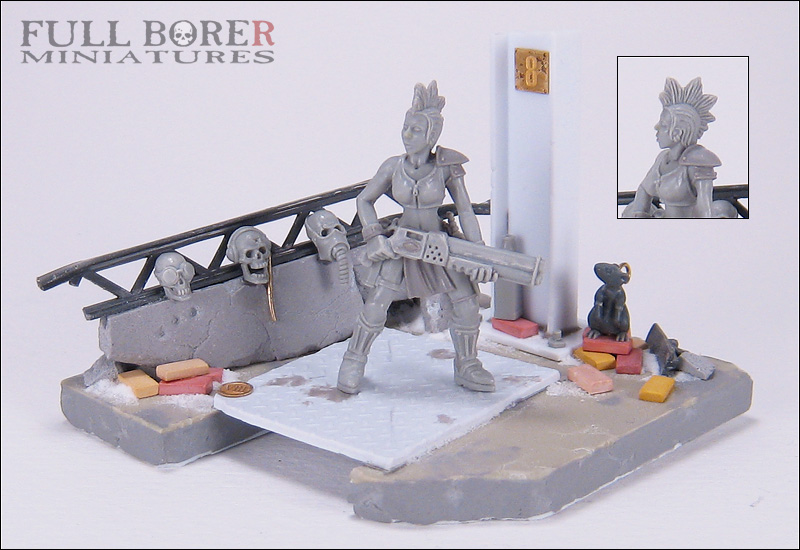 A WIP of Chris' winning entry from this year's Golden Demons
Head over to Mengel Miniatures for the full interview and some exclusive photos and be sure to check back monthly for more interviews with the painters who help shape our hobby. Next month: Dave Taylor!

To see more of Chris' work as well as visit his store where you can pick up your own miniatures of The Artellist and Hannah Valerus check out his site at Full Borer Miniatures.

What are some questions that you have always wanted to ask our hobby's top painters? I will try and include some of the best ones in future interviews.
Tyler is a life long painter and hobbyist and took home his first Golden Demon award at the 2012 Chicago Games Day. More of his work and commission information can be found at his blog, Mengel Miniatures.