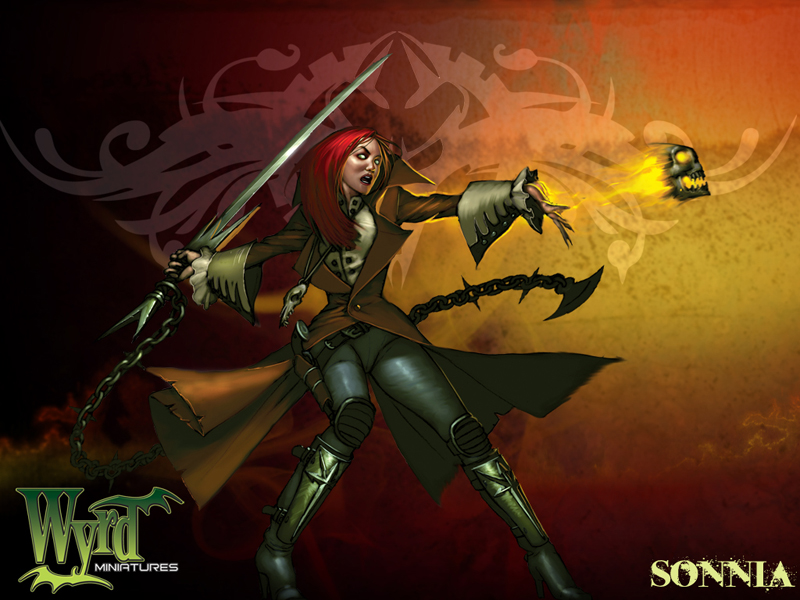 "Fire is catching! And if we burn, you burn with us!"
Hello everyone and welcome to the 2nd Malifaux tactics post here at BoLS. This is about another of the Guild Masters, namely Sonnia Criid everyones favourite Pyromancer.
The Basics
Firstly what sort of Master is Sonnia Criid. She is primarily an offensive spell caster, however you should not underestimate her defensive spell casting as well as her Melee abilities especially in this case against other magic users like Rasputina.
She has the ability to increase her casting ability with a (0) action called Confiscated Lore which increases her already impressive casiting of a 7 with a Ram by one as well as adding a Tome which is important in casting most of her spells, it does cost a soulstone to use but in the key turns this can be essential to make sure the important spells go off, I always try to make sure I set aside at least one soulstone for these purposes, in addition to plenty for offensive and defensive protection as she has little protection from non-magical attacks.
Sonnia is also a Magic Seeker this is an important ability to remember as she ignores Line of Sight when targeting models with a Ca of 7+, this is good as you can hide behind buildings and fire over them, hitting the high Ca model with the strike and the other models around with the Blasts.
Burn Baby Burn
Her main offensive and defensive abilities are fire based. She has three all in all, one is offensive, one defensive and the other is a bit of both.
First up is (1) Flame Burst, this is her offensive spell, this is a mid range attack at a 12″ range, which deals 2/3/5 damage with 2 blasts at the moderate level and 3 blasts at the severe, this requires a 14 to cast but does require a tome, so unless you need to soulstone the casting total this is always a good follow up to Confiscated Lore.
Secondly is (1) Flame Wall, this is her defensive ability, this requires a 13 of tomes to cast, after casting you place 2 50mm markers within the 12″ casting range, these markers are height 5, hazardous (Dg3) where they cause 3 damage if anyone touches them and obuscuring, while you cannot place them touching any model, these are very good at blocking Line of Sight, helping you and your crew get into position and achieve your strategies and schemes.
Finally there is (0) Inferno this is the ability that is a bit of both, you only need a 7 of any suit to cast, which is good as this is a (0) action you cannot perform Confiscated Lore the reason that this is a bit of both is that this effects both friendlies and enemies, during the closing phase anyone within 3″ takes 3 damage. Also if Sonnia is killed the effect is immediately applied but at 6 Damage, so this can help to keep enemies from being too close, but it also means that if you perform it, you need to keep the friendlies away too. This spell got more important in Book3 as it is one of the Manifest requirements for the Avatar of Conflagration.
Lockdown
Sonnia's non flamey abilities and talents are all around shutting down the enemies, either by blocking or making some spells and attacks harder if not impossible, but also by taking a wounded enemy and turning it into a model on your side.
First up (0) Nullify Magic, this is a 6″ aura models in which recieve a double negative to cast magic, which can really shut down some masters that rely on magic like Leveticus and Rasputina, this does affect friendly models so again like Inferno you need to be aware of your positioning.
We also have Sonnia's Melee attack in Runed Blade, this has a modest damage profile from 2/3/5, but what is important is its effects, you get a positive on the Strike when attacking models with a Ca of 6+, also the models wounded cannot cast spells until the Closing Phase.
Finally we have Violation of Magic, this is a nice little spell that causes 1 damage plus one additional damage for each point its Ca is over 5. If you kill a model you summon a Witching Stalker to the model before it dies, so you can increase your model count from your enemies but you can also use it on badly wounded friendlies to make more undamaged models.
Keeping Her Alive
Sonnia has a couple of little tricks that can help keep her alive, but only against magical attacks, she is quite vulnerable to ordinary ranged and melee attacks.
Firstly we have Advanced Counterspell, this is a talent and is always present, you can discard 2 cards from your hand or one card with a Tome to cancel the spell outright even before any casting totals are generated. This can be very useful and against some masters, so I will keep all the Tomes I can in hand – not only high ones for casting without Confiscated Lore, but low ones just for Advanced Counterspell.
Secondly she is Magic Resistant 2, this means she takes 2 less damage from spell damage.
Finally she has a trigger called Reflect Magic on her Df and Wp, so if Sonnia beats the attack total the opponent becomes the target and takes the effect of the spell immediately as long as they could be effected by it.

Getting the Most from the Avatar of Conflagration
If normal Sonnia likes fire, Avatar Sonnia is quite the Pyromaniac, she likes fiery abilities although she retains the staple in Violation of Magic, she is quite hungry for Burning Tokens both for healing but also for increased damage.
She loses most of her defenses for new fiery ones, Advanced Counterspell changes to Blazing Counterspell – this is exactly the same however it causes 2 damage aswell. She also has Opressive Heat, where models targeting this model have to take a Wp 13 duel or receive a negative to the attack.
She gains a better version of Flame Wall in (1) Pyre. These are exactly the same except they don't end at the end of the turn like Flame Wall; they give out Burning Tokens. She also has the ability to move them into the enemy with another ability called (1) Pyre Command, which if you can hit a few models means a nice 3 damage each when they activate.
Her melee attack has changed from the blade to the Salamander representing Cherufe. This has the same damage profile but it ignores armour and gives burning tokens; but with the trigger in Horrific Burns means the enemy has to take a Morale duel and may flee.
She can also dish put out more burning tokens with a spell called (1) Light 'Em Up which gives a Burning Token to the target as well as to additional models within 3″ depending on the amount of Tomes in the casting.
Finally the reasons for all of the Burning Tokens are the last 2 actions one defensive, one aggressive, they are both (0) actions so you have to choose between them depending on your needs.
Firstly (0) Feast on Fire. This is the defensive action – you discard Burning Tokens from models within 6″, aSonnia heals 1 wound per discarded Burning Token.
The offensive ability is (0) Searing Wave, which is an 8″ pulse that only effects enemy models, you make all of the resists, then as long as one enemy hasn't resisted you make an uncheatable 2/3/4 damage flip that recieved +1Dg per Burning token. This means that if you flip the Red Joker you would do the extra damage on all models, but also if you flip the Black Joker you would do no damage to any except the additional from any burning tokens looking at RAW.
Anti-Sonnia Tactics
Really there is only one thing I would recommend not to do against Sonnia. Don't cast spells at her for the reasons I have discussed above, just belt away at melee or with normal ranged shots. She only has a Df of 4 and with no defenses against normal strikes she takes damage fairly easily. If you force her to use soulstones that is one less for Confiscated Lore, attack totals or just in defense, and as she can be soulstone hungry is quite important.
Basic Crews
These are a few of my standard crews that I use when playing Sonnia, obviously build your crew to the Strategy wherever you can.

35ss Crew 'Witchling Bomb'
Sonnia Criid (8ss Cache)
3 Witchling Stakers
3 Death Marshalls or Guild Guard, or Witchlings if you have them
Witchling Handler
With this crew you use the handler to help the witchlings up the board. Use them as targets for Sonnias Flame Burst as they take less damage as they are magic resistant putting the blasts onto the enemy then recycling the wounded Witchling with Violation of Magic or letting them blow up for even more damage. Witchlings are also pretty handy in Melee with a Cb of 6 and an impressive damage profile.
35ss Burny Burny Death Death
Sonnia Criid and the Avatar of the Conflagration (8ss Cache)
Purifying Flame
3 Fire Gamin
Watcher
2 Guild Hounds
Sue
Here the Hounds are to bounce Flame Blasts off and Violate as necessary. The Purifying Flame is for more fire attacks but remember to Violate before you Manifest as you lose the totem otherwise. The Watcher is to negate cover for Sonnia's attacks making them all the more potent. Fire Gamin will spam more flaming attacks which dish out Burning Tokens ready for the Avatar. Sue is a solid model, and he can dish out more Burning Tokens as well as buffing your crew somewhat.
All around solid 35ss crew
Sonnia Criid (7ss cache)
Brutal Effigy
3 Death Marshalls
Nino Ortega
Pale Rider
This is full of solid models that can dish out plenty of damage and is full of some of my favourite models. I find Death Marshalls the key 4ss choice as I can make Witchlings from other models, unless I'm using plenty of Guardsmen to make the Guild Guards Cordon worthwhile. And yes the crutch in Nino is there, but he is that good at what he does, Pale Ride is a solid high SS minion, but you could replace him with the peacekeeper, Von Schill or something along those lines.
That's it for this Tactics article, if anyone would like to contribute to further Tactic's articles then you can leave your information here, PM me on the Wyrd Forum's my username is Bucket Monkey or via email at [email protected].