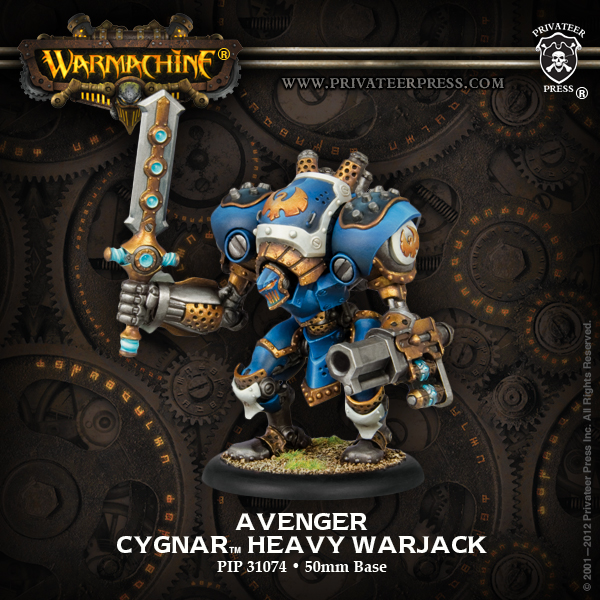 After waiting for what seems like ages for the new plastic Cygnar "Centurion Chassis" Warjack Kit, it's finally out, bringing with it the components to make the long-awaited Avenger warjack. In a faction brimming with ranged heavies, just how does the new one stack up to the competition?
Before I get into discussing the Avenger itself, I'd be neglectful in not remarking on the new plastic variants of the Centurion and Hammersmith, which can also be built out of the same kit. The new chassis is slightly larger in scale compared to the original, metal form due to bulkier components and a more upright posture, but not so much that it would be painfully obvious. The plastic hammers, shield, and piston spear are noticeably larger, however. That said, I personally consider this an improvement over the original design where these components felt way too small. The kit can be easily magnetized for economy of space and finance, but the weapons that you'll be swapping between the left and right arms are heavy and will require substantial rare earth magnets, not just small ones that are a few millimeters wide. It's by far one of the easier warjack kits to magnetize, so if you're on the fence about doing it, just bite the bullet and get it done. You'll thank me later.
Compared to the Ironclad Chassis, the Centurion Chassis is huge, standing a few heads taller than its smaller cousin as you can see above.
Where the Avenger itself is concerned, it's competing with a lot of other solid options for ranged heavy warjacks, like the long-range Defender, the infantry-stopping Cyclone, the more melee-oriented Stormclad, and the versatile Thunderhead. So, just what does the Avenger bring to the table?
The Avenger's Seismic Cannon is a unique weapon for Cygnar. It hits fairly hard at POW 14, has a relatively short range of 10, and is AOE 4. Having an AOE on a ranged weapon alone is fairly uncommon for Cygnar with the only other example being the Grenadier, but the true benefit comes from the Quake rule, which, with a direct hit against an enemy model, knocks down all models under the template. The uses for this are far and wide, from knocking down a high-DEF warpwolf so that it can be more easily handled by your other models, to clearing line of sight to a warcaster that is screened by a hardened unit of multi-wound soldiers, to pairing it with a Stormsmith to disrupt and knock down an enemy warjack, denying it the ability to move and attack since it can't spend focus to shake. The very threat of a ranged weapon with a 4″ AOE and Quake has the potential to greatly alter the way that your opponent deploys and conducts their army, often to your own advantage.
The Avenger also boasts some solid melee output with its formidable, P+S 18 Stun Blade. Not only does it have a respectable damage stat, it also affects warjacks hit with Stall, reducing their DEF to 7 and denying it from running or charging.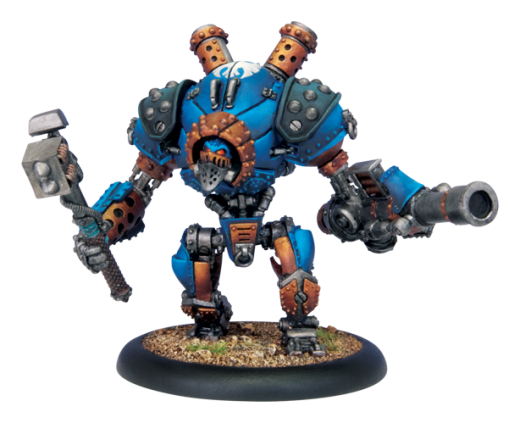 Pairs well with…
This versatility makes the Avenger a solid choice for when you're strapped for points and want both more ranged and melee presence, causing this 'jack to be a sure sight in many 35-point lists. The same versatility combined with the far-reaching consequences of Quake make the Avenger a great complement to other ranged heavies like Defenders or Cyclones.
The real weaknesses of the Avenger come from its stat block. At SPD 4 with RNG 10 on the Seismic Cannon and a lack of Reach on the Stun Blade, the Avenger isn't the most impressive warjack in terms of overall threat range. Fortunately, Cygnar isn't without ways to help here, be it with Snipe or Fire Group to increase its RNG on the Seismic Cannon or using Full Tilt, Locomotion, Energizer, or Darius's Crane to get it moving quicker.
The other stat weakness comes from its painfully low RAT value of 4. With such a low RNG value on the Seismic Cannon, chances are that it won't be able to aim often, particularly in the early game, but Cygnar has plenty of ways to make up for this. Boosting attack rolls, either via a 'jack marshal or by spending focus, is going to be a common sight for an Avenger. Temporal Barrier, Telekinesis, Time Bomb, Dead Eye, Firing Squad, and Mark Target are also strong tools for getting the Avenger to hit its target. Snipe and Fire Group again will help for increasing its RNG, consequently giving it a better chance of being able to stand still for the Aiming bonus.
This brings us to list construction with the Avenger. In terms of warcaster choice, take your pick. Every warcaster can either benefit from or be a benefit to the Avenger. Stryker1's Earthquake stacked with another knockdown effect can be terrifying against a player that isn't prepared for it. Getting double shots with the Avenger from Haley1, Haley2, or Sloan will give any player pause, especially with the increased accuracy that all these 'casters can provide. Siege can clear line of sight like a boss by stacking the knockdown effect of Quake with his own Fox Hole to get a bead on an unsuspecting enemy warcaster. Caine1 can cast Snipe on the Avenger to make up for its short RNG, making it a strong, long-range platform that is also pretty capable of smacking the enemy around if needed, which is never bad for a Caine1 list. Caine2, on the other hand, gets a strong piece for clearing line of sight to or knocking down the enemy warcaster, which will most often ultimately result in the game's conclusion. Darius gets a warjack with decent melee output that he can Crane around that can also provide some of the ranged support that his lists so often lack. Kraye gets a truly versatile warjack, something that he loves to have thanks to his spell list and feat that can benefit both ranged and melee warjacks, making the Avenger a true workhorse (no pun intended).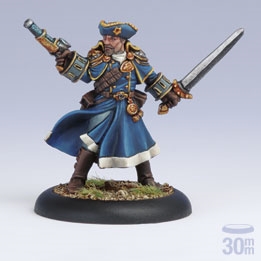 Not the worst option for controlling your Avenger.
When deciding who to give the Avenger to, you have several solid options. The Gun Mage Captain is a strong choice for the ability to take advantage of the Captain's Rune Shots, which include Snipe for extra range, Critical Brutal Damage for potentially increased damage output, and Thunderbolt for pushing targets back. While the Captain will make the Avenger a more capable ranged platform, as a 'jack marshal, the Avenger will lose some of its potential for melee combat unless you really work at it, like by adding in Arlan Strangeways for Power Booster or putting it in a Haley2 list for Temporal Acceleration.
The Journeyman Warcaster is another potentially good choice since it typically has two focus to throw around when it's just upkeeping Arcane Shield, but the Journeyman is a rather fragile model, and nothing attracts attention like a 9-point model that will shut down if the lowly, 5-wound, ARM 14 model that it is attached to is destroyed.
The Sword Knight unit attachment isn't a terrible choice, which could effectively allow it to move with Pronto, then stand still during its activation and get the aiming bonus. Alternatively you could move forward, fire, then Pronto back, or Pronto forward, then advance forward and fire or attack for increased threat range. You again run into the problem of decreased damage output since you only get a single boost from 'Jack Marshal, which again makes Arlan Strangeways a nice choice to have around.
Otherwise, sticking the Avenger with your warcaster is usually a good idea. Having up to three focus for buying attacks with that nice Stun Blade will ensure that you have some punch when you need it, while throwing a single focus point at it for running or boosting an attack roll with the Seismic Cannon will often be what you're using it for most of the time.
Overall, I'm really pleased with the Avenger. It's done well in my games with it so far, and I highly suggest Cygnar players pick it up.