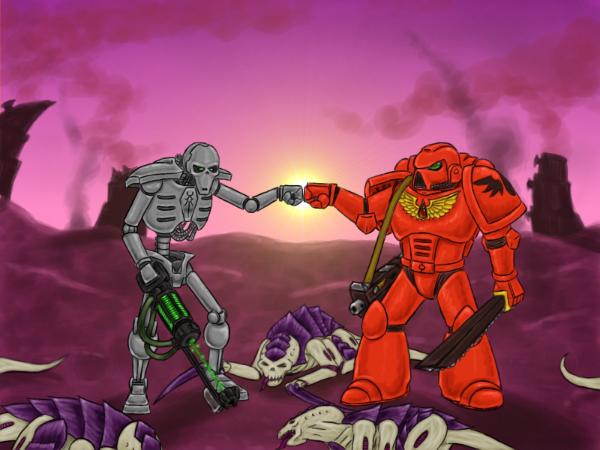 I've been thinking about something after a few months of 6th edition. I'm wondering if Allies are short-term gain for long-term pain?
So hear my out. I like allies – I really do. If you go back to the early days of 1st Edition, everyone kind of threw together warbands out of whatever miniatures they had. I have a fond memory of a pair of my Christmas Marines backed up by a Squat Living Ancestor running up a foam ziggurat to kick some Eldar Guardians in the ding ding. – Ahhh Rogue Trader….
But back to the present.
Allies do a lot of good for the game and I'm sure help the Games Workshop bottom line. Lets see, allies give you:
-An easy path to use you're entire collection.
-An easier path to picking up that unit you've had your eye on that wasn't part of your main army.
-The easiest path to starting in on a new army almost without any pain.
And after several months we see the new allied builds everywhere. Suddenly the Tau and Eldar allied contingents are all over the place. Even the "good codices" like Necrons, Chaos, and Grey Knights come together in tag-teams of destruction. But not all is well in Denmark.
More often that not, these allied contingents aren't collected due to any love of their source army. There is no love of the Eldar, or bonding with the Tau and their ancient armylist. Instead now entire armies have been reduced to mere utensils – like a couple of extra tools in your Swiss Army Knife. At its core, allies are all about taking the best from various codices to make a more formidable alloy. You'll have to excuse me, but I've found the fluff rationales from the numerous Necron-Grey Knight armies out there to be a bit "thin"…
Worse it seems that the "mono-build" players who still have a strong connection to their chosen army (often for background, or aesthetic reasons) are beset on all sides. What is a mono-build player who loves his army to do, surrounded by the sudden mass produced Tau Broadsides, and Eldar Farseers popping up like corn around him.
Worse, I have this funny feeling that these here-today-gone-tomorrow allied combo-builds somehow diminish the connection between players and their armies. When the toy soldiers become mere playing pieces to achieve victory – you can be playing anything. That's the path that leads to a diminished bond between players and games.
And that has me worried.