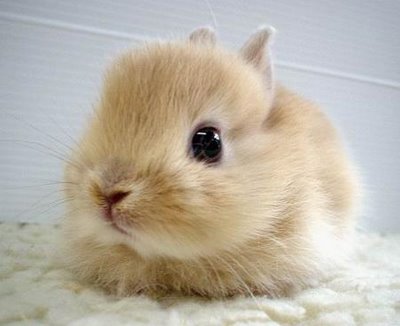 I don't usually write editorials. Mainly because I don't expect people to care about my opinion, especially when nobody asked for it. Anyway, let me explain some of my views of the hobby and why I consider myself a Fluff Bunny.
Lately there was a very controversial editorial on BoLS about Fluff Bunnies. Sadly the author failed to give us his definition of the term. This article is not meant to be a 1-1-response to the other editorial but my view of the topic.
So, what is a Fluff Bunny? I think this term is used for a whole variety of players coming from different directions. I would roughly split them into Narrators and Loremasters (although there is a huge overlap).
A Narrator enjoys playing campaigns. He wants a background for the battle, a "why". Narrators love systems for campaigns like Planetary Empires. It is awesome to see two Narrators preparing a battle, in the end there is often an epic tale about old feuds and suddenly they have a bunch of optional story-based mission objectives. A clash of forces evolved into a story.
Loremasters have a profound knowledge about the background of their faction and the army they are playing. They will restrict themselves in their choices to represent a certain regiment, company, cabal or whatever their force is called.
I consider myself more on the Loremaster side. This is mainly due to the fact that I actually don't play very often.
I love the 40K universe and I love the hobby aspect. But I don't have the time and the right gaming group, so I can easily count my battles per year on both hands. Maybe that is an important reason – I care less about competition and I get my gratification from showing paint jobs and conversions on the forums. Don't get me wrong, when I play, I play to win. But for me it is more important to get a "wow" from my opponent, because after I put my army on the table it all comes down to rolling dice.
For me, taking the background into account when I plan an army is showing respect to the game and the people who designed it. The background is what defines the game. I remember when Kings of War first became available, one main criticism was the lack of any fluff and that kept some people from picking it up.
The background of 40K is vast.
And it encompasses 38.000 years. There is a saying about it, and if I remember correctly, it comes from one of the bigwigs at GW:
"It is a big galaxy and a long time. Whatever can happen, has happened, somewhere, sometime."
Due to this saying I am quite relaxed towards some rather odd background decision. I would not field Grey Knights and Necrons in the same army, but I am not throwing a tantrum because the game allows it. I will try to convince my opponent to allow me to ally Nids with Imperial Guard to create a Genestealer Cult because it is fluffy, but I won't shed a tear if I can't do it.
Well, while I'm on it, let me give you an example of how I tick. Lately I took part in a discussion on my favorite forum about what should be in an Alpha Legion force and what shouldn't. We discussed the character of the Alpha Legion and how they operate. A day later I had an awesome idea: I want to build an Alpha Legion force that is posing as a loyal Space Marine chapter.
Entry: Hydra Legion.
The Hydra Legion won't have any units that would give away their true nature. No chaos symbols, but also no Imperial symbols. No Daemons, no daemonic engines. The Alpha Legion doesn't really worship the Chaos gods, so no marks. They have an amazingly pure geneseed, so no mutations. Their specialities are stealth and sabotage, therefore I chose a Huron Blackheart "count as" for my HQ who will allow me to infiltrate D3 units.
The Alpha Legion is famous for their use of human operatives and cults. I will represent that with the Dominatus Regiment accompanying the Hydra Legion and build my cultists as an uniform mass of faceless soldiers.
I can use these models later as the basis for a contingent of allied Renegade Imperial Guard which I then may expand into a whole army.
Well, of course these restrictions somehow limit the effectiveness of the army. But in the end it will play very similar to a Vanilla Marine force, with the small but significant difference that the concept is way more awesome.
That leads me to another prejudice I want to talk about: "Fluff Bunnies are less competitive and soft targets". Well, in my humble opinion that is not always true. Yes, there are fluffy armies that would need a lot of luck to stand up to an optimized tournament list. But usually a fluffy army is not at a big disadvantage. An all-jump pack "Host of Angels" Blood Angel army is themed, fluffy and capable of wrecking carnage. Or what about a Tzeentch-only daemon host?
I think there are two ways how to include fluff into army list writing: Either you chose the background first or you chose the units first.
If you chose the background first you will see that there are some units you should have and other you should not use. For example, if you want to play the famous Tanith First&Only you want to take missile launchers, sniper rifles and flamers. Your CCS and veterans will have camo cloaks. You can use demo charges to represent pipe bombs. Sly Marbo can be one of their elite scouts like Mkoll. The Tanith regiment doesn't have armored support, so you want to limit the amount of tanks in your army to transports and maybe a battle tank or two from a regiment that fought alongside the First&Only in the novels.
If you chose your units first, you can usually find a fitting background, too. For example, a Deathwing army is in itself fluffy. An Orc Bot-Spam led by a Mek is fluffy. Actually, there
is just a rather small percentage of army concepts I would consider as not fluffy.
And even if it is something that contradicts canon:
"It is a big galaxy and a long time. Whatever can happen, has happened, somewhere, sometime."
So that's my 2 cents. What about you, do you consider yourself a Narrator, Loremaster or something else? How much does fluff influence you when you build an army?