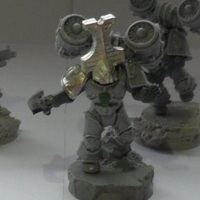 This time on Best of BoLS we take on the converted and unpainted….

Doc; Bonjourno! Welcome back to another Best of BoLS lounge piece. Been a long time since our last article, as one of us got married, the other got a new job. But we're back now!
This time we're going to look at lots of grey models. With some green bits. And that funny creamy/grey that resin is. And Milliputt brown! Yes this time we're looking at the other side of the hobby and showcasing lots of unpainted models, looking at some creative conversions
Shades; Hello, my name is Sotonshades and I am a convertoholic! I just can't go a day without some convertohol! Erm, wait… wrong meeting. Yes I do have more than a little fetish for converting models. Not to brag but I am writing this staring at my very own ScrapDeamon statuette from 2009, so it's fair to say I'm also pretty decent at it.
For so many hobbyists, converting models is as major a part of 'their' hobby as playing, background or painting. For some it might be as simple as swapping the model's weapon for a better option: for others maybe the chance to add a bit of flavour to an otherwise very samey unit. Occasionally there comes one of those nutters (a fraternity in which I count myself) who want to create an entire army of unique pieces. So often the quality of conversions gets forgotten under breath-taking paint jobs (and not necessarily in the good way), so today we wanted to bring you some truly inspiring models without so much as a dab of paint; to let you see a bit more of how these creations came together. Lets kick off with an original take on one of the newest models from Games Workshop;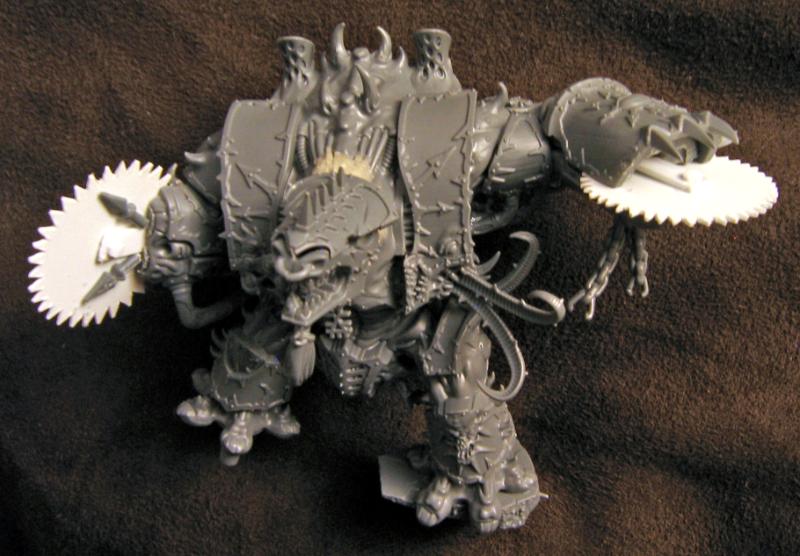 Doc; I love the Hellbrute. I think i bought a starter box and started a chaos army just so i could use one.
Brass Scorpion's conversion
is simple, with a nice new head from a Juggernaught allows it to be used as a Khornate Dreadnought.
Shades; I love the simplicity of the idea here. I know a lot of people aren't fond of the Mouth/Face thing that is the sarcophagus of the Hellbrute (if such a word still applies to that behemoth) and while the work to blend the new head on is superbly executed, the concept really isn't too difficult for anyone to have a decent go at kit bashing! Add to that the superbly simple circular saws for DCCWs, which fit so well with the Chaos fluff over the years and you get a superbly themed model! To my mind, it almost looks red before it's been painted! Speaking of well themed, we'll take a look at something a little more involved, creating a
Tyrannic version of the Aegis Defence Line
.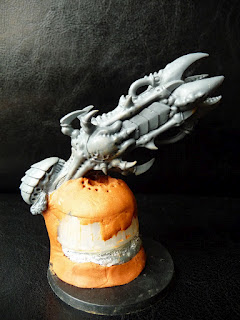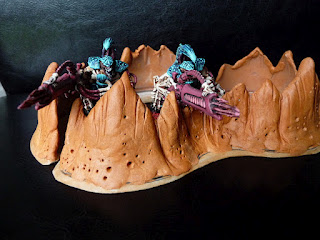 Shades; I know a lot of people won't necessarily see the point in this, with 'Nids not being able to use the Gun Emplacement, but Dwez gets due support and respect from me just for creating such a thing! I'm certain that if he put it down on the table in front of me, I wouldn't be able to stop myself from letting him use it! 'Rule of Cool' and all that.

Doc; We'll wait and see if they can use the guns. As he discusses on his thread, it might not be as clear cut as that. but we're not here to talk about rules, we're here to talk about the models! I really like the approach and think that anyone who makes scenery to match their army and not just use out of place Imperial positions (something I'm guilty of for the time being) deserves serious props. Hes done a great job making them look suitably organic and natural as well.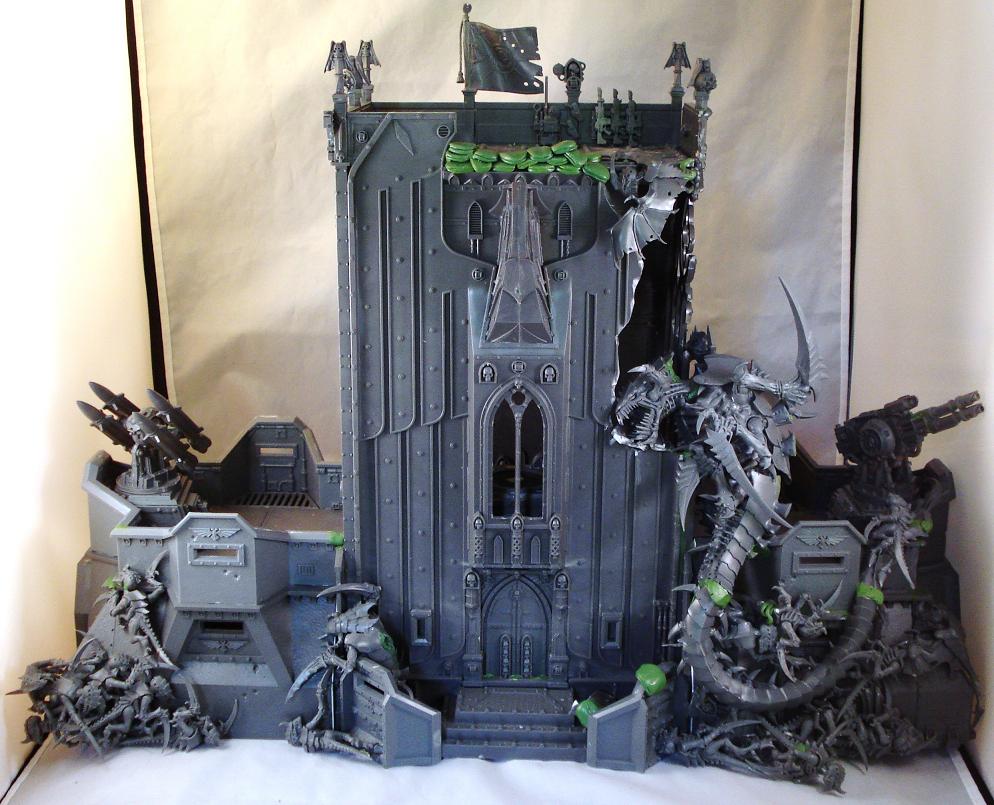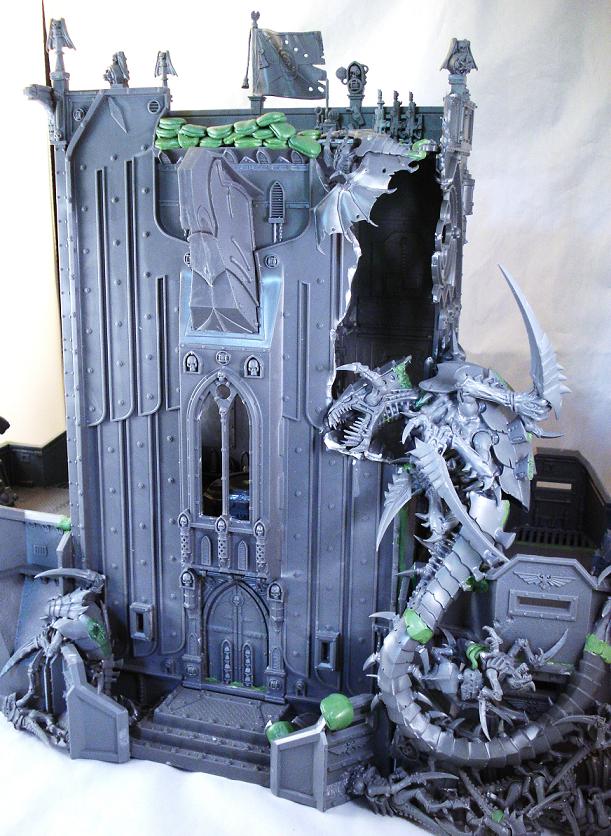 This stand in for a Fortress of Redemption meets the size criteria for the GW kit, but is a bit more acceptable by other armies (not everyone has a Dark Angels fortress to fight over). Using the Bastion and Shrine of the Aquila kit it maintains the height and majesty of the impressive fortification, but also makes something just different enough. Then there's the obvious factor of the piles of dead bugs heaped in their positions of death all over the walls to add to the drama. This could easily be used a diorama, not just a scenery piece.
Shades; I don't think I have ever seen quite this much effort put in to converting dead stuff! Well, maybe some of the Undead piece I have seen… Back to the Fortress though; every square millimetre of this thing is lavished in little details.
The top buttresses have a fully kitted out Command Station and sandbagged positions. The lower bastions' weapons look every bit as intimidating as the official GW model. And as for the drama the Doc mentioned; you can just feel the flow of the battle from the way the 'Nids fell (or more accurately, the careful posing and placing of them by Isotope!) Possibly the best thing is that the Fortress actually feels abandoned. Without any Guardsmen manning it, it looks like the might edifice was quickly evacuated during a lull in the fighting and never retaken. Weirdly, that actually makes me feel sad for the building… but it is not even a real building! The only other time I have felt like that was visiting the abandoned German Bunkers on the Normandy beaches in France. It's rather a peculiar thing to get from a model. Maybe that's the Convertahol talking!
On a slightly less somber note, and in-keeping with Forge World's latest releases we have not one, but two Pre-Heresy Thousand Sons armies! That may sound like overkill, but we're hoping it will show how you can a given concept, or an aspect of the fluff we all know so well, but can still really make it you own and create something unique! First up,
Cow's take on the 15th Legion
.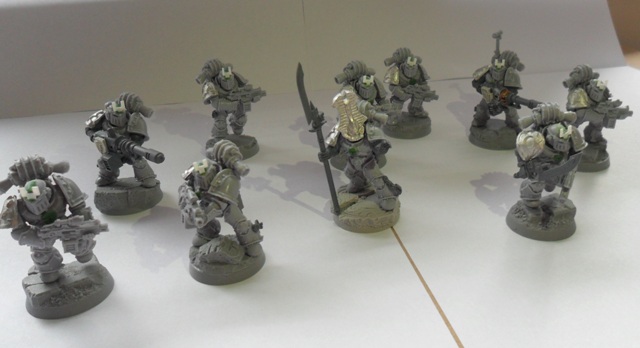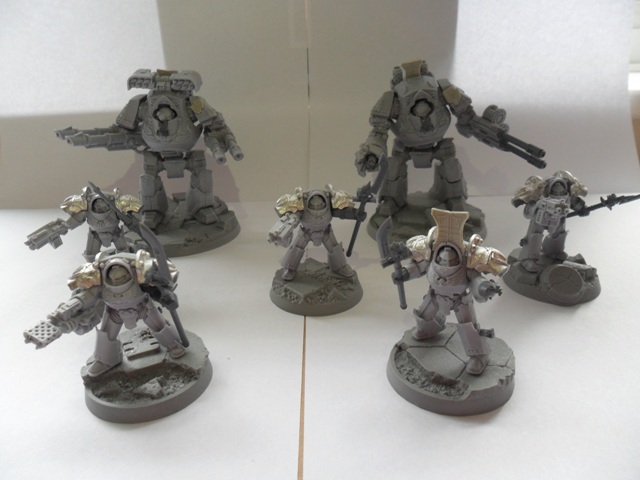 Shades; Cow has really gone to town detailing these guys. Using the FW older armour marks as a solid base, along with more than a couple of detailed resin scenic bases, he has really tried to closely follow the artwork from Horus Heresy; Collected Visions as closely as possible. This meant creating tiny crests for the helmets of the normal Troopers and reserving the head swaps and the 'traditional' big crests for command models.
Doc; Having watched this force grow from a mere idea to a full blown army, and a table top force to be reckoned with it really is clear that every detail has been thought out and planned. its always nice to see an army that is built to purpose, particularly if that purpose is fluff rather than tabletop prowess. He alos allows me to maintina my 1 Contemptor per article average i've managed so far. Something about that model just brings out peoples creative sides!
Cows force is built using the Grey Knight codex, providing the 15th Legion with their physic powers as befits the Sons of Magnus.
Deamonette666 has gone down a different route
and is using the Space Marine codex. But at least she has Magnus in the army!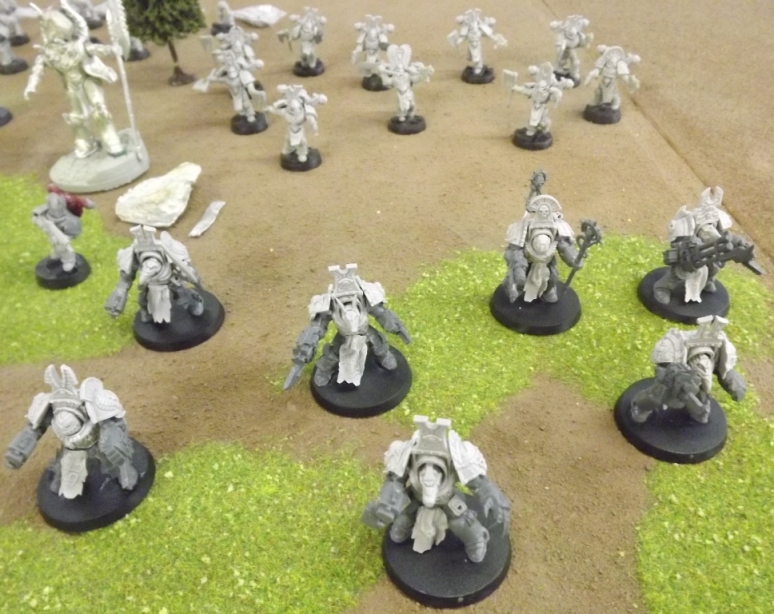 With Istavan 3 covered in the first FW Heresy Book, and Istavan 5 (Part 1) in the 2nd I guess we will see the Siege of Prospero, I expect we will see the Thousand Sons in either the book 3 or 4. As one of the most interesting pre-heresy forces in my opinion I'm looking forward to seeing these to armies grown and the official FW book. Interested in seeing what FW make of Magnus (and Russ). Anyway…enough Segwaying. I like this army design, taking the Egyptian theme of the legion and applying it broadly to everything in the force. All the squads are very clear in their purpose and work very well as a force together.
Shade; Seeing such a large army of converted models is always nice, and the helmets and shoulder pads help ty the indidivudal untis together while keeping a consistant theme.
Thats all we've got time for this week folks, keep posting your photos and we'll see who makes it to the next post!
Doc; Yep we've got a good lot of WIPs in here, some of which are finished now so go check them out. Now we're free of our busy schedule, hopefully we'll have these articles back to their usual frequency.

Looking forward to getting some nice chaos and starter box models in here soon! So in the mean time, keep posting those photos and maybe you'll see your work on the front page very soon