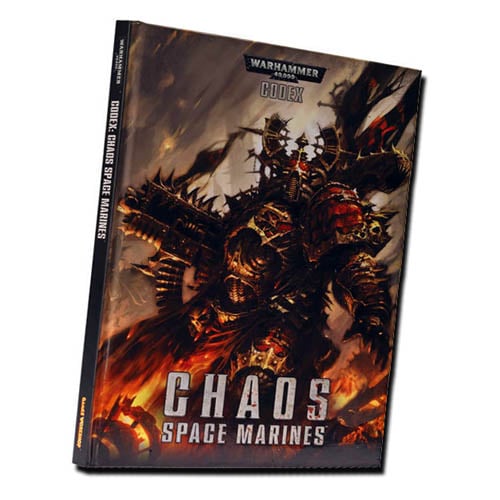 Hey guys, lets take a look at the Troops of the Chaos Space Marines in detail. Oh, and Death to the False Emperor!

A tactical series by Learn2Eel
Last time we talked about the Troops. Lets move onto the Fast Attack. Basically, I'm going into detail about what I feel are the competitive choices in each of our force organization slots, and my recommendations on the best builds for each unit.
Chaos Space Marine Fast Attack
Fast Attack – without doubt the recipient of the 'most improved' award, this section of our codex stands strongly next to heavy support as being our most useful force organization slot. Competitive armies can and always should use some of the great Fast Attack selections on offer. Remember that my evaluations are based on other choices in the same slot of the codex.
Raptors – These guys are fantastic. For slightly more than a standard Chaos Marine, you have an extra attack base, a jump pack, cause Fear, and can have two special weapons at no minimum squad size requirement. Raptors can be made to fit a wide variety of roles – one is as a Deep Striking suicide unit that delivers the pain in the form of Meltaguns to enemy armour. Typically, for special weapons, I would not recommend the plasma guns as it means you are disallowed from charging if you use them – which can be a crippling factor if you do want to charge. Flamers are always a decent choice, but for Raptors, having the meltaguns will make you much more threatening to many other targets. They are also a good way to deliver a power fist. Their mobility means you can and should abuse cover with these guys if you can (typically by hiding behind it). They make for a good flanking or support unit, and are excellent as a counter-charge unit against more aggressive enemies.
Whilst causing Fear is nice and your Raptors come with it in their low base cost, it won't really work against most armies you face. However, it is great for non-Space Marine armies that you face; using Raptors as flanking units usually means you would get into combat with lower-leadership flanking units that would actually be quite vulnerable to Fear. Don't rely on it though. Marks aren't always what I would recommend, but Raptors get lots of benefits from them. If you are running said 5-man squad packed with dual meltaguns, the Mark of Nurgle seriously increases their durability for a relatively minimal cost. The Mark of Khorne is also obviously good, whilst Slaanesh is another good choice. Don't bother with Tzeentch – unless you already have an invulnerable save, it typically isn't worth it. Veterans of the Long War is ok if you need it. The icons are ultimately ok but not necessary – Feel No Pain is expensive and probably not as efficient as giving them the Mark of Nurgle would be; they already cause Fear so don't bother with the Nurgle icon; Soul Blaze is mediocre, and; having Furious Charge and re-rolling charge distances is actually quite nice, especially if you use your jump packs in the movement phase.
Raptors are a great way of delivering pain to both heavy vehicles and light infantry. Ultimately, whilst it seems I am indicating that they work best in small squads, bigger squads are hardly a bad option either. If you want to use them, I would recommend the Mark of Nurgle and dual meltaguns as well as maybe meltabombs on the aspiring champion. Overall, an excellent choice.
Chaos Bikers – In my opinion, Chaos Bikers are our second best Fast Attack choice. So far, I have used a three-man squad with two plasma guns in each game with the new codex that I have played, and I can never say that I am disappointed with them. For the minimum triple-digit cost, the unit packs a wallop of mobile firepower against a wide range of targets and is also quite durable. In a recent game, my opponent prioritized them over other more dangerous targets with his Obliterators simply because they would be liable to kill the Obliterators if not dealt with rapidly. I'm not saying this is the best way to run Bikers, but it pretty much exemplifies how I see them – I would cap your squads at five, as these guys cannot be made scoring and become much easier and more obvious targets for nasty weaponry. That isn't to say you can't make said Biker squad work, but I find a smaller squad will do the job more efficiently. Two plasma guns or two meltaguns is probably preferrable – like Raptors, they can take two special weapons with no thought as to the squad size. Unlike Raptors, they can make more effective use of Plasma Guns as they are Relentless and can thus charge after firing, making them a nasty unit for hunting down elite infantry.
If you want to mark them, one stands quite clearly above the others – Nurgle. Does T6 Bikers sound nasty to you? Oh yeah it does. Just remember that this becomes very expensive very quickly if used on larger Bike squads. Slaanesh and Khorne are both good however, as it turns Bikers into a pretty decent assault unit for their points and mobility. Ignore Tzeentch – moreso than on other units. Bikers have a 5+ Jink save and usually die to shooting anyway. The other upgrades I have mentioned before, such as Veterans of the Long War and meltabombs, have practically the same use on Bikers as they would on Raptors. As for Icons, I would actually recommend Feel No Pain on this unit. T5 I5 Bikers with Feel No Pain is brutal, but expensive. You must also weigh up what you expect the unit to be shot at with – if you expect Boltguns, don't bother with Feel No Pain and take Nurgle instead. If you expect Plasma Guns or anything similar, take Feel No Pain. The Nurgle and Tzeentch icons are cheap but not really useful, but the Khorne icon is quite good – a 12″ move not slowed by terrain, and then a potential 12″ charge range that can re-roll charge distance. Not to mention Hammer of Wrath and S5 on the charge with Rage.
Bikers are similar to Raptors but should always be used as a flanking unit, whether Outflanking or just zipping up the table edges. I would recommend smaller squads with either two plasma guns or two meltaguns. Marks work well but aren't necessary to what you will probably want the Bikers to do. If your opponent ignores them, they have opened up a great opportunity for your Bikers to make their points back in short order. If your opponent focuses on them, you can shrug your shoulders as they either withstand the punishment or die – either way, for how cheap they are, you won't mind. An excellent choice overall.
Warp Talons – As cool as their models are, these guys give me a similar vibe as Mutilators. Raptors with a 5+ invulnerable save, paired lightning claws, a nice Blind attack on their Deep Strike sound great, especially if you look at their points cost and think how much said upgrades would cost on Raptors. The problem is, that is what also makes Warp Talons quite similar to Thousand Sons – ultimately, they are over-costed for what they do. Warp Talons have absolutely no means of dealing with vehicles, unless you get lucky when you charge a rear-AV10 vehicle. Whilst they will shred through non-TEQ infantry, Warp Talons die to Bolters just like any other Space Marine. And though their decent invulnerable save means they are quite survivable against things like power weapons, plasma guns and the like, Raptors can still get a similar cover save from shooting simply by using cover and also minimizing the number of targets that can see them. This is very much a unit that you must use to fit their specific purpose and make sure the rest of your army is able to deal with what they can't – in essence, they are a unit that you must make up for their faults to use effectively.
Warp Talons are expensive. There is no way around that. However, on the off chance they aren't dead already, they can charge and make their points back pretty well against other infantry. Marks are a good way to make them a lot more effective, but it will cost you even more. Nurgle makes them much less fragile against what will most likely be killing them. Tzeentch is funny if you go up against an opponent that has AP3 or lower in abundance, but ultimately not as useful as Nurgle. Khorne gives Warp Talons a crazy amount of attacks. Slaanesh means you will be able to do said slicing and dicing before MEQs get to strike back – which can make a big difference. However, the latter two marks rely on getting into close combat, and Warp Talons need a reliable way of getting there – hence why I would recommend Nurgle and Tzeentch. Unfortunately, marks are more expensive on these guys than for most other units in the codex. Also, as cool as their Deep Strike attack is, I wouldn't recommend it. Unless you are going up against Necrons and are out of range of their vehicles and can assure yourself little deep strike scatter (i.e. threading the needle) do not do it. They are simply too expensive a unit to lose to a mishap. Stick them to cover and either use them as a hidden counter-charge unit or jump them from building to building, avoiding making yourself a target for as long as possible before you strike. A mediocre choice overall.
Chaos Spawn – Once considered the worst unit in all of WH40K, they are now actually a nice unit. No more Slow and Purposeful, they are Beasts (12″ move, Fleet, Move Through Cover), are Fearless, cause Fear, have Rage and have a decent statline. 3 wounds per model at T5 with no saves, also S5 with D6 attacks each turn and a random D3 ability rolled for each turn – either a 4+ armour save, Poisoned (4+) attacks, or roll 2D6 pick the highest for their attacks value. They are also the same cost as Warp Talons base. They have WS3 and I3 but you really don't need to worry about that. The funny thing is, as much as having no save at all (unless they roll to get the +4 armour save) might seem like they are fragile, being T5 and having 3 wounds a piece makes them far more durable against pretty much any firepower that would be directed at them than Warp Talons (except for S10 AP3/2/1, where Warp Talons actually get a save and don't worry about Instant Death). They may not hit as hard in combat, but they can actually threaten transports decently and can put out a surprising large number of attacks – D6+2 on the charge is great.
You can also mark these guys now. I wouldn't recommend Khorne as you already have Rage, and your high threat range means you are most likely to charge anyway. Tzeentch does give them a save (a bad one), but I wouldn't count on it. Slaanesh makes them strike at I4, which is good but generally the Chaos Spawn won't die at the hands of Tactical Marines. Nurgle is by far the best for these guys – T6, almost completely immune to instant death. And unlike Warp Talons, you really won't mind paying for the marks. Frankly, a unit of these guys is also (strangely) a very good bodyguard for a fast-moving Chaos Lord – if you run a Khorne Lord on a Juggernaught, or a Nurgle Biker Lord (or any other permutation), Chaos Spawn are what I would recommend as the unit to attach to. They are durable, they are cheap for what they do, and they can do quite a bit of damage. They are also hellishly quick. Personally, I wouldn't run more than one unit of Chaos Spawn – I feel Raptors and Bikers will be more efficient, but Spawn are certainly no slouches either and are always a good option, especially for aforementioned fast moving HQs. A good choice overall.
Heldrake – Ah, the hellchick….er, heldrake, we meet at last! The Heldrake is a devastating unit – if used correctly and against the right opposition. As our only in-codex flyer, the Heldrake fills a rather unique role – as nasty as its offensive capabilities are, it is also a very reliable 'tank', meaning that it can quite easily soak up most of the damage that would target it. Hard to Hit, AV 12/12/10, 5+ invulnerable save, 5+ It Will Not Die, etc. It never has to Evade like other fliers and will not easily die to massed glancing hits. It is in the running for the most durable flyer in the game award and should be used accordingly – be aggressive with it, as your opponent will either be forced to ignore it or dedicate ridiculous amounts of firepower into its attempted destruction. Either way, it will typically make its points back the turn it comes on. I must strongly recommend the Baleflamer above the Hades Autocannon – whilst a S8 AP4 4-shot weapon sounds great, especially when hunting other flyers, the Heldrake has a mediocre BS and the weapon is not twin-linked. You also already have a Vector Strike resolved at S7 AP3, doing D3+1 automatic hits on any unit – including other fliers. The Baleflamer, on the other hand, is an even nastier flamestorm cannon mounted on a flyer that can be placed 12″ away from the big bird and turned around for maximum devastation.
As awesome as the Heldrake sounds, and as inexpensive for what it does as it appears, I would never recommend running more than two. Heldrakes are still vehicles, as hard as they are to destroy due to being flyers and having an invulnerable save, they can still be obliterated quite easily by a lucky shot. Other fliers will probably win in an 'aerial duel', depending on what they are – I wouldn't worry too much about a Dakkajet, but a Stormraven or Vendetta is sure to blow your feathers *cough* wings off. As good as its cost is, it will still eat into your lists' points total quite quickly. Against entirely mechanized armies, they aren't all that useful. However, the Heldrake is lucky that footslogging or mixed foot/vehicle lists are the most common now. And in this sense, it is seen by some (perhaps justifiably) as the most dangerous anti-infantry unit in the entire game for the points. Don't bother with TEQs unless it is a big squad and you inflict a lot of wounds on them to force a number of saves in which they should fail one on average (i.e. if you cause 6 wounds). Flamestorm Cannons are already nasty enough as they are, especially on Baal Predators – no-one wants a S6 AP3 flamer burning their Space Marines alive with impunity. Less people want said Flamestorm Cannon mounted on a 36″ moving flier with the Torrent rule – allowing it to be placed 12″ away and turned around to maximize casualties.
One other thing to remember is the Heldrake's Daemonforge – once per game, in one of your shooting or assault phases, you can re-roll all failed armour-penetration or to-wound rolls. This adds a layer of tactical depth to the Heldrake – when to use your Daemonforge is not always obvious. If you really want to take out an opposing flyer and have the Hades Autocannon equipped, hope you don't miss and proceed to (probably) penetrate it twice and at least force it to Evade. A nice big MEQ squad you really want to get rid of? Burn it and make sure those 1s become anything but. Another funny application is if you find a line of Dark Eldar Raiders/Venoms – flame as many as you can, and observe as you make half of them fall out of the air. The Daemonforge is a nice ability, but I have rarely found a situation where I really needed it so far – I am quite confident in its abilities as it is, but it is always something to remember. And for the sake of your opponent, don't declare it immediately after you have a bad roll – you should declare it at the start of the phase. If you don't, you'll get a similar reaction as if you had suddenly decided your Power of the Machine Spirit was being used to target a separate tank with your twin-linked assault cannon to the one you just blew up with a pintle-mounted multi-melta.
Be prepared to wipe out almost entire squads (leaving one or two survivors on average if you hit an entire 10-man squad) and thus make your points back almost immediately – and that is on each turn it is on the table. The threat of a Heldrake is also quite obvious for any opponent – they might have fast-moving assault units, but be forced to think very carefully as it will mean the Heldrake can come on, flame them, and then on the next turn move further up and burn another squad. This is why I must stress the obvious – do not ever take more than two, as they are still nearly 200 point vehicles and will probably be the focus of most of your opponents shooting. The laughable thing is, the Heldrakes can withstand absurd amounts of punishment and are thus unlikely to be destroyed – if your opponent does shoot at them and does little, you can then grin as the rest of your army gets to move up unhindered and your Heldrakes keep the corpses rolling. Just be aware that this will more than likely be taken out by other fliers such as Vendettas and Storm Ravens and think about how you use the Heldrake carefully. The unit causes unparalleled devastation against foot-slogging non-TEQ army lists (which are in abundance nowadays), and is also scarily durable. Use it well and it could very well turn around entire games for you. An excellent choice overall.
Summary! All of the options bar Warp Talons are great choices – Raptors, Bikers and Heldrakes are all fantastic options, whilst Spawn can be very useful too. What you use your Fast Attack for is dependent on what you need – if you want fast-moving anti-tank or anti-TEQ, take Raptors or Bikers. If you want fast moving anti-infantry firepower, take the Heldrake.
Next time – we wrap up the series with Heavy Support… Have at it folks. How are you running your CSM Fast Attack units and how do you equip them?