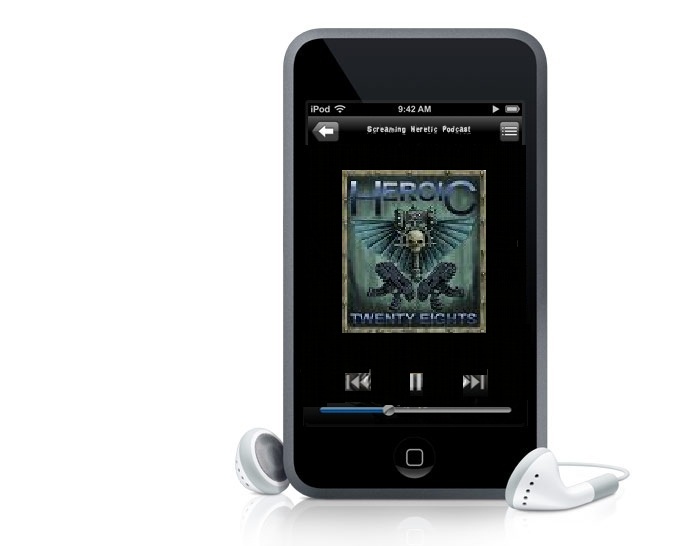 Welcome to another "This Week in 40K Podcasting,"
Here is this week's top 5!
Highlights:
This week the guys are joined by 'Sarge' as they continued on with their coverage of Codex Orks!
They opened up the show with their 40K New Year's resolutions, which included what they hope to accomplish this year in the hobby.
The boys then moved on to the second part of their review of Codex Orks, starting off with the Elite Section covering each unit there.
They then moved on to cover the Fast Attack units, and spent quite a bit of time covering the dreaded new flyers including the Dakkajet!
Next the boys moved on to talk about the Heavy support choices, starting with the awesome Battle Wagon and moving through all of the units found there.
They close out the show with an overall evaluation of the Codex, including a discussing on how well it made the transition into 6
th
and what Allies work best for them.
Opinion: This week's show was easily my favorite for the week. Even though I did not review last week's due to the holidays, I most certainly did not miss it, and this was the all-important conclusion to their Ork Review. I have really grown to love how the guys review Codices, with a very professional feel to as well as some fun. Check out this and last week's show, totally worth it!
Life After the Cover Save – Episode 60 ***Explicit***
Highlights: This week the boys are looking at the Magaforce releases from Games Workshop in an awesome Megaforce Breakdown! They open up with a debate on if it is a good idea to only have these out at Christmas or should they be available year round? Also, is it a good idea to always do one Space Marine one and one of another race, wouldn't it be better to have one for each race? They then begin to breakdown the Space Marine Megaforce, including the overall savings involved and the over and under point values one could pull off with one of this kit. They also discuss what one could add to this to flesh out a good army for the Marines and what they would replace in it to make it better. They then move on to the unique brand of humor that is Life After the Cover Save, listeners be warned. This included a lot of talk about the video games they have been playing lately.
Opinion: The boys checked back in with another Battleforce Breakdown, this time on the GW Megaforce Space Marines! This is easily my favorite segment that they have ever done, and each time they do it, I highly enjoy it. For the most part this week's show is what I would consider a must hear, save for the last twenty minutes or so which had very little to do with 40K. Funny, as always guys, and a great look at the Megaforce. Very good show guys!
Highlights:
This week the boys are covering Imperial Armour: Volume 1 Second Edition and the Crusade of Fire Campaign book.
They open up the show with the 'Work Bench' where they discussed what they have been up to lately in the hobby and gaming.
Next, the guys had their review of the Crusade of Fire campaign book, first starting off with what the book really is and if they believe it is worth buying at all.
They then discussed if the book should have been published at all, or just a series of White Dwarf articles.
They also added in their overall rating for the book itself and it's 'bang for your buck' value.
They then moved on to their review of Imperial Armour: Volume 1 Second Edition, first discussing the update from the old book to the new edition.
This included what all was updated and some information on the STC and the Armored Battle Group!
They once again close out with their 'bang for your buck' value of the $90 book.
Next, in the 'Warrior Lodge', Adon, Steve and Justin join the cast to discuss some the issue and question on their forums and in their local gaming group.
This included what actors they would cast in roles of a 40K movie, the new GW release process, 3D printers, and much more!
Opinion:
I have always loved it when the ICs do another review of an IA book, and this week did not disappoint.
The guys do a pretty good job running down what this book is all about.
They didn't really have a lot of story around this book to work with, so basically they reviewed what they could as far as the units involved.
They also looked at the Crusade of Fire book, and helped my make my decision on if I wanted this book or not.
And the 'Warrior Lodge' was also quite a bit of fun to listen to.
Great show guys!
Highlights:
This week, the 'Big Fight!' is back, and in this installment Brother Corbulo from the Blood Angels and Vargard Obyron from codex Necrons.
They rundown each of their wargear and stats and battle it out in a one-on-one battle.
They then discuss the loser of the fight in great detail, talking about the best tactics when using that model.
Next, Rob has an interview with Paul Quigley, the Irish ETC Captain, and they look at the Irish Tournament scene and meta.
This included some really nasty Necron lists, some upcoming events in Ireland, putting the word out about events, and much more.
Next, Dave is joined by several guests to do their 'Year in Review: 2012'.
The guys run down all that 2012 brought the UK, the UK GT, their ETC championship, the release of 6
th
Edition, the new CSM codex and much more!
They closed out the segment with their predications for 2013 and what they think will happen in the next year of 40K!
Opinion:
This week's show was much more manageable, clocking in at only three hours.
Thank you guys!
The Big Fight is awesome, I have missed it and I am very happy it is back!
This show also had a boatload of great information which I enjoyed, from the Irish tournament scene to the UK year in review, this one was a good show to paint to.
Nice work guys!
Highlights:
This week, Steve and Liam discussed the idea of 'Hobby Motivation'.
They opened up with what it takes to motivate the average gaming into getting their hobby goals accomplished, including their own hobby challenge.
They then moved on to talk about some of the project that they have coming up for 2013, including Liam's the Anphelion Project work and Steve D99 ideas.
They covered what they hope to accomplish what they want to have done the first six months of 2013, including painting armies, small army ideas, and campaigns.
They closed out the show with Dagmire reviewing not one, but three Black Library books, 'Sanctus' by Darius Hinks, 'Endeavour of Will' by Ben Counter, and 'Fateweaver' by John French all within the 'Architect of Fate' collection.
Opinion:
This was a great, show taste of Overlords goodness over the holidays, like a Christmas cookie!
Steve and Liam hit on a great topic, I just wish they had gone more into how to motive oneself into hobby progress as opposed to what they what to do, but this was still entertaining.
And for course, it is always great to hear from the legend that is Dagmire!
Honorable Mentions– All great podcasts that just missed this cut this week, but you should still check them out, in no particular order:
So, that is it for This Week in 40K podcasting, thanks for reading. Got a podcast all about 40K, or mostly 40K that I am not listening to? Let me know about it, [email protected] and let me know about it.

Also you can find me on

My YouTube Channel

for Battle Reports, Tactics, Reviews and more! Disagree with my review? Post comments for that too!