ODDBALL: Score One for Battletech!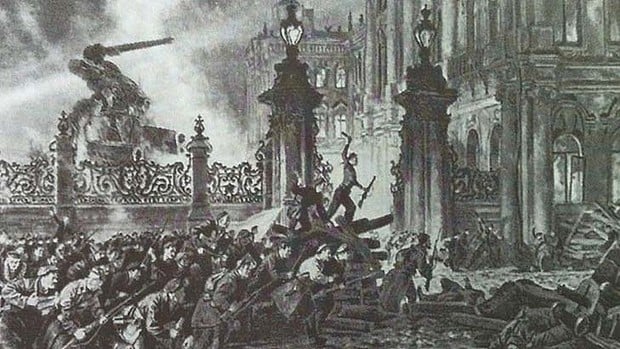 It turns out the Russian revolution had some unexpected help… Tzar Nicholas II never saw it coming…
You know how they used to get all up in arms about using Wikipedia for reference instead of good old fashioned encyclopedias?
Well the other thing you shouldn't do is grab images willy-nilly from the internet for use in formal exams…
Because this happens…
"One hundred and thirty confused VCE history students had their scores adjusted after an artwork featuring a mysterious robot who appeared to be assisting socialist revolutionaries in 1917 was accidentally used in last year's exam.

The VCE exam body apologised after the doctored version of Storming of the Winter Palace by Nikolai Kochergin formed part of a question about the Russian Revolution in the History: Revolutions exam.

The altered image had been sourced from the internet."
~Hmm, maybe that's why Rasputin was killed – so he couldn't use his magic to stop those twin PPCs!