WARGAMING: Juggling Chaos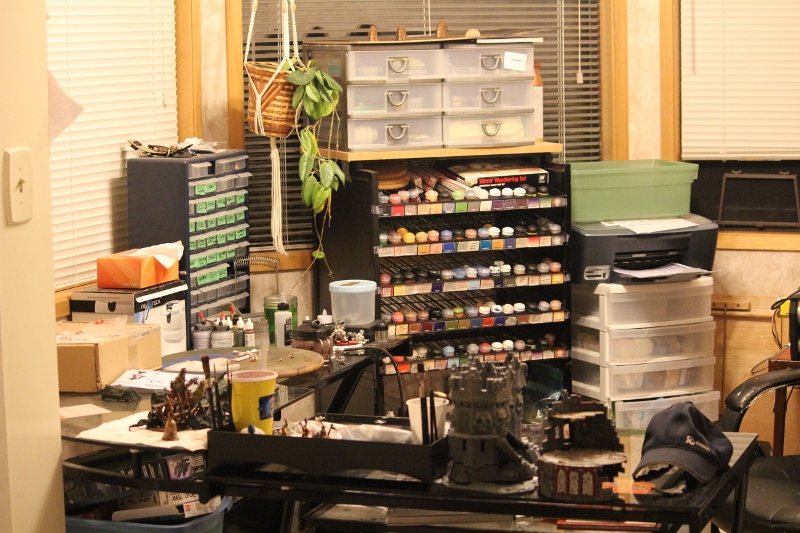 Chaos is more than an army type it is a fact of life. When you work, have a family, have hobbies, and life swirls around you it is easy to become overwhelmed by the hobby that is Warhammer, but don't despair because you can find a way to juggle the chaos.
I have more Warhammer models than shoes. In fact, when we moved last year I was stunned by the volume of Warhammer hobby stuff that we have accumulated. When separated out we had at least 15 tall Tupperware totes, Battle Foam army cases and various boxes containing Warhammer. I only had 6 boxes of kitchen stuff. Seeing it like that I was floored, but once we got moved and unpacked, that's when things really got overwhelming.
In our new home our display cabinets full of models–Warriors of Chaos, Bretonians–and terrain–Skillvane Mase, Witchfate Tor–are in a prominent place, where you see them all the time, our painting nook is visible from the kitchen, our bookshelves of novels and army books are in our living room. We are well and truly overrun by Warhammer. I am a mom of three small kids, my husband works out of town part of the year and up until a year ago I worked full time as well. Juggling life and the Warhammer is not easy.
The key to continuing to be involved with Warhammer and life is finding a balance. In most cases your partners and family don't understand your interest in playing toy soldiers. What they see is something that is taking you away from spending time with them, you sectioning off a portion of the house where you amass "stuff", you going out for an evening or a weekend to play games. You are juggling work, trying to keep your family happy and trying to get your army painted for that upcoming tournament (Kippers' Melee for example), your household to do list is a mile long and your painting list even longer. Are we sure there's a way to balance?
Most assuredly yes. Here's what I suggest.
Schedule your Game Times
: In most major centres there's one night a week set aside for Warhammer. Talk to your partner, figure out which night will be your night to go play and which night will be their night to go out. If an unscheduled Warhammer night occurs make sure you discuss it with your spouse/partner before you commit.
Work on your To Do List:
. I am fairly certain most people have to do lists. Make sure that you set aside time for working on those projects–for every unit of Warhammer models you paint do something off your list. If you set aside time Saturday mornings that gets pushed out of the way when a tournament happens make sure that you shuffle the rest of the schedule too. There are plenty of guys in our Warhammer groups that do not go to the middle of the week gaming nights the week before a tournament because they are doing a project for the home or family that would otherwise be left undone.
Date Nights/Family Nights
: Make sure that you set aside a time to spend with each child and your partner where Warhammer isn't part of it. Play a board game, build a Lego contraption, plant a garden, go to a movie.

Make time for Hobby Time:
Listen to Warhammer podcasts while commuting or while painting/modeling. I unwind from the day by listening to podcasts, most often Chumphammer, and paint.
Be there for your Family:
One of the biggest causes of resentment, I've found, is that you get wrapped up in Warhammer and forget anyone outside Warhammer exists, or you will them too. If you're painting and your kid or partner says "Let's go for a walk" put your paint brush down and go. Don't ignore them, put them off or tell them "later I'm busy now".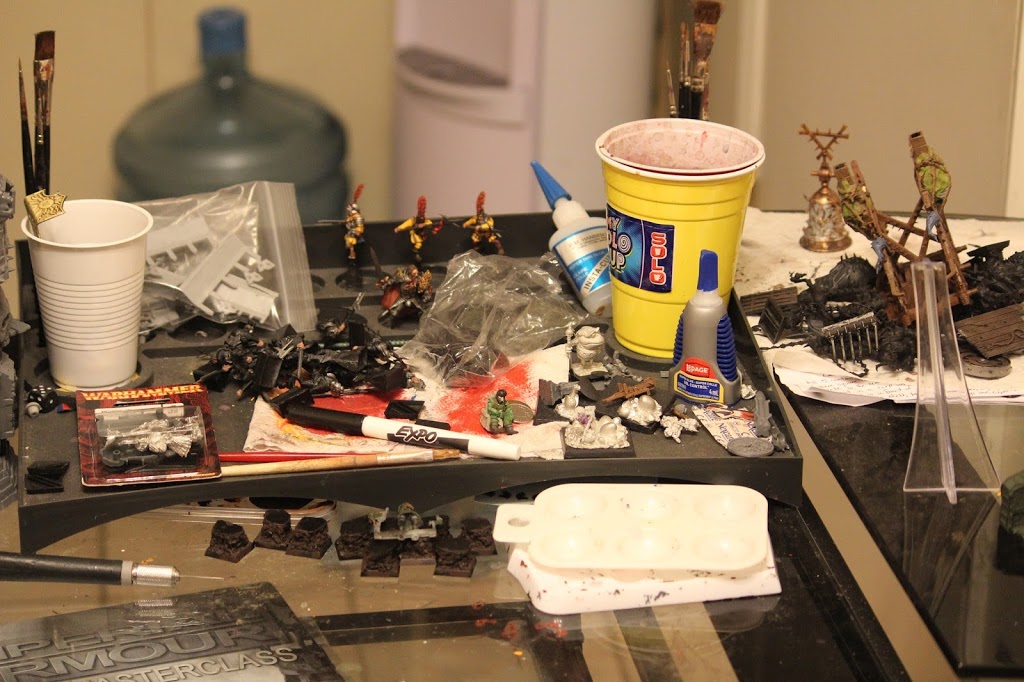 Keep a clean workspace.
My workspace is often a jumble. That's a hazard when working on too many models at once and in my case sharing the space. Keep your models put away until you're ready to work on them and put your tools and paints away once you are finished with them, even if that means you might have to take it back out in ten minutes. Nothing makes the desire to finish a project disappear like not being able to find a clear spot on your desk or on your palette. Make sure everything has a place and that you put it there when you're not using it. This also includes boxing up those unopened and unfinished projects so that you're not constantly surrounded by your unfinished work and overwhelmed by the number of in progress projects.
I'm off to tidy my desk so I can get back to work on my next models. If you look closely at the pictures you can see them or watch my hobby blog for when I announce them as I've been keeping work on them a secret, but I would like to hear how you balance your daily life so you can still enjoy Warhammer.
Subscribe to our newsletter!
Get Tabletop, RPG & Pop Culture news delivered directly to your inbox.