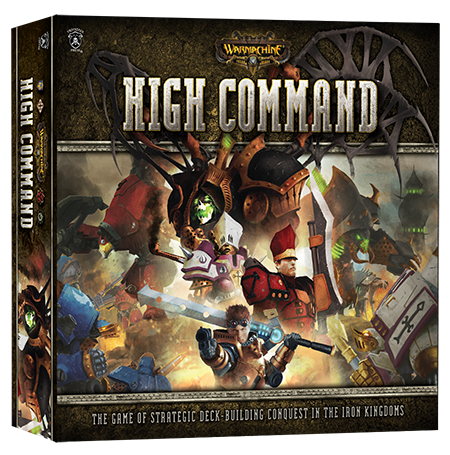 I've had my hands on Privateer Press's new deck building game based on the Iron Kingdoms property for a few weeks now and have squeezed out a handful of games. Is it worth your time?
Warmachine: High Command is a faction-based deck building game where each player fights for control over various locations in Western Immoren.
Core Concepts
Unlike games like Dominion where players have a shared market that they can purchase their cards from, each player gets their own market to purchase from that is determined not only by what faction they're playing but what warcasters they choose to use in their game. After players have chosen their faction, they pick three Warcaster cards that they'll be able to use during the game that also dictate the available detachments that will make up their market or "Reinforcement Deck". Warcasters have two of six colors on their card, indicating which detachments they get to play with. Players pick one detachment of 12 cards for every warcaster and shuffle the lot together to become their Reinforcement Deck. The first four cards from the Reinforcement Deck are flipped over and are the cards that are available to be purchased or rushed, called Reserves. When one of these Reserves cards is purchased or rushed, it is replaced with the next card at the top of the Reinforcement Deck.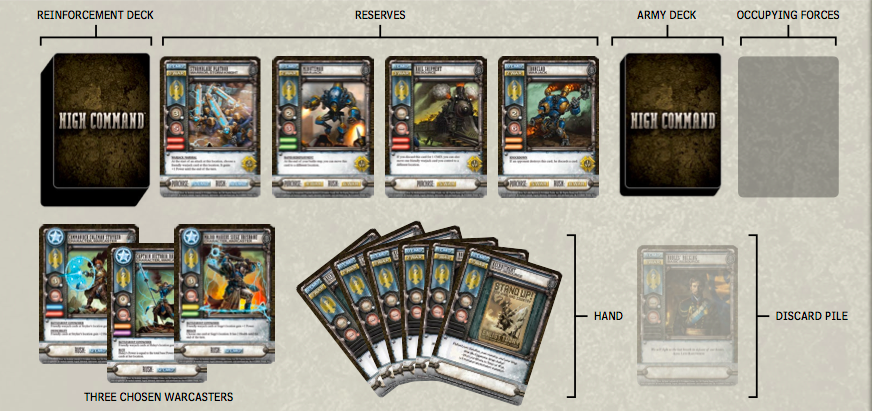 An individual play area
This is much akin to the market "Center Row" from Ascension, save that Privateer has added in the Refresh mechanic, which allows a player to discard a card from their hand to place a card from their Reserves at the bottom of the Reinforcement Deck, replacing it with next card. I have to say that I really like this a lot as it helps to alleviate the ever-present problem of poor card draw while also giving players an option if they have a few extra cards that they can't use for anything else.
A player's starting deck that they draw from is called the Army Deck and is made up of twelve basic resource cards. Players begin with a hand of six of these cards and will, every turn, draw six cards from this deck. When cards are used to purchase, rush, or discarded to trigger effects or meet requirements, they are placed in the Discard Pile. If a player needs to draw cards from their Army Deck and it is empty, they shuffle their Discard Pile and this becomes their new Army Deck. This mechanic is central to the deck building game genre, so anyone familiar with games like Dominion or Smash Up should find this concept familiar.
Playing the Game
With the exception of Warcaster Cards, all cards have a Resource Icon indicating its ability to purchase using the either CMD or WAR stats. CMD is typically used to purchase or rush infantry-type cards while WAR is typically used for warjacks. To purchase a card from your Reserves, you merely need to discard enough cards so that their Resource totals equal or exceed the value of the card. Once purchased, the card goes to your Discard Pile where it will eventually be reshuffled into your Army Deck to be drawn into your hand.
This takes us to deploying and rushing. In High Command, there are a number of locations being battled over equal to the number of players participating. To capture a location, you must, at the beginning of your turn, have at least two more army cards present at that location than your opponents. A captured card goes to your discard pile, often has an immediate triggering effect, will typically have strong resource stats, and will be worth Victory Points which are used in determining the victor. This Location Card is then replaced with another card from the Location Deck, and the cycle continues. All Army Cards that were at the location are sent to the Occupying Forces pile where they can no longer be drawn. Getting army cards to a location can be done in one of two ways, deploying it from your hand by paying its Purchase cost, or rushing it directly from Reserves buy paying its Rush cost, which is typically much higher.
After the Orders step, which is comprised of purchasing, deploying, and rushing cards, you move on to the Battle step where you fight over specific locations.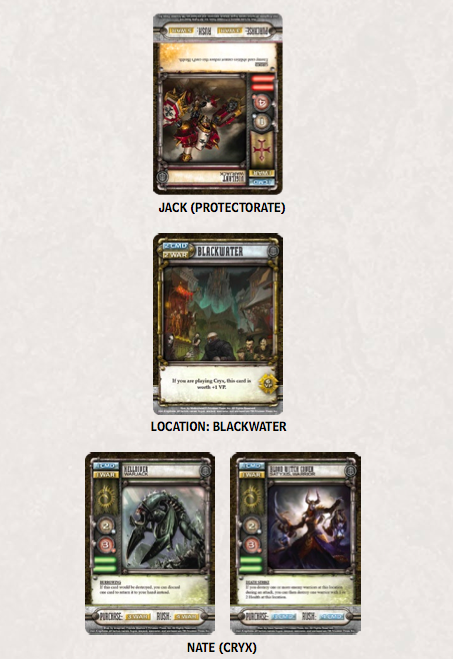 Players with army cards at the same location fight each other for control. You simply add up your total Power value and target enemy Army cards in order of your preference. In the above example, Nate's Helldiver and Blood Witch Coven have a combined Power value of 4, which equals the Health value of Jack's Vigilant. This will destroy the Vigilant and send it back to Jack's discard pile. Jack's Vigilant does get to hit back, but with a Power value of 1, it doesn't do enough to destroy either of Nate's army cards since they are both at 3 health.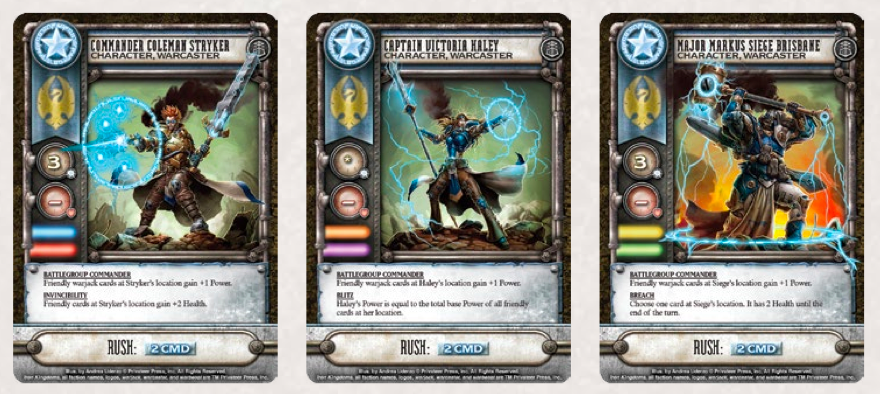 This leaves us with Warcasters, which are effectively single-use cards that can be used to have a huge impact on a battle. These are cards that can only be rushed that give a +1 Power bonus to all warjacks at the location in addition to another effect. They also have Power stats of their own, which are often quite solid. After a warcaster is used, it is sent to the Occupying Forces pile where it can no longer be used.
Finally, every round has a passive effect to applies to all players, call Winds of War. At the beginning of a round, a card is flipped over which may give all players an additional draw from the Army Deck, a discount on Warjack purchases or deployments, or some type of penalty. These cards are arranged in three stages: Early War, Mid War, and Late War.
Ending the Game
The game ends when one of two things happens: the Day of Reckoning card is flipped from the Winds of War deck or when there are no locations remaining in the Location Deck. Players total up the total Victory Points they have accumulated both in their Army Deck and Occupying Forces pile and the the one with the highest total wins. Ties are broken first by whoever has captured the most location and second by the person earliest in the turn order, as going last does have a bit of an advantage in the late game.
The Verdict?
Game mechanic explanation out of the way, I'm actually really liking the game quite a bit. I was shocked at how quickly I learned to play the game. The rulebook is explicit yet concise, and I found myself surprised when I read its entirety in about ten minutes. I've found one or two potent warcaster/detachment combinations for every faction, save Protectorate, which I'm still having some trouble wrapping my head around.
In non-duel formats of three or more players, it still manages to play pretty quickly provided everyone has played the game at least once, so I haven't really found myself waiting around for ages for my turn to come around. I've seen a lot of comparisons to games like Ascension or Smash Up, and I think that there are a lot of similarities without High Command feeling like a derivative version of the two with a Warmachine paint job. If anything, the mechanics that High Command borrows from either system feel like they've been improved upon a great deal, like the dual resource mechanic of CMD/WAR, the rules for rushing cards, and the ability to refresh your Reserves.
I'm also pretty excited with their plans for expansion, which include new warcasters as well as alternate detachments that give existing warcasters different options for Reinforcement Deck composition.
More on High Command soon.