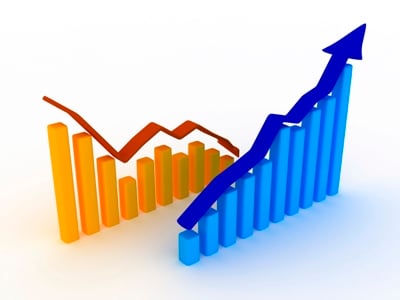 The last major tournament of 2013 has come and gone. Lets take a moment to see where Warhammer 40k 6th Edition stands at we approach 2014.
Totaling all of this year's Warhammer 40,000 Feast of Blades attendees, here is the army breakdown we saw as of October 2013: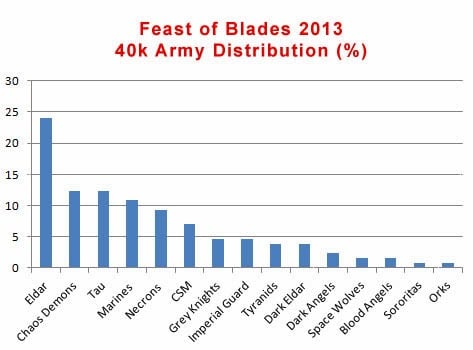 The first thing you will notice is the gaping disparity between the most popular armies and least popular ones. We haven't seen this level of army disparity across the meta in years.
Now lets take a step back in time to what it looked like early in the year right after GW started to crank out codices.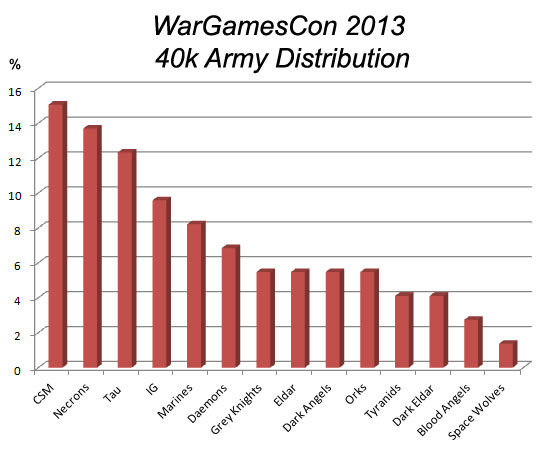 Now lets take another step back in time to what it looked like at the very tail end of 5th edition 18 months ago (it seems like ages doesn't it).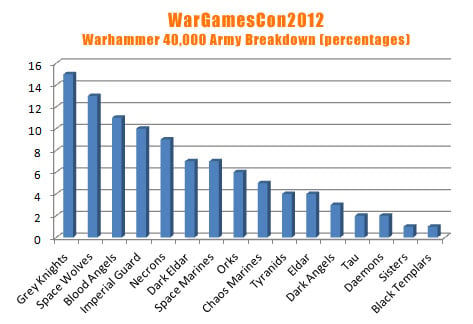 You will notice a massive reshuffle in only 6 months. Eldar and Tau are the rising stars. Eldar especially are just booming. At Feast of Blades, there were as many Eldar players as the 8 lowest armies combined! The 6th edition book with staying power however is Chaos Daemons. For a codex that isn't the "new hotness", it has carved out quite a niche for itself and is holdings own versus the newer Tau and Eldar in player popularity. Space Marines are slowly rising and at long last we are seeing a slow steady decline of the old CSM and Necrons standbys.
Oh how the mighty have fallen. Just look at the meteoric collapse of Grey Knights and IG. Old 5th edition monsters Space Wolves and Blood Angels are barely out there at all, but I do have to give props to that lone Sisters player who is keeping the torch aflame! You'r time in the limelight is now ladies! And a part of me weeps for the lamentable fate of the proud Orks – but I have a feeling the greenskins will rise again soon in 2014.
As the final cherry on top I would like to present the top 10 placing armies at the event. Notice any trends? You can see more about Darkwynn's #1 army here.
1st: Eldar
2nd: Chaos Daemons
3rd: Eldar
4th: Tau
5th: Necrons
6th: Eldar
7th: Eldar
8th: Eldar
9th: Eldar
10th: Eldar
This is where we sit ladies and gentlemen. Ahead of us is the unknown of what new codices and new sub-army books such as Tyranids and Sentinels of Terra lie ahead 6th Edition. It will be interesting to see where the community will be six months from now.
Have at it folks.