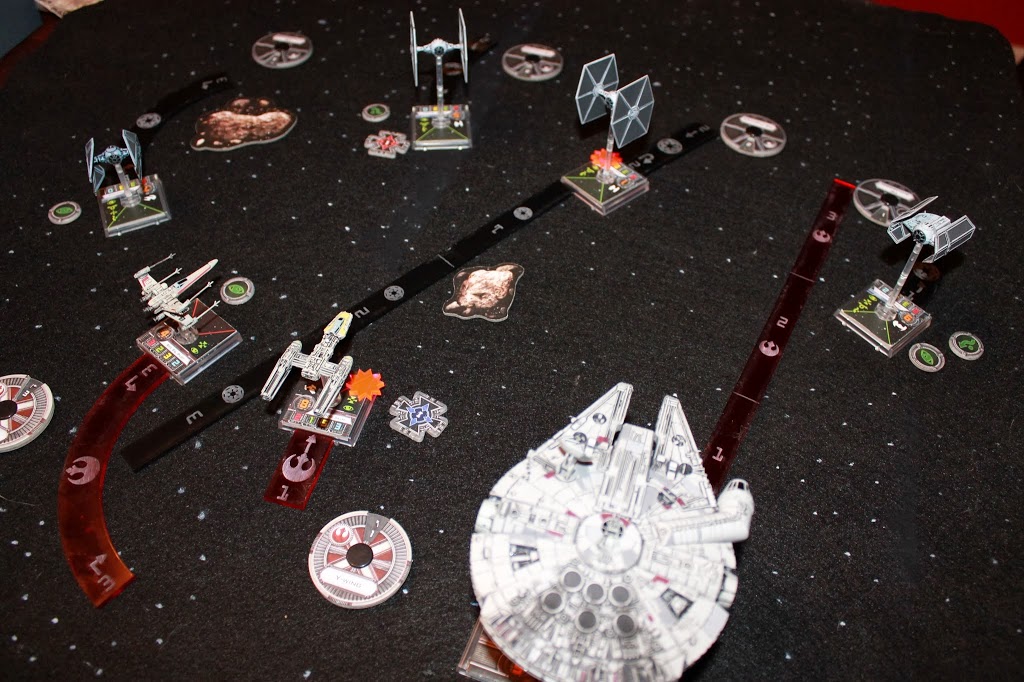 The rules regarding Actions in X-Wing Miniatures are some of the most commonly misunderstood rules in the game. Are you playing it right? Read on and find out!

Awhile back I talked about The Three Main Actions in X-Wing- the Focus, Target Lock, and Evade Actions. Even if you're a new player, you probably have those three down cold, no problem. If you've played around with some of the named pilots like Garven Dreis or Night Beast, you might have run into a little conundrum though. Check out the rulebook, bottom of Page 9-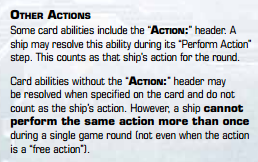 Well, that seems very severe, doesn't it?
So the question becomes what happens if, oh I don't Luke Skywalker let's say, chooses Focus for his Action during his Perform Action step, then later in the Combat Phase Garven Dreis burns his Focus token. Can he pass it along to Luke? Can Luke use it? Does it matter if Luke's already spent his Focus token when all this goes down?
First, let's look at what that rules excerpt is saying- a ship cannot perform the same action more than once. Ok, fantastic, right? One of the things I love about X-Wing Miniatures can also be one of the more confusing things about X-Wing- the use of really common language. It's sort of the opposite of Android: Netrunner in that regard (which I love A:NR, so don't take it the wrong way, but I still have trouble remembering to call my hand my HQ), and sometimes it gets weird.
When you read that, if you're like a lot of folks, your brain probably went, "Ok, that's pretty simple- I can't do the same Action more than once." That said, if you go back to my example with Luke and Garven, you're probably thinking that Luke could not be the recipient of Garven's Focus token.
You'd be wrong, of course.
Wait, what?
I know, I know. It tripped me up too at first. It gets a lot of new players The key to understanding this is really looking closely at what's going on here in the Perform Action step of the Activation Phase. Lucky for us, this is explained at the top of Page 8. I've also included Evade as a sample Action we'll talk about in just a sec.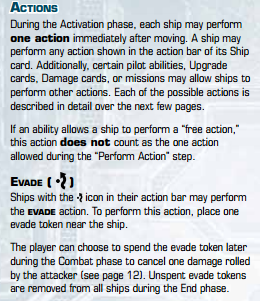 Right on. During Activation, if you've not run into anything and aren't Stressed, you can Perform an Action immediately after you perform your chosen maneuver. Now, forget for a moment the Evade part and just focus (note that's a little "f" focus, not the action) on the first paragraph. When you declare your Action, that's all you're doing- saying that you're going to Focus or Evade or use Marksmanship or whatever, right?
This is important because this is what you cannot do twice in the same round per Page 9. If you somehow have two Actions available to you (via some generous soul with Squad Leader or from Lando Calrissian or whatever), you cannot choose the same Action twice.
Still with me? Stay on target. : )
So let's say we choose Evade as our Action. Once we declare Evade, we see that we place one Evade token near our ship. That's it. The end.
Now, if you are one of those people like me who tends to think ahead and has the really annoying habit of finishing other people's sentences, you might read all of that and go, "Ok- so it's Declare Action—> Place Token." If so, this is probably why you got the Luke and Garven question wrong.
What's actually happening here is Perform Action Step—>Declare Action—> Place Token. Thing is though, the token in and of itself, is not the Action. It's the result of the Action you declared, yes, but it isn't the actual Action.
In the above example, I asked if Luke, who had declared Focus as his Action could be the recipient of a Focus Token from Garven Dreis (via Dreis' card text ability). He absolutely can be the recipient because he's only receiving the Focus Token from Dreis, not the Focus Action. See what I'm saying?
This is why you have to be careful with cards like Squad Leader.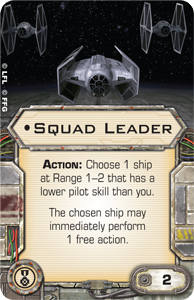 Squad Leader allows the bearer to effectively pass along an Action to somebody within Range 1-2 of him. As this is actually passing an Action rather than just a token, the guy receiving it cannot choose the same Action twice in the same turn.
To kind of modify the previous example, let's say Luke uses Squad Leader as his Action and passes the resulting free Action along to Dreis who has already declared Focus during his Perform Action step (note this happens in this order because Dreis has the lower Pilot Skill and the Activation Phase goes from lowest PS to highest PS). When choosing his Free Action from Squad Leader, he'd be unable to choose Focus.
(Don't let the "Free Action" thing trip you up here- a Free Action is defined as an Action that doesn't count against the one Action limit per turn, that's all).
I used to kind of screw myself with this because I thought using the token was the Action, which it isn't. As X-Wing is such a new game (it's what, a year and a couple months old?) sometimes nuances like this will even get by tournament organizers and stuff. I wrote an article about this for my own site back in February and it's one of the pages I get the most email about- a lot of folks play this too restrictively just like I did.
So long story short, or TL;DR if you will, using an Action token is not Performing an Action. Actions are usually how you end up with a token, but not always so don't cheat yourself out of tactical options by not making the most of cards that pass along tokens and Actions!
If you want to get into X-Wing Miniatures but don't know your Evades from your Target Locks, by all means, stop on by the hippest pilot bar in the galaxy- TheMetalBikini.com. We serve all kinds (yeah, even droids- they're the best tippers), and have a whole bunch of articles from breakdown summaries of every single card released so far, to tactics articles, to our Bikini Battle Basics new player guides- all served up with a heapin' helpin' of my own personal brand of slang and humor. Can you dig it?