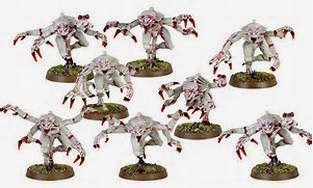 Today I come to the defense of a unit that doesn't see the tabletop as much as it should.

Edwin here. Genestealers have a bad rap. They don't really see much play and a lot of people don't really give these iconic Tyranid unit a second glance most of the time. These units have an important place in any Tyranid all comers force. I will never leave home without at least one squad if I can help it. They are unique in what they do when compared to the rest of the Tyranid troop section. Before we get into the Pros and Cons of the Genestealer, lets look at why they are unique when compared against the other troop sections.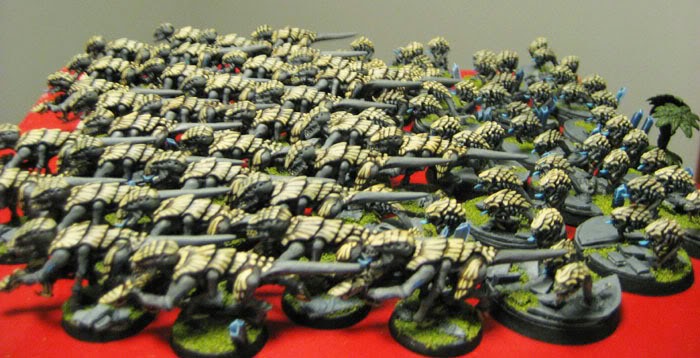 The Little Gribblies
The Other Troops
A big chunk of the troop section is occupied by the Gaunt and Hormagaunt. Both need some help being useful. Toughness 3 and a 6+ save makes them die easily to a stiff breeze. They need to be baby sat by a synapse creature or they will run or eat each other. They occupy space unless you start buying them upgrades, but then their durability really starts to make those points hurt. 30 Hormagaunts can easily become 20 Homragaunts or less when you start buying even a single upgrade. The Gaunts suffer from needing to be within 18 inches for their guns to really work and even then, most of the options for their guns are strength 3. They need a devourer to really shoot people to death and without a delivery system to drop them in or help them cross the board, they will get shot down. That devourer also doubles their points cost per mode. Homogaunts suffer the same problem. To really scare people, they need toxin sacs or adrenal glands. This raises their cost a lot across a large unit. They also have fleet and run d6+3, so getting across the field isn't as difficult, but their range is a lot shorter then the gaunts and they pretty much have to run into melee. Short range and Durability issues hurt them. They are best used as space fillers. They won't kill people, but they will gunk up space and control objectives.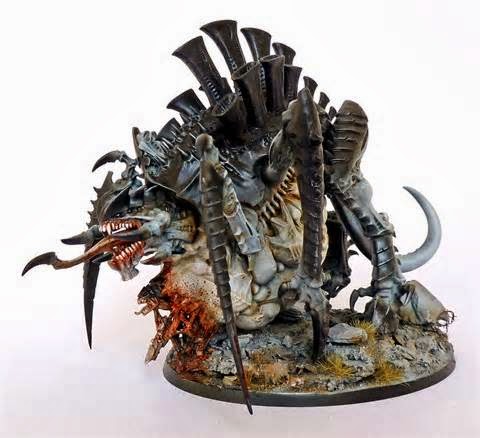 The Big Gribblies
The bigger based troop units are more expensive and are your troop based synapse creatures. We will start with the Warrior. I prefer to buy a minimum unit and hide them in the back to provide synapes for my back line artillery style bugs. They can take Biocannons and some shooting weapons that are pretty good, but Death Spitter range is short and the Biocannons lower strength really leaves these guys on baby sitting duty. You can give them melee weapons and rush them across the field, but they have to walk and they don't tend to kill people very well unless you give them Bone Swords and then their price really makes that walk across the field even more painful. They have a target on their head already as a synapse creature, making them a dedicated melee unit only makes them more of a target. Also, strength 8 or better will ruin their happiness. The Tervigon suffers from having to walk as well as being expensive. He spawns Gaunts most of the time. He is good at scoring and can even take some units in assault, but you have to get him to assault first. They can run across the board, but short ranged weapons and being used to score or provide synapse for scoring units, it has to get as close as possible to be effective and often will die first if an opponent can help it. They aren't spectacular at killing people, but their toughness lets you grind people down and the ability to spawn lets you gunk up the field around him.
All these troops share some common weaknesses. They are slow and have to walk across the field. They are mostly short ranged if they even have ranged weapons. They are Synapse or need Synapse and thus should always be fearless. This makes them good at scoring, but generally, they suffer at killing a lot of people. You need to really rely on your other FoC sections to kill someone if these are the only troops you are taking and kill point missions really hurt these options. This is where Genestealers come in. Lets look at this in a Pros vs Cons
I love you Google Images
Genestealer PROS
They can Infiltrate or Outflank. This means that they can set up in advantageous positions rather then simply having to run across a potentially hospitably table. They can deploy where you need them at the start of the game or try to come in on a side. They can quickly grab the Relic if they need with infiltrate.
Move through cover and Fleet means nothing is slowing these guys down. They can move and preposition themselves decently well if they need to.
They are pretty scary in combat. They come with 2 rending strength 4 WS/I 6 Attacks each and they can buy more melee weapons for extra attacks and can have toxin sacs for rerolling melee attacks to get more wounds and rending attacks.
They can purchase a Brood Lord. I like the him because of his Horror Psyker power which forces a pen check on minus 2 leadership. He can easily keep a key unit from acting with this power. He is a beefy version of the Genestealer with strength 5 and toughness 5, double the attacks of a regular Stealer and an extra point in WS/I. He can lay the beat down on quite a few targets and adds more adaptability to the squad.
Hide them in terrain on objectives and force your opponent to come deal with you. They can jump out of terrain and kill people coming for that objective. The more of them that die, the easier the squad will be to LoS hide if they can get back to the Objective.
They can be taken in groups as small as five. This allows the unit to stay cheap and be easier to hide in terrain and possibly out of LoS. You can spam them decently well for cheap if you need to fill some troops. This fills your FoC slots well and works well with the new formations.
The lack Instinctive Behavior. This means that they don't need synapse. They can function without having to be fearless and can go to ground when they need that +1 to cover saves. Their Leadership of 10 means they will probably not run away in a fight if they have to get stuck in. You can still give them fearless though Synapse if you want.
They are decently tough with Toughness 4. Infiltrate them in cover for a cover save or outflank them and try to overload people with threats and they can easily make it into combat Only a few need to make it for them to really put the hurt on people and a couple of them can easily destroy most vehicles.
They present a difficult question. If your opponent shoots at them to try to clear them off objectives early, they can find themselves flooded by the threat overload that Tyranids can do really well. The Genestealers can become a threat themselves if left alone though.
Of all the troops in the Tyranid book, they are the most adaptable and capable of dealing with the most targets while being a massive immediate threat or they can be a subtle threat. They offer more potential through play then any other unit in the book. While every other troop is pretty much stuck in whatever role they fill, Genestealers can fill the widest range of roles based on how you want to play them.
This Iconic unit is really fun to use. You can really test your skill as a player with units like these. It is extremely satisfying to use them well. You define how they play. You can play them passively if you want or as aggressive as you want. It is your choice.
Genestealer CONS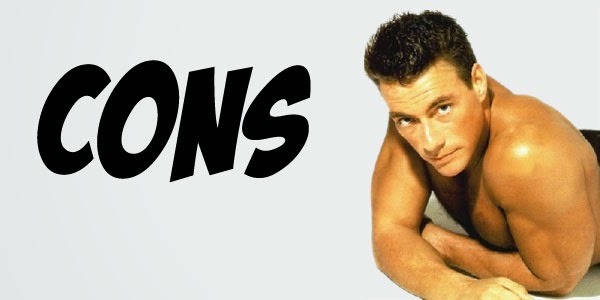 I hate you Google Images
They are often expensive pointswise when they just get to sit on objectives or start to die. Respectively, you get at least 4 Gaunts for each Stealer and nearly 3 Hormagaunts for each Stealer. Throw in a Brood Lord and that number gets even higher.
When unsupported, they die horribly. They can try to prey upon isolated units, but a smart opponent won't let you do that.
Their adaptability is nice, but sometimes it is hard to find what exactly you want them to do. Sometimes, there is no clear, obvious answer on what to use them for each game like the other troop choices are.
They don't have grenades. Short and simple. Enemies in terrain are tough to shift. At least Fleet means you can reroll any dice charging into terrain.
Like all Tyranids, when you start buying upgrades, they get expensive fast. A Brood Lord is 60 points to start and the squad can buy an extra attack for 4 points, toxin sacs for 3 points, and adrenal glands for 2.
5+ armor save. It is better then a T-shirt save, but not by enough. Bolters ignore your armor. Learn to love cover. Also, flamers ruin their day.
They aren't Fearless most of the time. Because they work well outside of the function of Synapse, they can struggle against effects from leadership.
As fun as they are, they can be extremely frustrating when they under perform. They can be a very "All or Nothing" unit
There is a long list of reasons I feel Genestealers are good and a good list of why they are not so good. I never leave home without my squad of 10 with a Brood Lord. They offer a good tactical advantage for Tyranids players and more importantly, are just a good, fun unit. What do you think? They are really fun for me.
I really would like to hear your opinion and I hope you give Genestealers a try. Who knows, they might just surprise you.