The DIRT – Infinity 3rd Edition – Facts/Analysis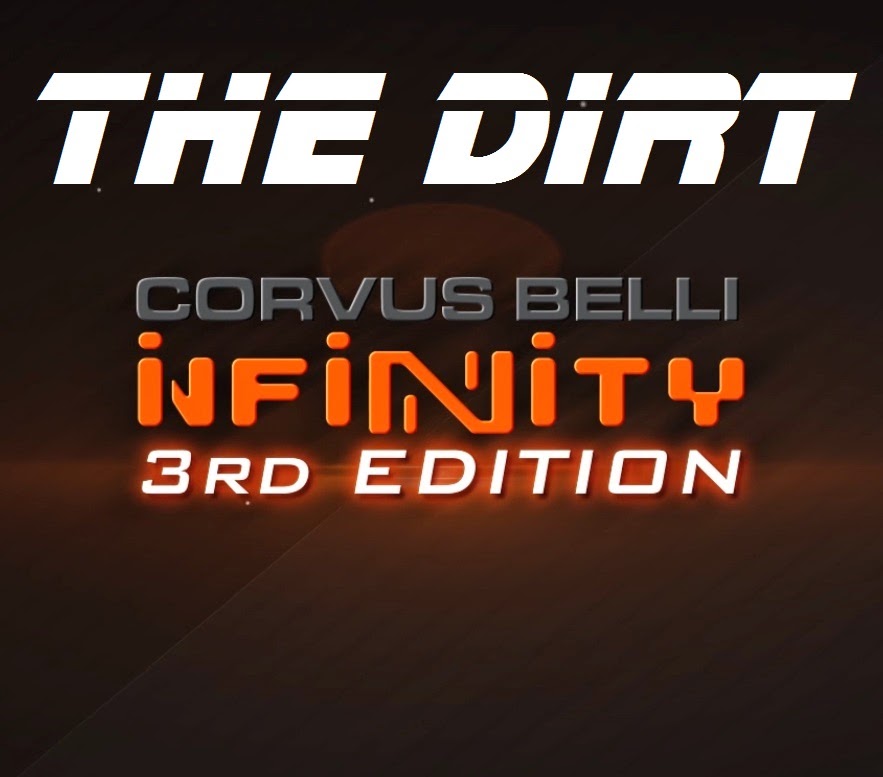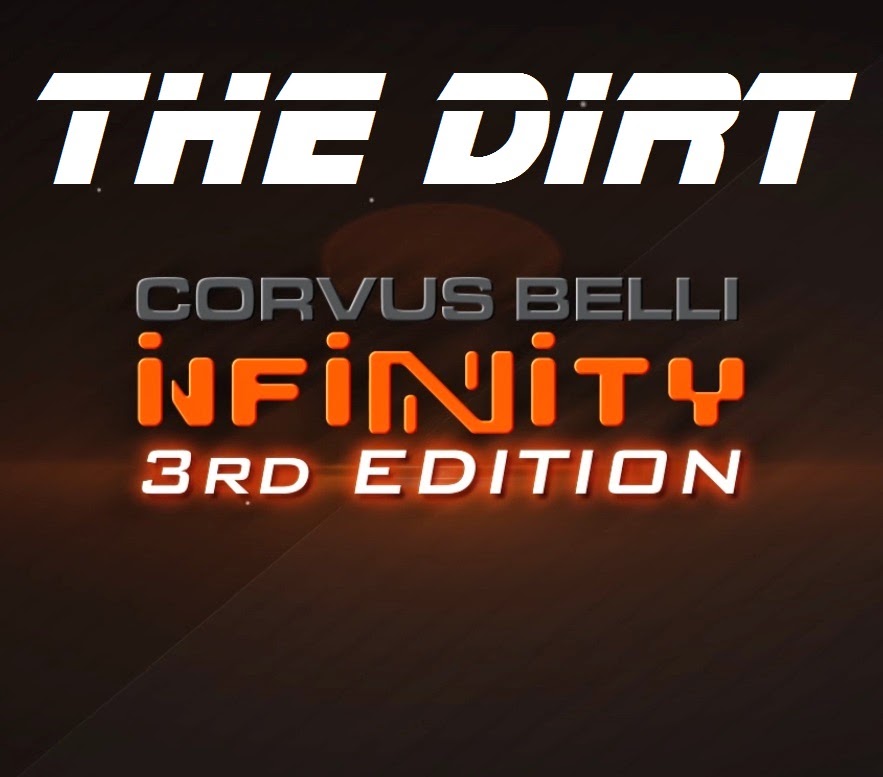 Details from both the English and Spanish FicZone Infinity Seminar about Infinity's forthcoming 3rd edition.
All of the things presented in this article of The DIRT are gleaned from the Infinity Seminar in Grenada or analysis done on that news.
First Things First – What is 3rd Edition?
Infinity currently has 3 books that cover all of it's rules/fluff/models. They are, the Core Rule book (which is currently in its second edition), "Human Sphere", and "Campaign:Paradiso" (covers of these books can be seen below). With 3rd edition, Corvus Belli is replacing only the Core Rule book. Players who have purchased Human Sphere and Camapaign:Paradiso will be able to continue to use those books with the updated 3rd edition rule set. The big change that's coming to 3rd edition is a cleaner English translation, better layout of rules, and a cleaner rule system that will be easier for new players to understand right away.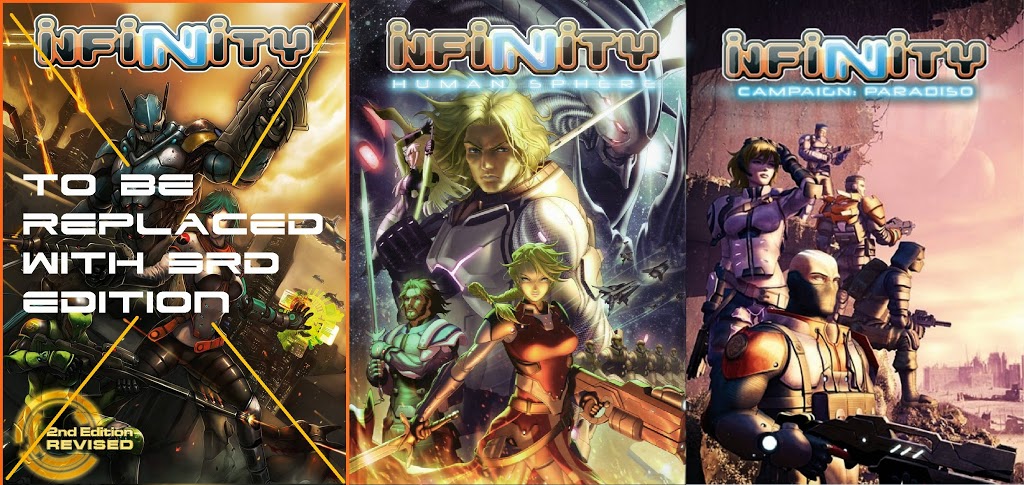 Would you like to know more?
This means that if you knew people who thought the game concepts were good, but had a difficult time navigating the rule system, 3rd edition should speak to them. For veteran players with concerns that widening the appeal of the game to more players may mean negatively changing the game that they love, their fears should be mitigated by the fact that the two follow on books do not have to be replaced. For brand new players, welcome to Infinity.
While Story Line is not Advancing
Aleph/Tohaa are Getting Online Updates
The Aleph (artificially intelligent faction) were first introduced in Human Sphere and the Tohaa (an alien race collective who's manipulation of the human factions is epic) were first introduced in Campaign:Paradiso. The update to Infinity's 3rd edition (in print form) will not include new units for Aleph and Tohaa, because they have not been introduced yet. Keeping their player base in mind as Corvus Belli begins work on Acheron Falls (the 3rd expansion book in the Infinity universe), players who field Aleph and Tohaa will get new units that will have an online troop profile and be added to the free Infinity Army builder.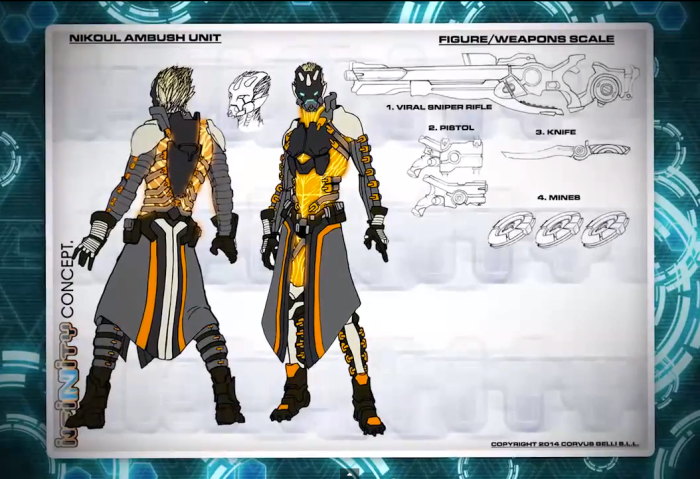 What this means for players?
While 3rd edition is not advancing the Infinity plot, it does appear that 3rd edition will include some troops that will eventually be used in Sectorial armies that will first make an appearance in Acheron Falls. To keep the playing field level, Corvus Belli is providing new toys for all of the armies. For those of you who have not "liked" the Infinity Facebook page and do not regularly go out to InfinityTheGame.com website, I could easily write an article EVERY week detailing just the new models that will come out for Infinity. Every month, a new batch of Infinity miniatures make their way out into the world. 3rd Edition, even with a limited introduction of new units will keep this trend going for quite some time. Especially once you consider the fact that with 3rd edition news, Corvus Belli is introducing…..
New Sculpts!!!
Carlos Bostria showed off a few new sculpts that are coming for some of the existing model range. While the existing Infinity models on the whole are amazing, the new 55mm base sizes are definitely allowing the Corvus Belli 3d modelers to take advantage of more dynamic poses. We've already seen the resculpt of the Kum bikers, but what about the assault pack redesign. Check out the image below: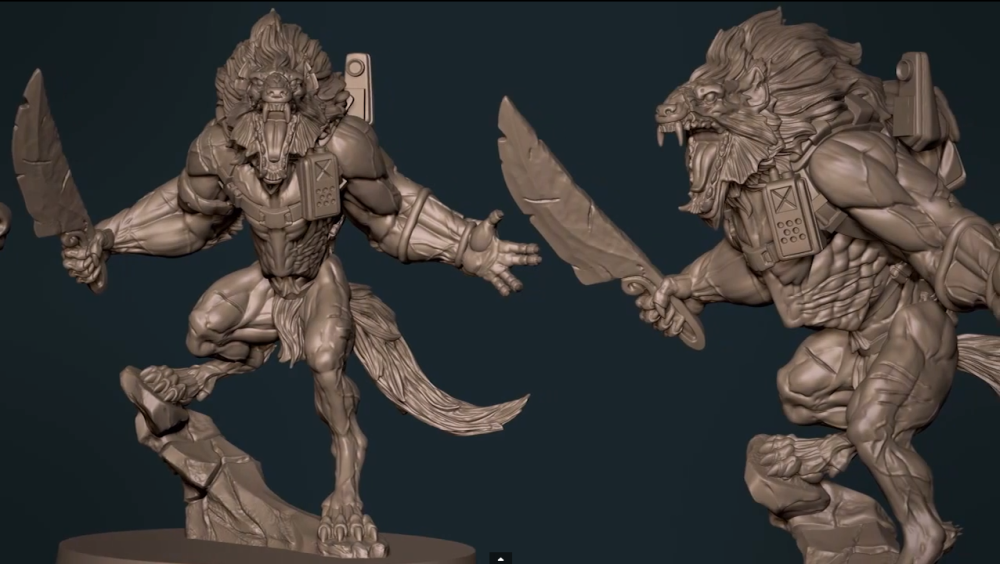 New Antipode (Assault Pack) Concept Art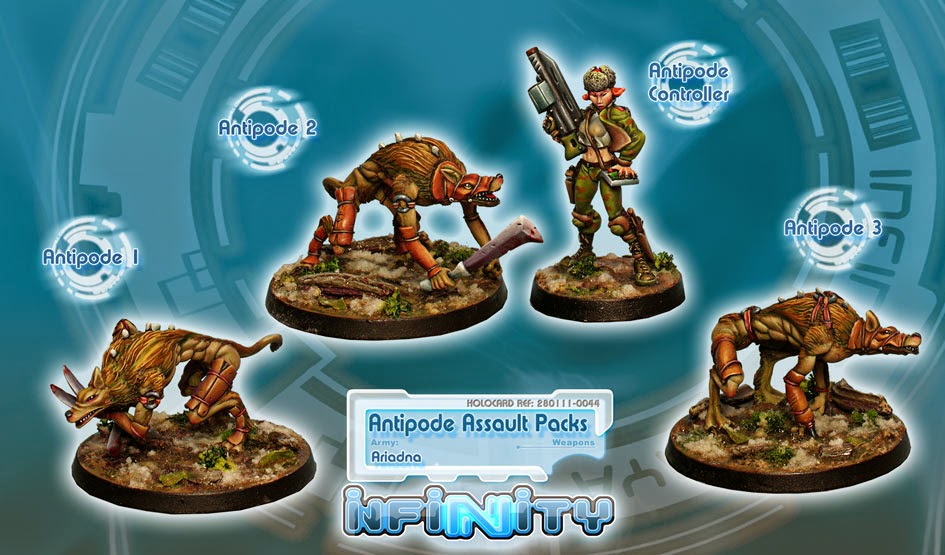 Existing Assault Pack Models
Analysis on the new sculpts:
I really do like the look of the old sculpts, but I cannot deny that antipodes based on the new sculpts will visually look as terrifying as they seem on the table. The level of details on the new sculpts should also please the Infinity Hobbyists. Beyond that, there's at least a chance that some of these new sculpts will get released prior to 3rd edition and continue to build the anticipation as we approach GenCon.
New Rules, Still Free
This needs to be emphasized. Even with the new rules in development, playtested, and even once they are released… the rules will still be free online for download. And based on the FicZone seminars, the same improved layout, translation, and streamlined rules will be present in the download version of 3rd edition as well.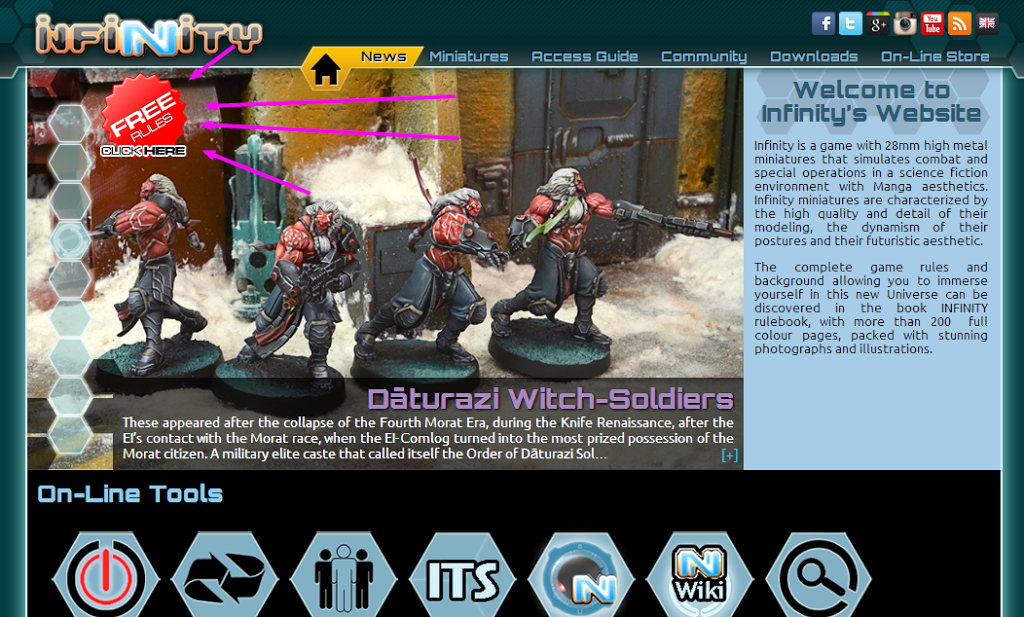 Why emphasize this?
Since the rules are free, it makes this game easy to recommend to anyone. And what's more, you don't have to take the word of some guy writing articles for Bell of Lost Souls. You can go take a look for yourself and come to your own conclusion. It also means that veterans (and those who may have just purchased the 2nd edition Core Rule book), can enjoy the new rule system without immediately purchasing a new book. Please realize that 3rd edition is not currently out yet, so going out to the Infinity website will provide you with a free copy of the 2nd edition rules.
Before I End this Article…..
So, that's the news, the skinny, The DIRT. As a reminder, we still have many months of 2nd edition still left, is there something that you'd like me to cover in future articles before 2nd edition disappears? Let me know in the comments below.
As always find me here, my YouTube Channel, or drop me a line or Infinity photos at my new email address
[email protected] .