Warmachine: Early May Releases Unboxed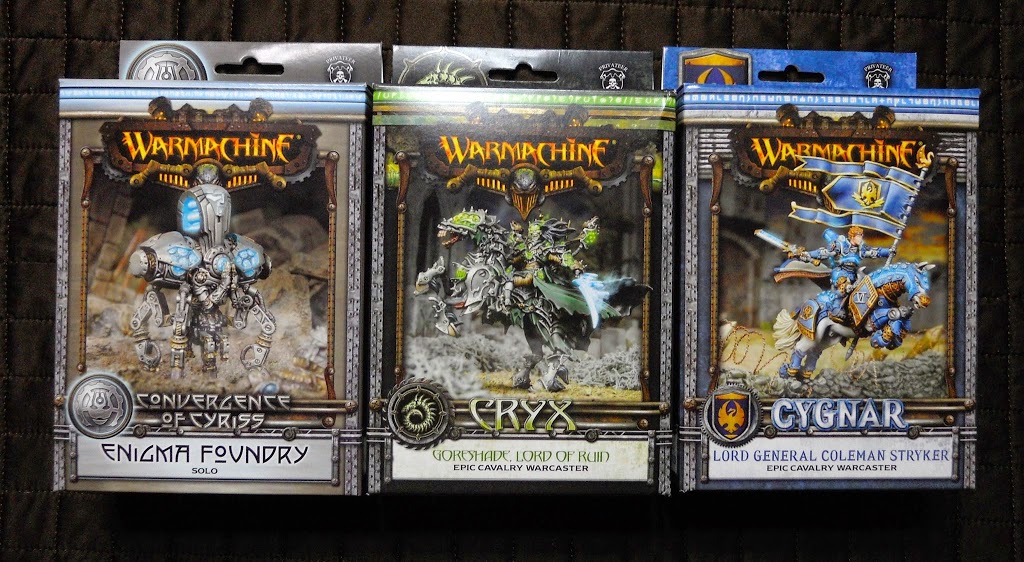 There are some really cool things headed your way very soon from Privateer Press.

One of the final Convergence releases will be on store shelves before you know it. It's the Enigma Foundry.
I was expecting the large piece to be resin, but nope all metal.
I love this bit. I like to imagine what this faction would have looked like if all the heavy 'jacks had this piece for their head and shoulders.
And this is the "head" and torso of the strange little fellow in prayer strapped to the front of this thing.
A random mechano-bit.
The legs look pretty cool.
And here is a hand and leg from the little guy again.
This is the one I've been looking forward to. Pissed off dead elf on a dead horse with the sword of a god anyone?
All the bits.
Horse bit.
Horse head.
And here's a piece of Goreshade himself.
Here's his backpack.
Gore-head.
Voass. My only complaint with this kit is that the ones like these that are computer-sculpted have kinda soft detail sometimes. This is minimal on goreshade here, but you can see it on the wrist here and on parts of the saddle on the horse above.
And his cloak. Love how they cast it in resin. The reduced weight should make it a lot easier to hold it in place while it does that billowing gracefully behind thing.
And last up it's mister golden boy himself, General Coleman Stryker.
He has even more bits than the last guy.
First up lets look at this horse.
And the head.
Armor plates.
And here's our first bit from Stryker himself.

Unfortunately the banner has bent a little bit. Replacing that with brass rod seems necessary, and there's no way it will be easy.
Look! Head options!
And finally, all the bits that wouldn't fit anywhere else.
~Overall these seem like some pretty great kits – although assembly will probably be a little tedious with all three. Personally I'd rather they chop a mini in to 50 pieces if that's what it takes to make sure it doesn't lose any detail in casting, but I know not everyone will agree.